Trek's C3 Project expands
The Trek C3 Project (Competition, Cinematics, Creativity) is back in 2012 with new members set to join the star-studded, dirt-slaying roster of Brandon Semenuk, Cam McCaul, Andrew Shandro, and Rene Wildhaber. Always pushing what can be done on two wheels, the C3 project will be exploring new heights and new trails in 2012, beginning with a major part in Anthill Films' highly anticipated, "Strength in Numbers."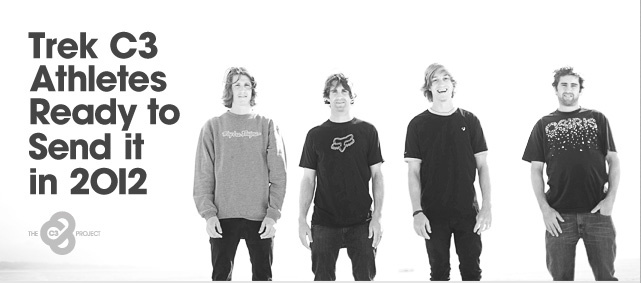 Brandon Semenuk continues with C3 after an amazing season of dominating the FMB World Tour, and taking multiple wins, most notably the Red Bull Joyride at Crankworx Whistler. The quiet phenom spent the off-season practicing his precise style of dialed tricks on a private slopestyle course at his home in British Columbia.
The 2011 Crankworx Colorado slopestyle champion and the man who put Aptos, California on the world mountain bike map, Cam McCaul, took the off-season to get his shoulder repaired and heal up for the coming year.
This season also sees the official addition of Ryan Howard to the C3 Project in an official capacity after shredding for Trek in 2011. A freerider who is equally known for being one of the hardest-working builders in the scene, Howard has recently been working with Anthill Films on Anthill's Strength in Numbers, which will premiere at the Sea Otter Classic in April.
In 2012 the Trek C3 Project welcomes Ontario up-and-comer Brett Rheeder to the crew. After turning heads with his web videos and DIY training compound, Rheeder is looking to step up his game in 2012 and step onto slopestyle and dirt jump podiums.
The mustachio'd master of all-mountain racing, Ross Schnell also signs on as an official member of the C3 Project this year after many years as a Trek rider. In 2012 he'll continue to race Eurpoean enduro events while growing the sport in the US with events like 2011's highly-successful Trestle All-mountain Enduro. Schnell joins long-time C3 athlete Rene Wildhaber, known as The Mega Man, who will be focusing on Megavalanche events aboard the Trek Slash.
Rounding out the team in a dual role as manager and rider is Andrew Shandro, a godfather of modern freeride and founder of the Summer Gravity Camps, a program aimed at growing the next generation of freeride mountain bikers.
Fri 9th Mar, 2012 @ 9:03 am
Featured in this Post
373,568
United States
50,257
1,642,047
Comments