Red Bull Berg Line: last qualifiers for X Games
After a sensational start in 2012, Red Bull Berg Line is returning to Hochsauerland on May 19th for Europe's biggest mountain bike freeride festival, the iXS Dirt Masters.
With its Gold event status on the FMB World Tour, the top 30 riders worldwide are expected to participate. Martin Soderstrom, Thomas Genon and Sam Reynolds: The crème de la crème of the freeride scene will have to perform at their best in Winterberg, as Red Bull Berg Line will be the last chance to gain valuable FMB World Tour rankingpoints for the X Games Munich Mountain Bike Slopestyle event. 20,000 fans on-site and the onlinefreeride community can look forward to a slopestyle festival, which will gather a highly motivated rider line-up and therefore breathtaking tricks.
After Red Bull Berg Line's exciting debut in 2012, it is now time to write another chapter in the success story of this incredible event. On the challenging course, designed by the Canadian mountain bike legend and renowned track designer Darren Berrecloth, competitors will have everything they need to push the trick level to the extreme.
Peter Henke, who finished seventh in 2012, as the best German rider, praised Darren for his course design: "Everyone knows that Darren is an expert in building superb courses. And at Red Bull Berg Line he more than lived up to his reputation, because the set-up is perfect for sick tricks like Andreu Lacondeguy proved last year with massive backflip tailwhips or double backflips."
However, Darren Berrecloth does not intend on repeating last year's course. Constant progression in mountain bike slopestyle means that Darren is encouraged to modify and add elements to the slopestyle course, which will provide even more flow and airtime. The position of the starting tower will be slightly optimized, then after the massive wall ride, the two doubles will be a little bigger and then the 180° berm will travel directly on to a boner log, sending the rider towards a trick booter before the finishing obstacle which features an innovative jump: a hip jump which allows the rider to transfer into three different landings.
The changes are also good for the rookies, who have been allowed to train on the professional Red Bull Berg Line track of bike park Winterberg since May 2012. Red Bull handed over the simplified track to the bike park after the last event so aspiring riders could train on it and reach new skill levels. On the new, 'beefed-up' course, riders will put together lines which will be judged on trick difficulty, amplitude, execution as well as flow and overall impression.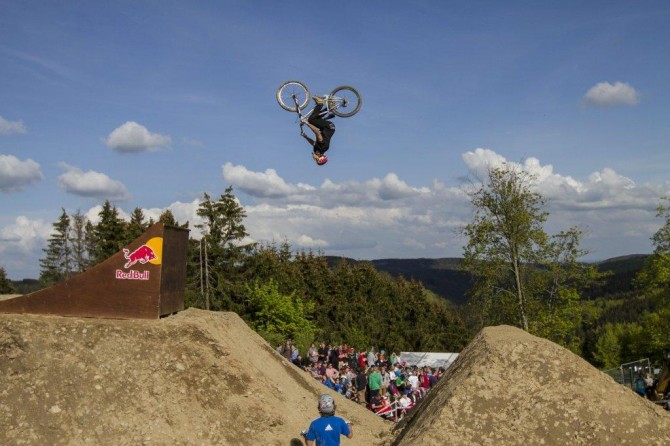 The action begins with Best Trick Contest on Saturday, May 18th at 6.30pm. Riders will motivate each other to perform their best tricks in this 45min jam session. Andreu Lacondeguy, Sam Reynolds and Yannick Granieri rank among the favorites. Then, on Sunday, May 19th at 1pm qualifying will kick off. Each rider will get two runs to prove they deserve a spot in the finals. From 7pm onwards only the best athletes will once again stand at the starting tower for the Red Bull Berg Line finals.
In general, the top 24 riders from the official FMB World Tour "52 weeks seeding list" qualify for Red Bull Berg Line. Six further invites will be dished out to deserving athletes, amongst others at SKS Slopestyle, Vienna Air King and at another event of the FMB World Tour 2013.
For the first time in X Games history, there will be a mountain bike slopestyle contest. Because the FMB World Tour 52 weeks seeding list will determine the qualified riders, Red Bull Berg Line will be the final chance for riders to gain ranking points in order to qualify for the X Games Munich. In other words: there will be everything to ride for at Red Bull Berg Line.
Featured in this Post
Comments