Being wheelchair bound shouldn't preclude anyone from enjoying the great outdoors. The Mountain Trike Company manufactures a unique, custom built wheelchair designed to tackle woodland, mountain bike tracks, beaches, nature trails and hills. The Mountain Trike gives wheelchair users greater freedom and independence than a typical manual wheelchair.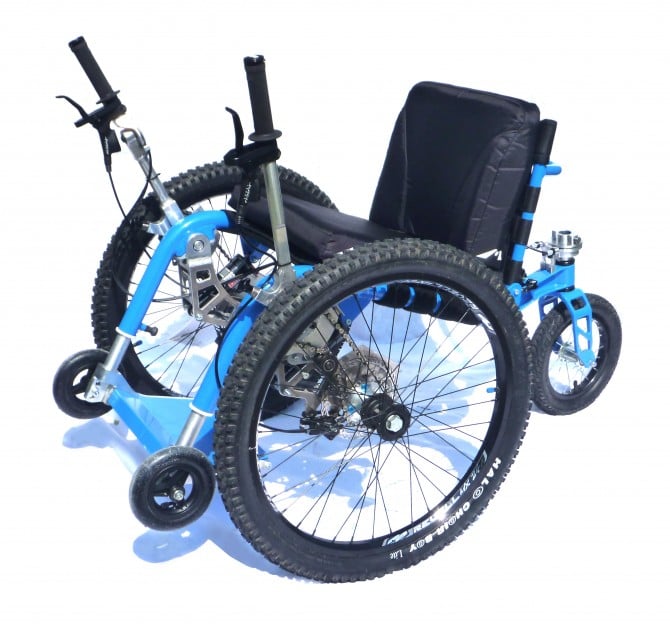 What makes this all terrain wheelchair special is how it's made and some features are customizable. It has been designed around mountain bike technology incorporating a one-of-a-kind control and drive system. As the trike name implies, this wheelchair has three wheels; the back wheel is where the steering takes place, which provides excellent control at high and low speeds and the rider can opt for left or right hand steering. The revolutionary lever drive system allows the rider to not have to propel the chair using the wheels – despite deep mud or wet ground the unique drive and steering system means your hands stay clean and dry. All weather mountain bike disc brakes provide excellent stopping power, there is a choice of a dual brake system that operates both brakes at the same time and can be mounted on either the left or right, or for advanced riders, they can choose independent brakes. The frame is adjustable, the foot rest can be raised or lowered, and the seat can be moved forwards or backwards allowing for maximum fit.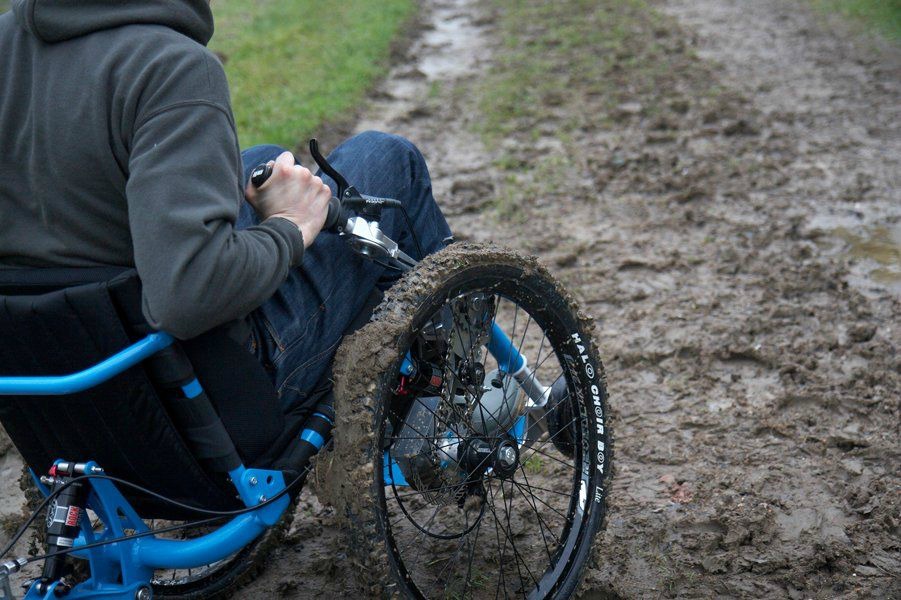 Even though the Mountain Trike was designed for an adult size, children can experience what the Trike has to offer as long as their arm length is able to reach the drive levers and they are able to manoeuvre a normal wheelchair. The Trike can grow with a young rider because of the adjustability. The Mountain Trike weighs approximately 44 lbs, folds up into a cube, and fits into the back of most cars.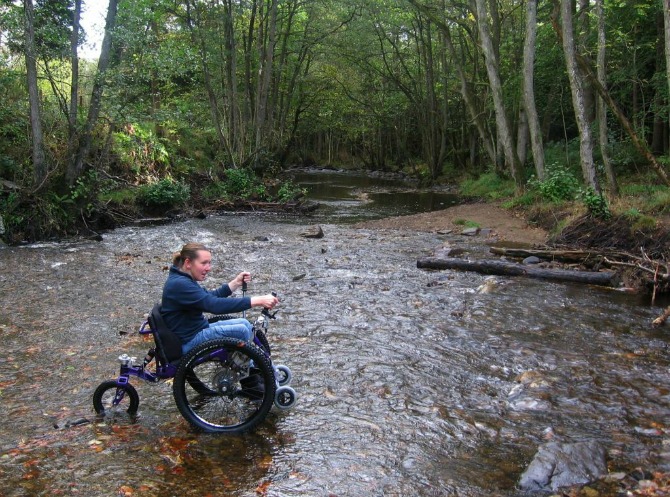 The Mountain Trike Company is a UK based business. The concept was invented by Tim Morgan who is a keen mountain biker. He wanted to share his love of the great outdoors by designing a wheelchair to allow riders to do the same. They ship all over the world including to the US. The cost of the Trike is £3995, (price in $/€ given on current exchange rate at the time of order confirmation). The price includes a complete Trike in a custom colour with a three year warranty, owner's manual, a pump and essential tools. For more information visit http://www.mountaintrike.com
It is simple to learn to ride a Trike; however, the company does advise of a learning curve and it can take some practice to perfect. Once a rider masters the manoeuvrability of the Trike, a whole new world of outdoor activities is waiting to be explored that conventional wheelchairs just can't offer.
To see the Mountain Trike in action, click here.
Comments