Trek sends hit squad of top riders to conquer Enduro World Series
Trek Bicycle is sending a hit squad of its top mountain bikers from all corners of the sport and globe to conquer the newly-formed Enduro World Series. The group of athletes hails from international hotbeds of mountain biking such as the US, Switzerland, New Zealand, UK, and France. It brings together talented stars of cross-country, downhill, and enduro to try their hand at the fast-growing format that demands a well-rounded rider. With athletes from a variety of backgrounds and representing different team programs, Trek riders will be piloting the Remedy and Slash at every stop of the 2013 Enduro World Series.
Rene Wildhaber (CH) is the most decorated enduro racer in the world, with six wins at the Alpe d'Huez Megavalanche, seven victories at the Trek Bike Attack Lenzerheide, and dozens of other titles in enduro-style events in the past decade. He has ridden all over the world, from his native Switzerland to Nepal to Whistler, and continues to be one of enduro's greatest ambassadors.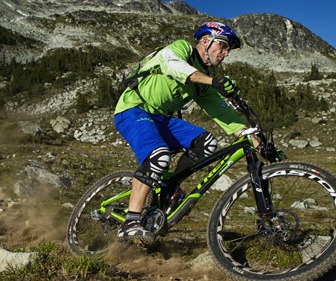 World champion downhiller Tracy Moseley (UK) is used to being at the top level of sport, and while she may have retired from the World Cup, she hasn't slowed one bit. Her domination of the UK and Ireland Gravity Enduro Series', along with the occasional XC victory show she'll be a major competitor in enduro.
When cross-country racing wasn't technical enough for his tastes, Colorado native "Rad" Ross Schnell reinvented himself as an enduro athlete before most North Americans knew what enduro was. The 2008 All-Mountain World Champion and 2009 Singlespeed World Champion focuses both on racing and helping promote the sport of enduro in North America.
During his World Cup downhill career, Justin Leov (NZ) established a reputation for his fitness and a keen talent on longer courses, which makes his transition to enduro a natural fit. The Kiwi will continue to represent Trek World Racing in the inaugural season of the Enduro World Series.
Heather Irmiger and Jeremy Horgan-Kobelski (US) have traded their skinsuits for sweet singletrack, shifting from their successful careers on the World Cup XC circuit to the world of adventure offered by enduro. They kicked off their US campaign with a win for Heather and 2nd for JHK (just behind Ross Schnell) in Moab at the first top of the Enduro Cup.
Trek's enduro representation will be rounded out by the shining talents of Steffi Marth, Greg Doucende, Michele Quint, and Kathi Kuypers. With their global, multi-pronged approach, Trek will have a rider in contention for the win at every event of the 2013 Enduro World Series.
Featured in this Post
48,662
1,642,047
Comments