Danny MacAskill & #Cortana #MakeItHappen – The Loop
Win a Pair of Faceplant Sunglasses this issue in our FREE subscriber prize draw.
Danny MacAskill's latest trick has been gracing British newspapers and splashed across international websites all day following his two-wheeled adventure on the River Thames last night.
An exciting PR stunt conjured up between Danny and the forward-thinking team at Microsoft in order to promote Cortana, their digital assistant software. Think PA for those on the go, with no fixed office and a hectic schedule to keep up with. Cortana was so named from the Halo video game series character that was the inspiration for Microsoft's intelligent personal assistant.
We were lucky enough to be invited to join a few of the people behind the launch and headed off on a boat down the Thames, armed with a new Nokia Lumia 830, in order to see the stunt up close and test out the camera function on the phone.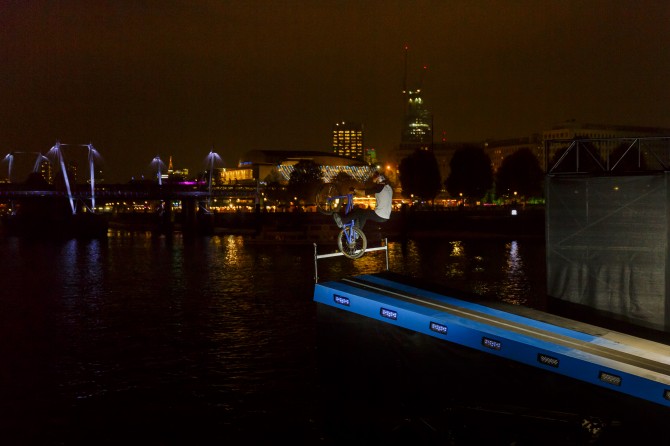 The loop-the-loop was set up on a barge floating on the Thames in front of the London Eye, the circular rings imitating the Microsoft Cortana symbol. With lighting visuals, music, smoke machines and a huge crowd gathered on the banks of Westminster all adding to the excited anticipation. With the stunt being kept top secret until we pulled alongside the barge, it swiftly became clear what Danny was about to undertake.
A vastly different setting to his recent film Danny MacAskill: The Ridge, we were all glad that the chilly November night stayed dry, windless and that there were no other vessels blasting past disturbing the river!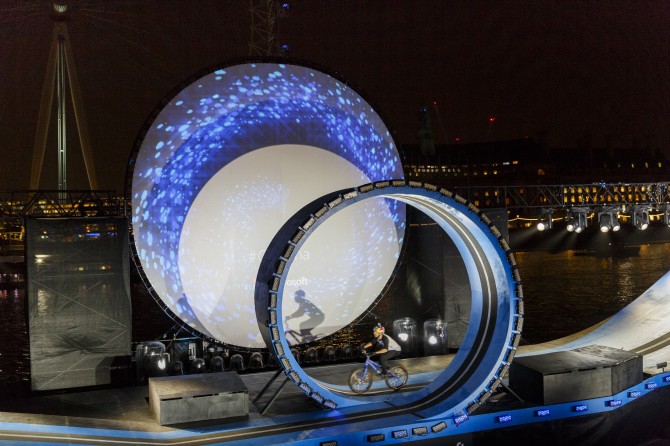 With a video intro, booze flowing, cameras flashing, and a substantial sound and light team behind it there was quite some build up to the main event. All of a sudden Danny had bounced off the ledge and, with a casual 360 thrown in for good measure, he was swooping round the 5m high loop in a blur, wheelie up onto the railing at the end of the run out (cue gasps from the unsuspecting crowd) and endo-ing back to centre stage to take the applause, and no doubt let his heart beat return to normal.
With the twinkling backdrop of London city, an amiable, down-to-earth rider like Danny, and an imaginative stunt to capture people's attention this really was a very clever marketing moment. It's great to see brands like Microsoft recognising 'alternative celebrities'. It also shows their realisation of the wide appeal of cycling, in all it's genres and that their technology really can apply to a vast range of people.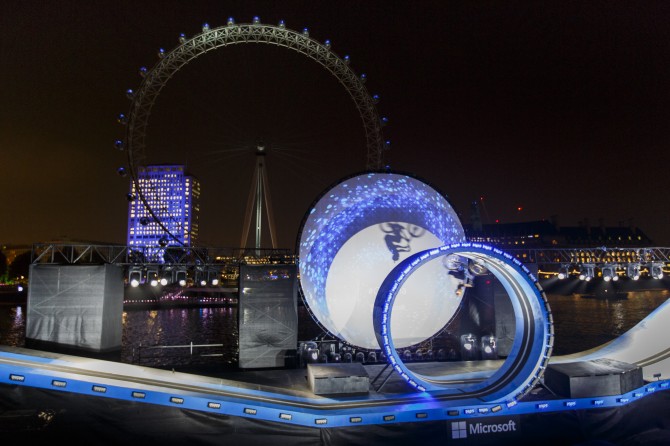 Cortana inspires Danny MacAskill to #MakeItHappen
Cortana, the most personal digital assistant on the market available on Windows Phone devices, and Danny MacAskill, world-renowned trials cyclist, have successfully completed one of the largest loop-the-loop challenges to ever be set on water. Danny rode round a monumental five-metre loop, illuminating the Cortana signature in front of one of London's most iconic landmarks in the process.
Microsoft's personal assistant Cortana is renowned for her instantaneous, intelligent and customised approach – she knows what you want and how to #makeithappen. With her proactive help, useful advice and instant solutions, Danny was able to fulfil a life-long aspiration seamlessly.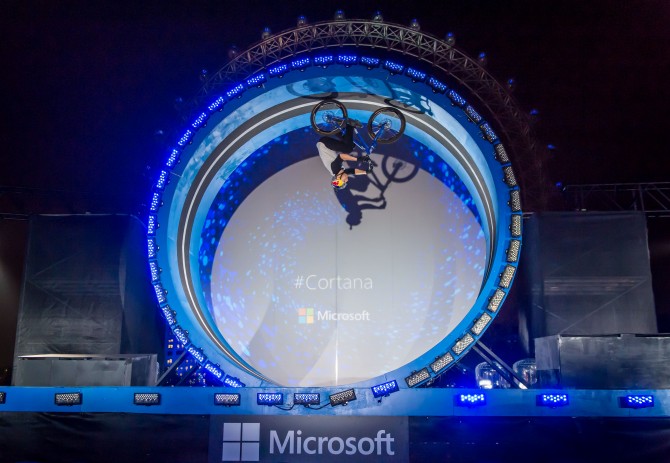 The loop-the-loop stunt adds to Danny MacAskill's hugely impressive collection of challenges including the 'Imaginate' video, which has already received over 27 million views and 'Way Back Home' boasting over 32 million views.
Cortana acted as Danny's personal assistant throughout his training for the activation, arranging his meetings, setting appointment reminders, playing his favourite music, warning for bad weather and finding maps.
"A career as a professional athlete can be quite hectic and as I prefer to spend as much time on my bike as possible – any help in organising meetings, travel plans and projects is great. This is one of the biggest set-ups I have ever ridden and the location is amazing. To have a five-metre loop floating on a barge is something surreal. I always look for new challenges and the chance to ride this massive loop with the help of Cortana is another achievement I can be proud of," said Danny MacAskill.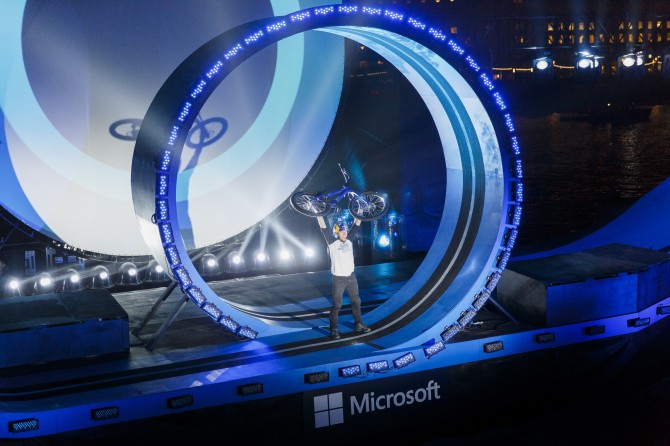 "We've designed Cortana to be the most personal digital assistant – she adapts to individual personalities, learning by experience to become not only an instant reactive helper, but also an indispensable proactive influence. Danny's London stunt is proof that she can enable even the most outlandish inspirational ideas to become reality," said Adam Johnson, marketing director mobile devices at Microsoft.
For more info on the Nokia Lumia 830:
Featured in this Post
Comments