Anton Cooper Reclaims New Zealand XCO Mountain Bike Title
Now that is one fun and tough looking XCO course that even downhillers would like to session! They sure know how to build trails in New Zealand! Greg Palmer brings us the low down of Day 1 of the Rotorua Bike Festival.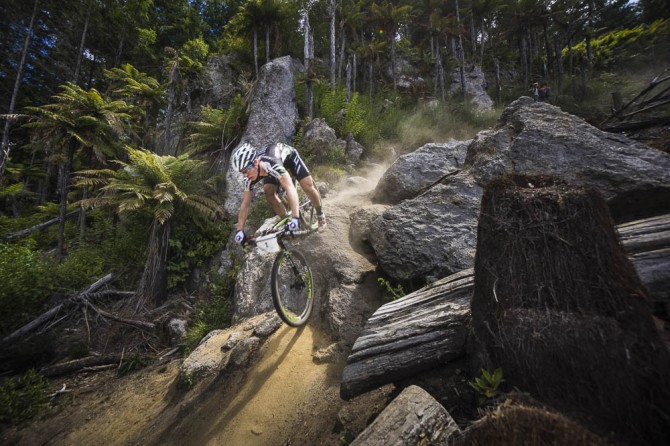 Commonwealth Games gold medallist, Anton Cooper has reclaimed New Zealand Mountain Bike Championship honours after winning the elite men's cross country race in Rotorua today.
The championships are a feature event of the first weekend of the annual Rotorua Bike Festival
In a repeat of the Glasgow Commonwealth Games, Cooper held off fellow New Zealand representative Sam Gaze.  After both riders cleared out from the field early and headed into the last lap of the race side-by-side, Gaze made a mistake with his front wheel getting wedged in a tree.  This provided Cooper the opportunity to seize control and go on to win by 1 minute 10 seconds.
"I really wanted to get the jersey again," said an elated Anton Cooper.  "I love wearing it overseas so I decided to focus on it (the elite race) a bit more, and it paid off. I just wanted to go out and hit most of the climbs hard.  I did that but hit a flat spot mid-race and felt a bit sick.I came good though and for the last two laps of the race I felt really strong, although it was still really close and could have gone either way. But I was able to capiialise on a small fumble by Sam (Gaze) and stretched out a good advantage and pinned the ears back to the finish."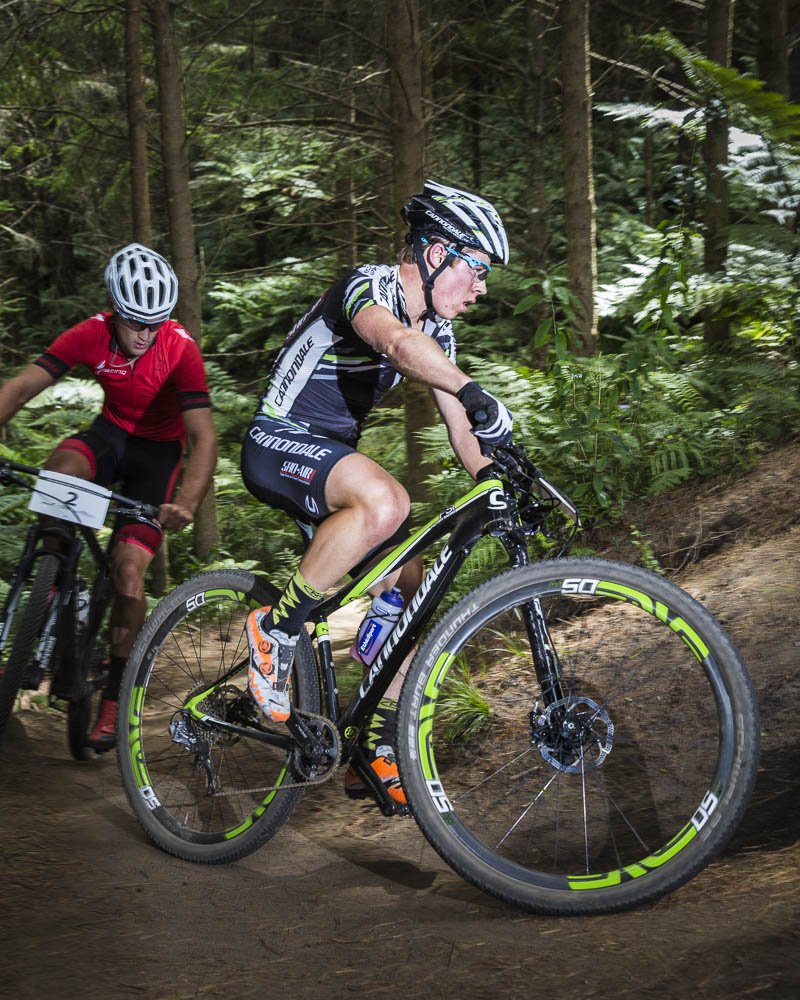 The result was a reversal of last year's race where Gaze triumphed in a sprint finish over Cooper.  Local rider, Dirk Peters rounded out the podium, finishing a further 2 minutes behind Gaze.
Meanwhile, 27 year-old Kate Fluker from Queenstown, who has only ridden for four years, put in a dominant ride to retain her elite women's crown.  When her main rival, London Olympian Karen Hanlen had a fall on the first lap, Fluker was able to build a big lead.
"It's awesome.  I was trying to really focus on international races this year but when you come to a race like this, you always do want to win, so I'm stoked," said Fluker.
Earlier in the day outstanding young prospect, Eden Cruise from Porirua, dominated the U17 men's race.  He led by a minute after the first lap of four and continued to extend his advantage to eventually win by over three and a half minutes.
Results:
Male: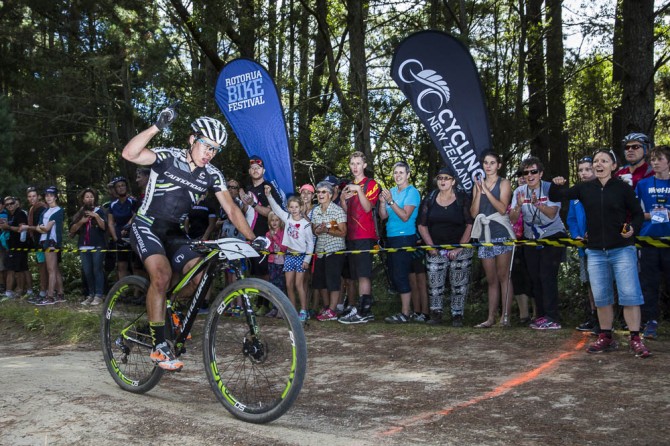 Elite & Under-23: Anton Cooper (North Canterbury) 1:30:40, 1;Sam Gaze (Cambridge) 1:31:50, 2; Dirk Peters (Rotorua) 1:33:51 3; Ben Oliver (Christchurch) 1:35:32, 4; Jack Compton (Wellington) 1:35:49, 5.
Under-19: Harrison Mudgway (Tauranga) 1:25:10, 1; Nathan Johnston (Rotorua) 1:25:11, 2; Daniel Johnston (Rotorua) 1:25:32, 3; Harry Phipps (Rotorua) 1:27:35, 4; Lewis Ryan (Rotorua) 1:27:37, 5.
Under-17: Eden Cruise (Porirua) 1:04:32, 1; Jack Wilson (Tauranga) 1:08:05, 2; Taylor Johnston (Rotorua) 1:08:16, 3; Cameron Jones (Upper Moutere)  1:09:27, 4; Brayden Holland (Invercargill) 1:12:49, 5.
Under-15: Connor Johnston (Rotorua) 56:23, 1; Julius Staufenberg (Wanaka) 56:28, 2; Samuel Lord (Papamoa) 58:03, 3; Adam Francis (Palmerston North) 58:25, 4; Max Taylor (Palmerston North) 1:01:35, 5.
Masters 1: Steve Bale (Wellington) 1:10:40, 1; Gavin McCarthy (Upper Hutt) 1:11:41, 2; Bevan Spratt (Tauranga) 1:33:23, 3.
Masters 2: Garth Weinberg (Rotorua) 1:08:57, 1; Hamish Lane (Mt Maunganui) 1:12:33, 2; Sarnim Dean (Blenheim) 1:12:37, 3; Darrin Hall (Taupo) 1:19:26, 4; Barry Wilson (Palmerston North) 1:20:45, 5.
Masters 3: Shane Kaio (Mt Maunganui) 1:15:44, 1; Paul McDowell (Rotorua) 1:18:33, 2; Ray Hope (Dunedin) 1:18:57, 3; Anthony Bradshaw (Wellington) 1:19:52, 4.
Female: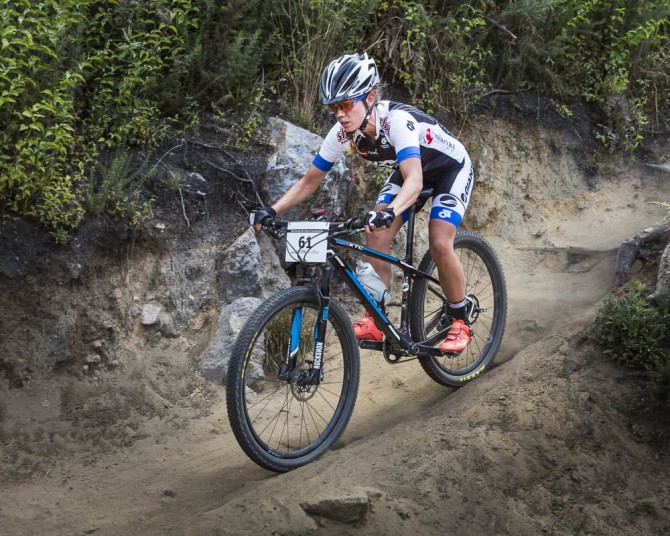 Elite & Under-23: Kate Fluker (Queenstown) 1:30:59, 1; Karen Hanlen (Whakatane) 1:34:08, 2; Amber Johnston (Rotorua) 1:37:14, 3; Fiona Macdermid (Palmerston North) 1:38:32, 4; Mary Gray (Dunedin) 1:40:14, 5.
Under-19: Jemma Manchester (Auckland) 1:23:55, 1; Shannon Hope (Dunedin) 1:26:09, 2; Kayla Russell (Auckland) 1:30:33, 3.
Under-17: Jessica Manchester (Auckland) 58:04, 1: Phoebe Young (Wanaka) 1:01:46, 2: Kaylee Mudgway (Tauranga) 1:08:25, 3.
Under-15: Georgia Skelton (Auckland) 48:10, 1; Poppy Buissink (Auckland) 49:43, 2; Paige Weir (Auckland) 53:17, 3.
Senior Women: Harriet Miller (Rotorua) 1:07:58, 1.
Masters 1: Philippa Rostan (Australia) 1:14:06, 1.
Masters 2: Merrin Brewster (Dunedin) 1:29:46, 1.
Masters 3: Sarah Beadel (Rotorua) 1:12:23, 1.
Photos:
Anton Cooper nails Boulderdash (Mead Norton).
Cooper an Gaze were wheel to wheel until the last lap (Mead Norton).
Celebrating another fine win (Mead Norton).
Kate Fluker was dominant (Mead Norton).
http://www.rotoruabikefestival.com
http://www.facebook.com/RotoruaBikeFestival
Featured in this Post
Comments