HS Racing Team Together with Commencal!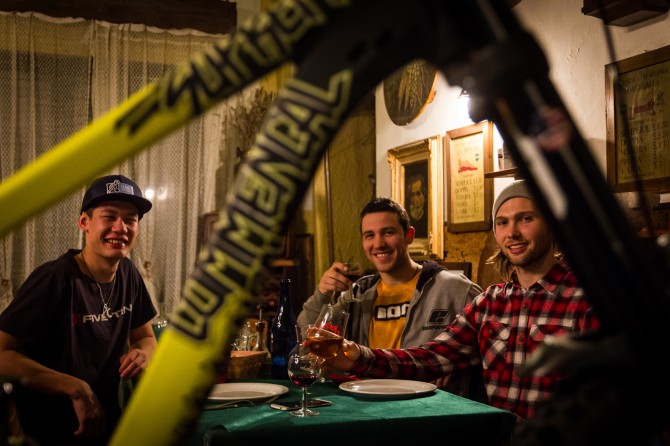 Take the H from Harnstrom and the S from Suding and you have the HS Racing Team!
Already part of the Commencal team last year with Exceptio Sports, Oscar had no trouble convincing Lorenzo to change his ride and now they have joined forces in this new adventure! Lorenzo said, "The bikes are beautiful, we are making great progress." The young Swede Marcus Hansson completes the team
Having an Italian Champion and two Swedes in Commencal colours is an honour for us. Via our online sales platform, the European market continues to grow and we are confident that Oscar, Lorenzo and Marcus will be wonderful ambassadors. Of course, we will be relying on them for all international events: World Cups, World Championships and more.
Welcome Osacr, Lorenzo and Marcus and good luck to all for the coming season!
Oscar: "Lorenzo and I wanted to eventually own our own World Cup team with the help of our long time partner Exceptio Sports. I rode the Supreme last season and I'm convinced it's one of the best bikes out there, so I was anxious to seal the deal with Commencal. At the EWS in Finale Ligure (Italy) last year, we bumped into Max Commencal and told him our intensions. He was interested in continuing with me and was stoked to hear Lorenzo was joining in. Commencal's support then put us in the position of building a professional program for 2015. It's a dream come true signing with such a cool brand for the next two years! »
Lorenzo: "After a rather crappy period last year after my accident, Oscar and I picked up where we left off 2013, and put the team back together. He flew over from Sweden to race the EWS in Finale with me and after an epic weekend of riding, beach time and party, we met Max Commencal. He was super cool, offered us a beer and showed interest. Oscar told me about how good he felt on the Supreme last season, so I couldn't wait to have a go on one. Riding it on my home track in Pila, I felt the bike suited me perfectly! I'm pumped to see where it will take me".
Marcus: "My name is Marcus Hansson, I'm 19 and from Sweden. I was into racing road bikes and MX, but was enlightened by DH! I'm stoked HS Racing took me onto the team. They have a sick program that will help me express my best at World Cups. We're testing in San Remo (Italy) and the bikes are fantastic!"
Instagram @teamhsracing
Facebook Page Lorenzo Suding: https://www.facebook.com/sudingmtb
Featured in this Post
Comments