Testing With Lauf in Iceland
Join Derek Wilson on his trip to Iceland as he does some testing with Lauf. During his trip he got the chance to check out their office, explore an ice tunnel and ride through some of the most spectacular scenery in the world.
Hearing that Lauf forks had a couple of new items hot off the carbon press we were keen as mustard to check them out, where better to do that than their home country of Iceland. Quick bag of riding gear and passport, 3 hours after leaving London airport it's touch down in Keflavik, Iceland's main airport and just a short transfer to the capital city of Reykjavik.  This is pretty much the most northerly place I'd been. Sitting 800km above Scotland and only 300km from Greenland, Iceland is out there on its own. Close to the same size as England but with a tiny population in comparison of just 300,000, it's a place where solitude and fresh air is not hard to find.
We only had a couple of days to try out these new Carbonara fat bike forks and trail racer boost xc forks. So after a few quick introductions, the Lauf crew swept us straight into the most pimped 4×4's I'd ever laid eyes on, Mercedes minibus from the waist up and pumped suspension and the fattest off-road tyres strapped on below.
These machines are commonplace here with dirt roads and river crossings on our 3 hour journey to the cabin stop-off for the first night. BBQ roaring and the smell of cooked meat in the air, we all sat down to a feast well past midnight with the sun still up! Yep, no darkness up here this time of the year.
Benedikt and Gudberg started Lauf early 2011, both keen mountain bikers with engineering backgrounds they put their heads together and with Benedict's skills in carbon prosthetic design and manufacture they worked their way through many prototype designs and builds to eventually come up with a working production fork in 2014.
The whole ethos was to come up with a fork that was light, simple to use and simple to maintain. Later Bergur and Johann joined the team, every one of them equally enthusiastic about technology, engineering and riding bikes.
I threw a leg over my Carbonara shod fatbike and headed out on route to a few choice trails a few KM away. I could see straight away the appeal for a fat bike out here, riding dry riverbeds with sand and smooth rocks was easy work on these things, some of the others were on regular 29ers and were having a hard time on the softer terrain, but the fatty just floated over happily.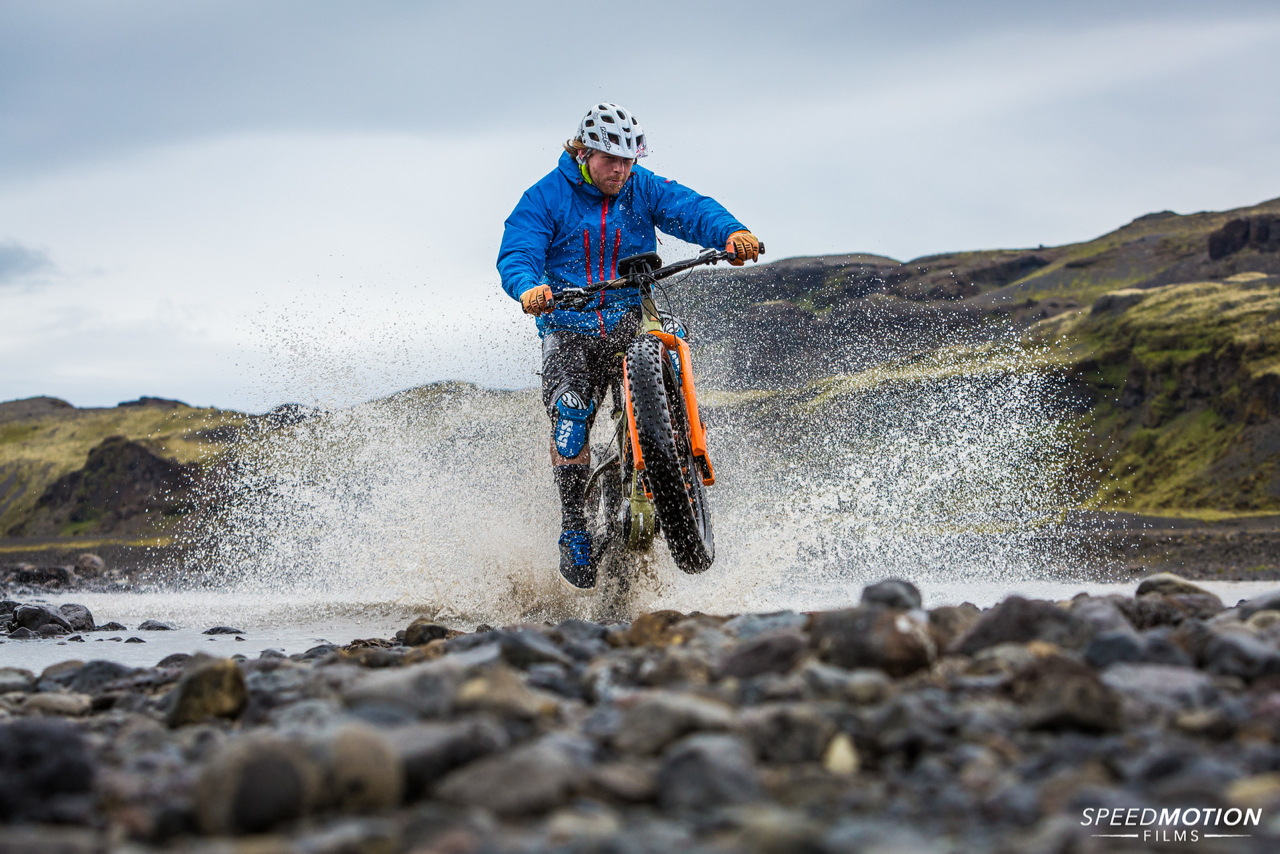 The forks can move a maximum of 60mm but in reality you won't hit that too often, the glass fibre "leaf" springs are set a little stiffer than the trail forks as the fat bikes tyres are pretty good at dealing with the smaller hits, the fork helps soak up anything bigger whilst still being light enough to pop the front around with ease.
I was riding with Pat Smage, MTB and motorcycle trials champion, after seeing the stuff he put the fork through I was pretty convinced it would withstand anything I tried.
Ricky Crompton was also riding and making a TV documentary along the way, he had an electric Haibike xduro fat six, All the fun of a fatbike with a couple hundred watts of help up the hills (and in Iceland there are plenty).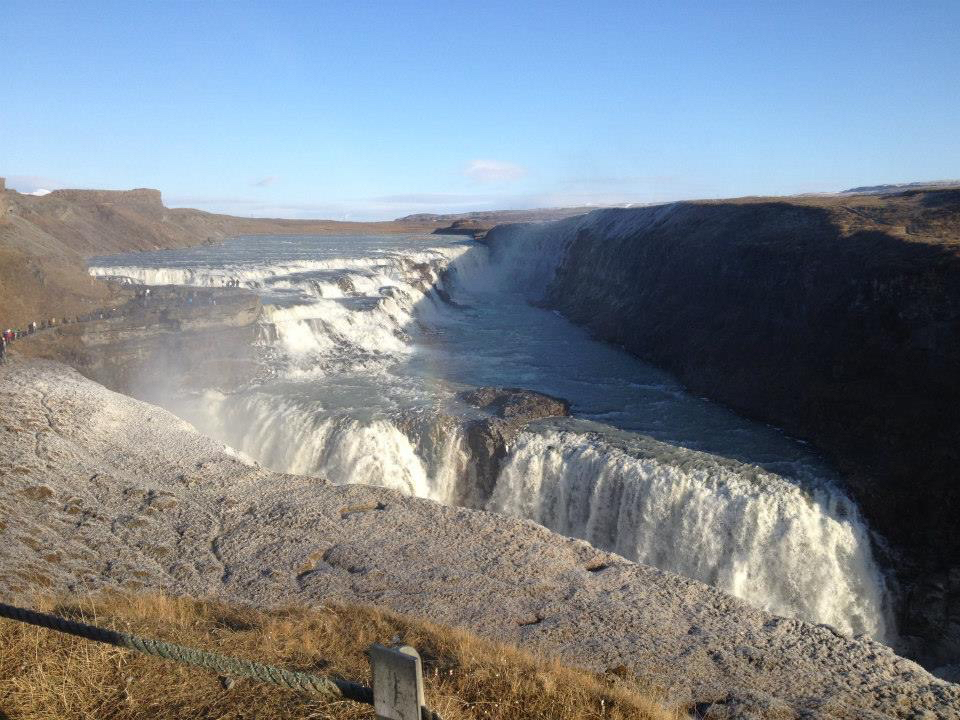 We had to cross a few rivers, the locals tackle this by erecting small bridges that can be hauled around by 4×4's to straddle the ever moving route of the water, it saved us getting very wet so thanks for that. The next few hours were spent blasting round trails which felt quite literally in the middle of nowhere, stunning scenery, rivers wandering through the valley below with snow and ice covered mountains in the background.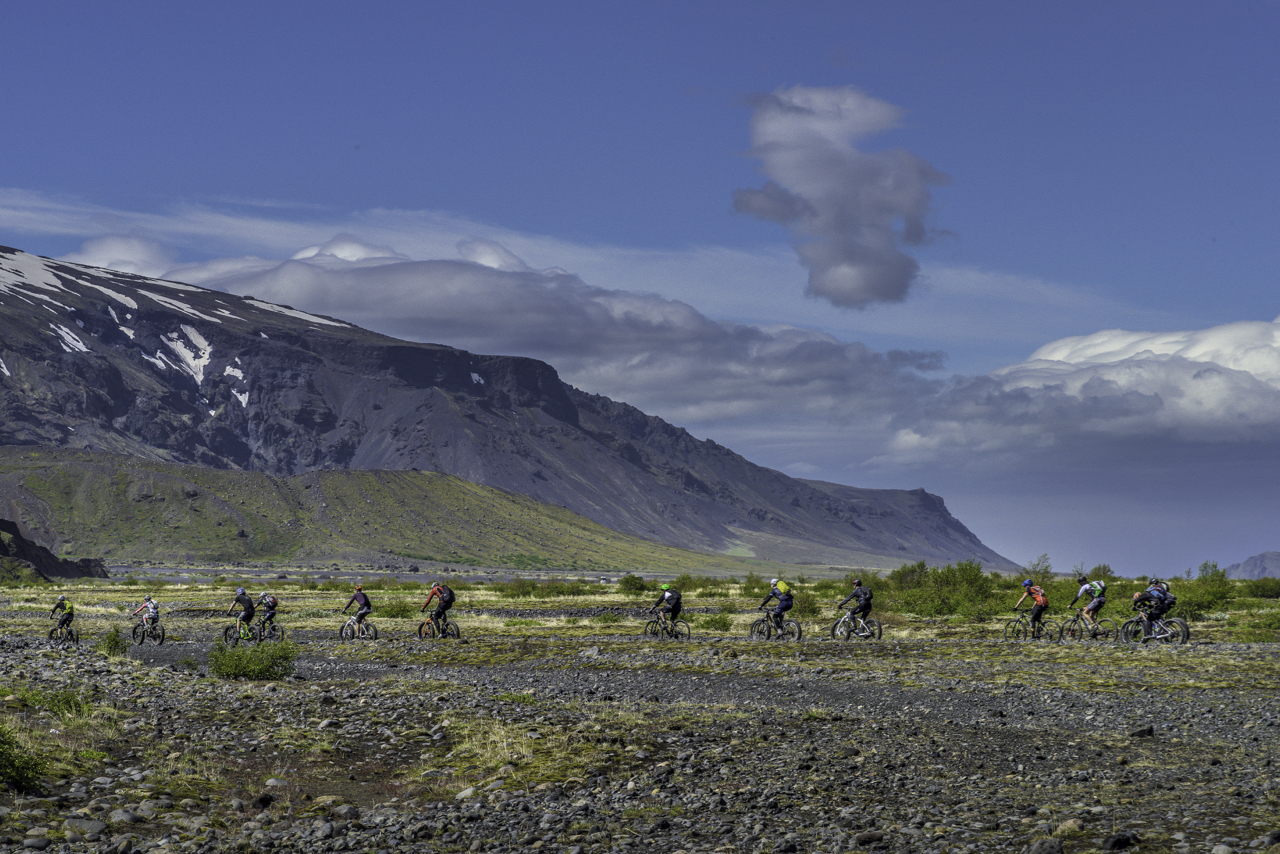 Iceland is famous for its volcanoes and hot springs, black sand and lava fields, you get the impression that not far under the ground an awful lot of activity is going on as jets of hot steam can be seen popping up in the most random of places. Standing for a break on one of the many hillside trails admiring all this, the odd T-rex or Pterodactyl wouldn't have been out of place here. This place made the highlands of Scotland look over populated.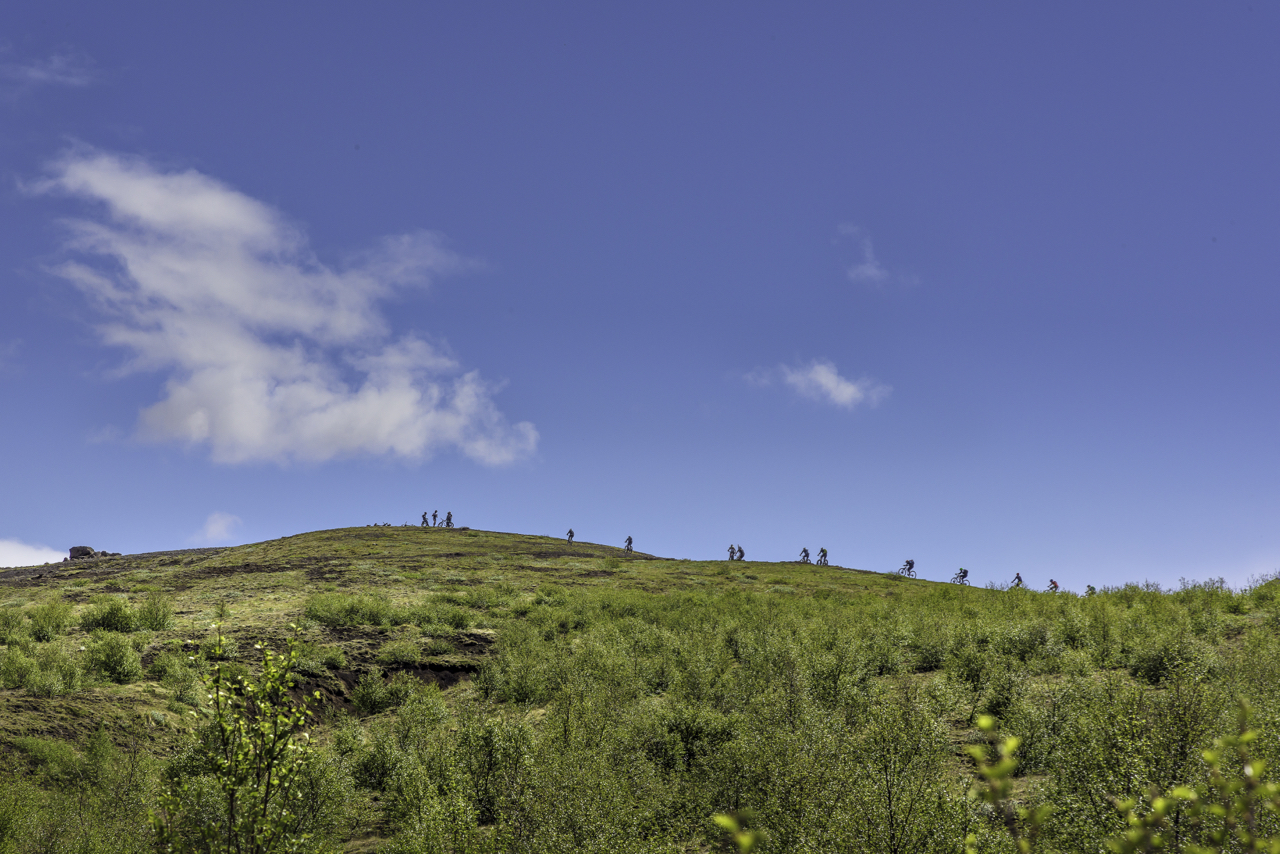 Back to the riding and time to crack on, we had a date with a chopper. Back through the carved out trails, through hillside fields full of horses and along a hard packed sand riverbed I could see three red helicopters on the horizon, flying in formation. The choppers, used a lot for off piste ski drops, would today be our ride to the Langjokull glacier.
The blades didn't even stop as we jumped aboard and spent the next 20 minutes skimming the ground at 140 knots. The glacier is massive but we were heading to an area which had been tunnelled out for a fat bike time trial race.
This was all in the name of fun but with the amount of people ending up on their arses even with spiked fat tyres gave away the competitive spirit that inevitably comes up when the word 'race' gets thrown into the mix. The course was a 500m loop deep in the glacier, lit by LED's drilled in behind the ice, what can I say, what a venue.
We emerged at 11pm into blinding sunlight, choppers long gone and now greeted with an 8 wheel drive snow truck and one of our pimped 4×4's to take us down to the hostel for the night.
Body clock truly smashed thanks to the never ending glowing fire in the sky which seems to will you on to 24 hour a day action. Eventually managed a quick bit of shut eye, breakfast and out the door heading for some trails on the outskirts of Reykjavik.
Swapping onto a 650b bike and a 29er to test out the new Lauf boost forks, with many players in the industry moving to wider "boost" hubs on the 29er, 110 width front and 148 rear, the idea to give the larger 29er wheel the same stiffness as a 650b. Lauf had also revised the structure of the fork after feedback from their 1st trail racer design released in 2014, noticeably chunkier fork crown area stiffening the whole structure and legs with a larger and more atheistic profile.
These trails were the local test bed for the Lauf team, and riding them it was easy to see how the fork was exactly mated to this type of terrain, pretty smooth, punchy climbs, with the odd bit of jeep track joining up the singletrack. Something light, stiff and quick reacting would be ideal here and that's exactly what the Lauf drawing board has come up with as a solution.
I personally loved these trails, ribbons of well groomed and maintained singletrack carving through half meter high bushes either side so you can see the trail, where you're going and that no one is coming the other way. The only limiting factor is how hard and long you can pedal. With a few hours riding under our belt we headed into Reykjavik, dropped the bikes off and headed back to the Lauf office for some local brewed beer and food. The office is just off one of the busiest streets in the city, full of cafes, bars, restaurants and tourist shops, everything is within walking distance in Reykjavik so wherever you stay you won't be too far away from the action spots.
Back in the Lauf office it was interesting to check out some of the early prototypes, from the first 6kg metal one through various iterations to the carbon ones built in the in-house moulding and curing ovens. Many months, and countless hundreds of man-hours working through the various permutations of layup, suspension leaf tension and flex all leading to the first production run last year. The fork suits the personality of these guys, little bit different and mad J, but full of detail and precision.
As for the venue of Iceland, it's pretty captivating and as soon as I was sat on the plane I was missing it, if you're a person that loves raw exposed countryside where seeing another person is more a novelty than an expectation then get involved and treat yourself to a trip north, you can camp or stay in various hostels, getting around is simple, or if close enough head back into Reykjavik, the city that doesn't seem to sleep in summer. If you didn't manage to dip in a hot spring on your explorations then head for the Blue lagoon close to the airport before you head out, it's a nice way to end any visit to the country.
Words: Derek Wilson
Photos: SpeedMotion Films and Arnold Bjornsson.
Featured in this Post
Comments