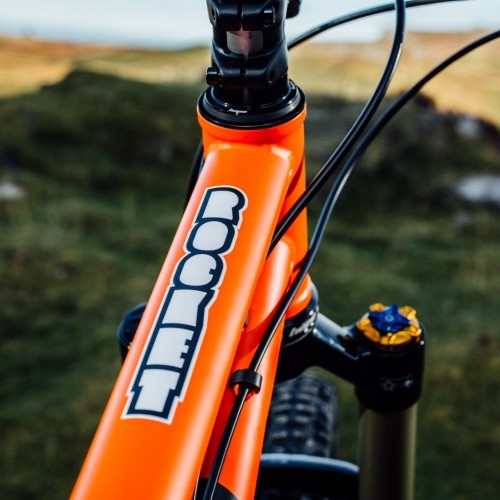 First Ride – The Cotic Rocket 650B
Sun 6th Dec, 2015 @ 3:30 pm
It's hard to think of an area of the UK that sums up the British riding scene better than Sheffield. The Steel city, in the north of England is traditionally famous for Cutlery, Snooker and the Artic Monkeys, but more and more the city is aligning itself with the world of bikes. Now it's Steve Peat, 'Ride Sheffield' and crowd funded trails that put the city on the MTB map. Within this scene is Cotic, a small bike company born from the desire to make bikes from that 'Sheffield Steel', which are strong, durable and fun to ride.
A few years ago the Rocket was launched, but various issues caused it to only ever be a small batch production and very few made it onto the market. Last week saw the re-launch of the new 650b Rocket and we gathered in the woods on the west side of the city to have a sneek peek. We headed out for a tour of some local trails, heading out into the Peak District National Park to see what the rocket could do. Rain fell, as it does at this time of year, but enthusiasm was high.
The Rocket is available as a frame only or a full build, so their were various options on the day showing the variety of builds available. My steed for the day had the Cane Creek in-line shock and X-fusion Sweep forks. First impressions were of a very well thought out bike, with great attention to details from cable routing right down to pinch clamps on the sealed, shielded bearings to allow for easy replacement. Clearly a British bike! Steel is used throughout, apart from the swingarm which is aluminium and the weight comes in at 7.6lbs with shock, which I was surprised at for a steel machine.
Pedalling out and up from Sheffield felt like a good trail bike should, with a firm platform for pushing pedals and no need to switch anything on the shock. The size Large felt big enough, but I felt just a little compact as a lanky 6 foot 3 rider. On the trails the Rocket was agile and responsive, keen to accelerate and charge forward. The perhaps higher than fashionable bottom bracket meant pedal strikes were virtually non existent, but on the flip side as the trails got steeper and faster it didn't feel quite as confidence inspiring as your stereotypical 'enduro' bike.
This is clearly a hard working trail bike that will probably take anything you can throw at it and ask for more, but is still focused on getting you back up the hill efficiently and comfortably. Pub lunch and a spin on the new Lady Cannings trail finished off a great autumn ride. We look forward to getting some more rides in on the Rocket in the new year and putting it through its paces on our local trails.
Key Facts:
150mm Travel via Droplink suspension platform
Reynolds 853 frame with a 7000 aluminium swing arm
ISCG05 mounts
Taper steerer compatible head tube
142 x 12 bolt thru back end
Sealed, capped and shielded pivots
Semi-internal gear routing
Stealth dropper compatibility
More at http://www.cotic.co.uk
Featured in this Post
Comments