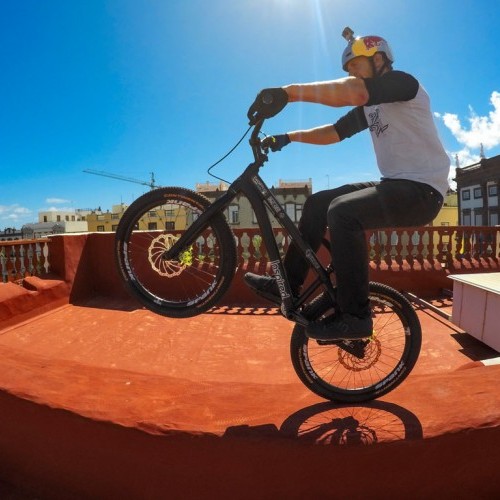 IMB's Top Videos of 2015
Thu 31st Dec, 2015 @ 9:30 pm
As 2015 comes to a close we take a look back at the videos that made the internet sit up and take notice of our fair sport, mountain biking. The following vids made it to the top of the pile in each of our last six issues, being voted for by you in your hundreds of thousands. So sit back, have a cold one and enjoy the finest footage of the year. We can't wait to see what 2016 will bring…
Danny MacAskill Lands First-Ever Bump-Front Flip – Behind the Scenes of Epecuén
It pretty much goes without saying that if there's a Danny MacAskill video out then it's going to get a lot of views! This edit shows the behind the scenes efforts in performing the first bump font flip for a steel trials rider, this was during the filming for Epecuén.
Danny MacAskill – Drop And Roll Tour Rides The Alpe Adria Trail
Danny MacAskill was at it again, this time in a slightly mire relaxed and chilled out edit in the Alps. Exploring the Alpe Adria Trail, he blends a mix of his usual urban trials with natural – and even some big bike – riding, but in true MacAskill style.
Riding The White Line
Michael Kollbek clearly has trust in his tyres and his skills! Check out this edit of him riding the white line in Sedona, Arizona. It's buttock-clenching to watch, let alone ride, which is why this video was the most popular in April/May.
Burning Mountains 2 – Vert Riding In Namibia
These guys took going off piste to the next level! In a departure from the trails of their Austrian home, they venture to Namibia. Hitting trails that have never been graced by a mountain bike before and going big in the middle of nowhere takes balls!
Aaron Gwin's Chainless Run – Leogang 2015
No chain, no problem! Aaron Gwin once again blown us away. Despite not having a chain for his winning run in Leogang, he went faster than he did in qualifying. Last year no tyre, this year no chain!
Kenny Belaey's Balance
Kenny Belaey rode his trials bike along an 18m-long slackline, 112m above a gorge at an altitude of 2,700m. This takes some skill, and it's a bit scary to watch, even he thought it was impossible at first!
Danny MacAskill – Cascadia
In December Danny MacAskill blew our minds all over again and at one point even crashed the IMB servers with Cascadia, a mesmerising ride across the rooftops and high walls of Gran Canaria. Danny takes us on a crazy POV journey that will leave your jaw on the floor. If you only watch one MacAskill film ever again in your whole life it's going to be this one!
Don't forget, you can vote for any video featured on IMB by simply clicking 'Like' underneath it on our Facebook page and sharing it with your friends.
Featured in this Post

288,700

1,478,016
Comments