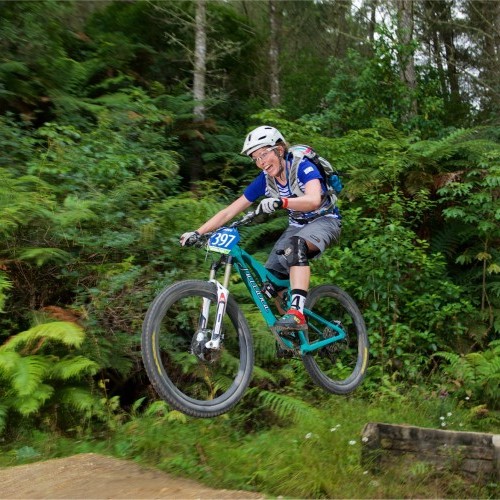 Rotorua Bike Festival 2016 & Sonya Looney Q&A
Mon 11th Jan, 2016 @ 6:30 pm
One of the toughest races on the international mountain bike calendar will be a feature of the 2016 Rotorua Bike Festival in New Zealand in February. The World Endurance Mountain Bike Organisation (WEMBO) 24 hour Solo World Championship will start at midday on Saturday February 20th with some of the world's top endurance riders in the field. It is open to enter at wembo2016.com
"Rotorua is a fine place to bike…quiet roads, an energetic BMX scene and a world-famous mountain bike trail network in the Whakarewarewa Forest – all 150 kilometres of it.

"Rotorua has hosted World, Oceania and National Championships and every year there is a rich portfolio of annual biking events.

"And we are one of only a handful of mountain bike destinations in the world to be awarded gold status by the International Mountain Bicycling Association…

"The Rotorua Bike Festival is an important cog in the wheel…every February."
There will also be a team's category. It's a unique opportunity for Kiwi 24 hour soloists and riders to compete alongside the world's best on home territory and the IMBA gold status trails in the Whakarewarewa Forest. Entries are open at nduro.co.nz. WEMBO is the longest and toughest event of the 10-day Festival, which launches on Friday February 12.
Sonya Looney Q&A With Graeme Simpson
Already confirmed in the starting line-up is current women's 24-hour solo world champion, Sonya Looney. The livewire 32 year old is originally from New Mexico in the USA and now lives in British Columbia in Canada. She's a talented and very experienced rider.
Mountain biking history? 2015 World Champion (WEMBO), 4x USA National Champion, USA Marathon Worlds Team, Brasil Ride Stage Race Winner, 2x Breck Epic Winner, 2x Yak Attack Winner, 3x Bailey Hundo Winner.  Stage race wins in 6 countries.
Have you heard about Rotorua?
Yes, I actually heard of it because of the Enduro World Series (I'm also racing the Trans New Zealand Enduro Stage Race in the South Island the week after I race WEMBO 2016). I've never been to New Zealand and always wanted to come visit!  I'm doing the full tour.  People from New Zealand are some of my favourite.
Looking forward to the trip?
Very much.  It'll be winter in British Columbia where I live.  We can't ride outside in the winter, so it'll be absolutely wonderful to be flying into summer weather and maybe even a shock to the system. It'll be nice to hear the crunch of my tires on dirt and feel the sunshine on my skin. I also can't wait to see all the beauty that New Zealand has to offer and learn more about the culture. The Koru symbol is one of my favourites and has always been my good luck charm as a professional athlete.  I have had different renditions of it. My current one is actually from an artist in New Zealand.
Goals for 2016?
I'm excited to continue trying to win every stage race I go to next year, which will be two in Chile, South Africa, Canada, and more.  But I'm also taking on Enduro as a new discipline, too.  There'll be a learning curve for sure, but I'm excited to start learning how to race Enduro.  I've been riding in that style at home a lot, but I have never raced it and I am excited to get on Scott Bikes for 2016.
Favourite things? And favourite things to do?
Enthusiasm, chocolate chip cookies, IPA, chocolaty espresso, my husband Matt, sunshine, big mountains, entrepreneurship, technical riding, cool hats, photography, laughing out loud, doing yoga, playing music (singing, guitar, flute, mandolin, piano, anything), playing tennis, running, Stand Up Paddleboard, camping, going to see live music, cooking, public speaking, and of course, traveling the world.
Anything else?
Yes, I love public speaking. Riding bikes and doing the things you love will transform your life in ways you never imagined. I talk about the different places I've raced all over the world from the Himalayas, to the Sahara Desert, to the jungles of Sri Lanka and South America and how experiences there can be applied to real life to help you make changes, grow, and realize that you are more capable than you ever imagined.
I love to talk about how to overcome fear, the power of positive thinking and attitude, redefining success, having a sense of humor, and doing the things you always wanted to do. I also love writing and storytelling. I write for several magazines and love to share stories and adventures.
More info:
http://www.rotoruabikefestival.com
http://www.facebook.com/RotoruaBikeFestival
Featured in this Post
Comments