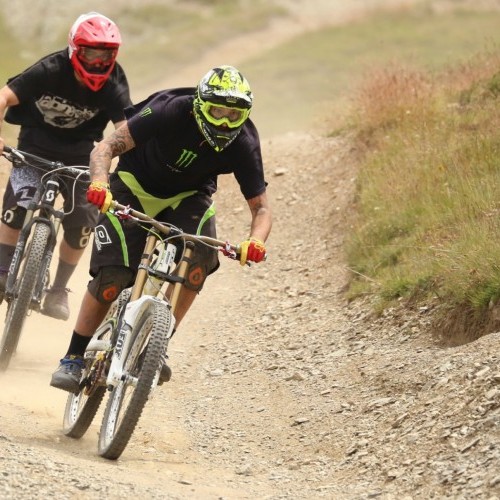 A Very Long Season At Mottolino Bike Park
Fri 6th May, 2016 @ 6:30 pm
How does 114 days of Euro bike park riding sound to you? Winter in the northern hemisphere has just finished and Mottolino Bike Park is already at work for the upcoming summer season, in what will be the longest ever: 114 days of pure fun available to any bike lover. Sounds like something to rejoice about!
Preparations are underway within the bike park: 13 trails of all kind, either flow or technical, will be there to satisfy any need for riding. Work in progress in the jump area set up with dirt jumps built to improve performances on the trails, as well as in the North Shore Area where wooden structures rule thus offering great options among walkboards, bridges and winding ramps.
The news for the fans is the recently built trail SIC58, a black run dedicated to the great Italian champion that will be completed during the summer season.
In summer 2016 Mottolino will be joined by a new partner: Scott Bike. Thanks to this partnership the entire Dr. Rent bike fleet has been renewed. Two excellent models will be available: Voltage within the packages including a standard bike and Gambler within the packages including an exclusive bike.
Talking about special deals it will be possible to profit from them right from the opening weekend on June 11th and 12th when bikepass will be available in the "ride 2 days, pay 1" offer at only € 30, whilst those who need accommodation will get bargain conditions at our conventioned bikehotel partners by booking online on the website mottolinogo.com.
In June the most appealing offers will be devoted to beginners: on midweek days the all-inclusive packages will be on sale with a 20% reduction. These offers are also available online on the platform mottolinogo.com.
About Mottolino Bike Park
Among the first bike parks in Italy, Mottolino Bikepark was founded in 2005 after the mtb World Championships and in Europe it's a landmark for downhillers and freeriders.
It offers 13 trails suiting 3 levels of ability and riding skills, with length up to 4.500 mt, running from a 2.400 mt altitude down to the village located 1.800 mt asl. Amongst the structures there is a BigAirBag to try new tricks, a jump area, a North Shore Area and much more.
Mottolino Bikepark Opening
11th of June – 2nd of October 2016 from 9.00 a.m. to 5 p.m.
For further info visit http://www.mottolino.com
Featured in this Post
202,667
United States
910,394
United States
571,839
Comments