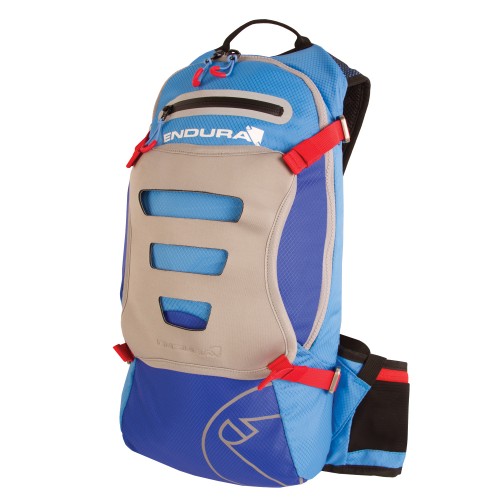 We've Got Your Back – Endura's New Backpacks
Fri 13th May, 2016 @ 9:30 am
Renowned for its iconic range of rugged MTB apparel, the introduction of two progressive new backpacks marks a step change in Endura's luggage offering. Loaded with innovative features and targeted at the serious off-road rider, these packs prove that the Scottish brand is taking this sector seriously.
The most notable feature the MT500 Enduro Backpack, setting it apart from the competition, is the inclusion of a Koroyd EOP 1.0 spine protector, offering extremely lightweight and breathable protection meeting EN1621-2 level 2 standard. Visible through the cutaway back panel, the EOP 1.0's hollow tube construction provides class leading protection meeting the test criteria at low and high temperature extremes unlike many of its competitors, while keeping weight and bulk to a minimum.
The 15 litre pack has stacks of internal space for big days out on the trail with various pockets and a handy removable tool roll providing flexible options for keeping everything organized. An integrated helmet holder, suitable for standard or full face lids, also doubles as a stash pocket. The adjustable QR pad carrying straps provide further, flexible external carrying capacity.
The lightweight strap system, grown on waistband with easy access pockets, and neat chest strap hook which can be operated one-handed hold the pack firmly in place, no matter how steep things get and the durable, wipe clean, waterproof lower panels shed wet, muddy spray.
The 10 litre SingleTrack Backpack is a lightweight trail essential designed to carry just enough kit to keep you self-sufficient for a decent off road ride without weighing you down. The pack boasts an innovative, clip on helmet carrying system which can be removed if not required.
The mesh covered Spinechiller™ back panel provides super light support and fantastic airflow stopping sweat build up when going hard. The carefully sculpted strap system locks the pack to the rider. The SingleTrack also comes complete with a removable tool roll and is available in striking green and blue colourways alongside a stealth black option.
Both the MT500 and SingleTrack Backpack are hydration compatible, with an option to buy complete with a custom 3L Hydrapak reservoir which neatly fits in an easy access bladder pocket.
The loud and proud new backpacks tie in perfectly with the corresponding apparel collections with the strong, vibrant colours demonstrating Endura's continued commitment to move away from the grey and black days and building on the sell-out success of the "Limited" lines introduced in 2015.
MT500 Enduro Backpack – Fully Featured Enduro Backpack
Durable, lightweight construction
Vented adjustable stretch waist strap for a super secure fit
Integrated CE 1621-2 Level 2 Koroyd back protector
Mesh covered 3D foam back panel construction for support and ventilation
Pre-shaped, lightweight perforated foam shoulder strap construction provides comfort and ventilation
Easy access waterproof zipped pocket; Hydration compatible; Removable Tool Roll
Durable, splash proof base and Quick release pad carry straps
Adaptive Helmet Carry System for full face and standard helmets
Capacity 15L
RRP: £99.99 (£119.99 with 3L Hydrapak)
SingleTrack Backpack – Lightweight Trail Essential
Lightweight construction
Pre-shaped, lightweight perforated foam shoulder strap construction provides comfort and ventilation
Mesh covered 3D foam back panel construction for support and ventilation
Easy access waterproof zipped pocket; Hydration compatible; Removable Tool Roll
Adaptive Helmet Carry System for full face and standard helmets
Adjustable waist strap with mesh pockets
Capacity 10L
Colours: Blue, Green, Black
RRP: £59.99 (£79.99 with 3L Hydrapak)
Featured in this Post
Comments