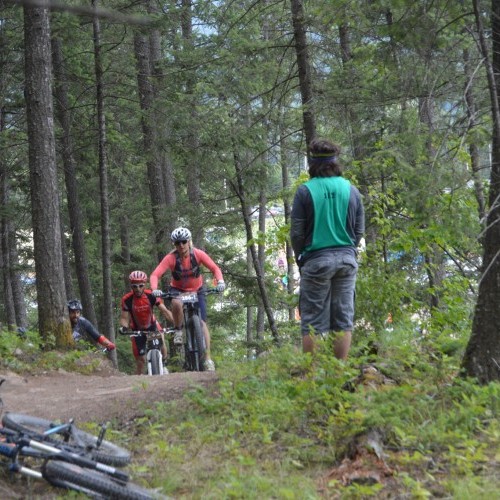 Golden 24: Summer Solstice & Sweet Singletrack
Tue 28th Jun, 2016 @ 9:30 am
All-round riding and running machine, Cat Sutherland, took off to glorious Golden, Canada for the Golden 24 to see what this inaugural singletrack event had to offer for the hardcore – if not slightly flu-ridden – athlete.
The 14th of June marked my last day of office life as I knew it and the beginning of a new adventure. After my decision to change career direction and step away from 9 till 5, I craved the opportunity to take time out, relax a little and focus on the things I'm passionate about – writing, biking and living the simple outdoor life.
Such a turning point in my life was to commence with a one-way ticket to the bona fide Canadian mountain town of Golden. Situated between the epic Columbia and Rocky mountain ranges, this hearty town sits 800m above sea level, marking the junctions of two of the most powerful streams of water in the Western province – the Kicking Horse and Columbia rivers. Surrounding town there's a web of enticing trails that cover over 100 km of riding – so what better way to familiarise myself than a lap race around some of Western Canada's most proclaimed singletrack?
As ever, I scoured the Internet for events and races ahead of my arrival, keen to try out the ways of life on a bouncy bike and stake my claim to have ridden what's deemed to be amongst the world's greatest mountain bike terrain.
Golden 24 happened to fall on my first weekend in town, an XC race in its primary year and founded by the creators of Singletrack 6 and the TransRockies event series. Time to get those big girl panties on and come to grips with the workings of a dropper post! Kindly Kevin and the crew at TransRockies offered Ico and I an entry to take part in the 8 hour pairs – our decision to opt for the shorter distance made final thanks to a stinky cold I'd picked up from the plane journey over.
Waking up the morning after I arrived, we unpacked and built the beauty of bike I would have the pleasure of testing for the summer – a Canyon Spectral AL – offering me sizeable travel and the reassuring assistance of a Reverb dropper post. A swift pre race morning lap left my lungs bursting and my legs a little shaky. At the back of our house, the Mount Shadows trails packed some punchy ascents, offering almost no time to ride it out before facing untamed rocks and roots that map out sweet, swooping descents. Truly smile inducing, if not mildly butt-clenching.
Jaded by my cold, I laid low the day before the race, but bucked up by Saturday morning and putting mind over matter, we made it to the start of the race bright and early. Thankfully the sun was shining as we lined up, an array of baggies and Lycra alike. Ico nominated me for the Le Mans style start, an announcement that caused some tactical fluster amongst the competitive set of riders – trainers or mountain bike shoes? My only other option was an optimistically packed pair of flip flops – so mountain bike shoes it would have to be.
As we stood together, the familiar and homely sound of bagpipes blared loudly as pipers walked between us, rustling the crowd who were itching to begin the first 800 m run around the campground. My heart rate leaped as we charged around the field, to be followed by a lap on the bikes then onwards to singletrack. The first climb was a rude awakening for the quads; it weaved up steeply through forest with little respite offered as we looped round the narrow trail. Roots rivalled our rubber tyres as they crept onto the trail with stealthy slickness, making work of the first few kilometres. Finally, the first aid station appeared and cheerful Canadian accents encouraged us onwards.
If you're looking for long stretches to spin the legs, this is not the course. However, if singletrack is the only option on your list – it's perfection. With only mere metres worth of fire trail, you're constantly entertained by the variety of riding. Marking the middle of the course, there's a brutal black climb that saw many stand by the sides to gather breath. Topping out at the summit of Rock About, a 2km section that'll rattle the bones of even the bounciest of bikes, there's little cushioning offered should you take a slide off the side. In fact, best not to look down to the left! There's a mix of board walk thrown in for good measure, which admittedly psyched me out in the final lap with it's absence of chick wire – it seemed all too slippy and I elected to wimp out and run around.
Rewarding all that hard work on the final few kilometres of descent you come to Snake Hill, described on Golden's colourful trail guide as "Fast, bermed bully. A bobsled run. Watch for stumps." Oh how true this is! Flow doesn't quite justify this section – truely grin generating material at its finest, which is met at the end by a grabby, slippery final few kilometres to the finish. Coming into the race ground, I handed the reigns to Ico, my legs and lungs spent on that first round and our race tactics, consisting of double laps, melted away with the sweat dripping down my face. Warming up by the fire pit, I got chatting to a local from Medicine Hat – Mike was the typically welcoming Canadian I'd come to know from previous trips to the country and we kept each other motivated as we waited for our significant others to arrive and send us on our way around the course.
Soon the rain began and the muddy madness ensued. Luckily, my last lap was just as it began and my Findra shorts held strong against the mass of muck that gathered. Poor Ico bore the brunt, coming in looking like he had a severe case of mud-pox. Shivering but satisfied -we were happy to be cheering on the remaining riders. After 3 laps each we took 7th place out of 16 mixed pairs. Under the shelter of their gazebo, we joined Mike with his fellow team mates for a well-earned local beer, sharing stories and laughing until the chill finally took over and we retreated for home and a hot shower.
A huge thanks to the team at TransRockies event for an incredible introduction to the Canadian race scene – a massive respect too for all the riders who completed the course, it really has to be the toughest but satisfying of 24 hour courses I know!
Featured in this Post
Comments