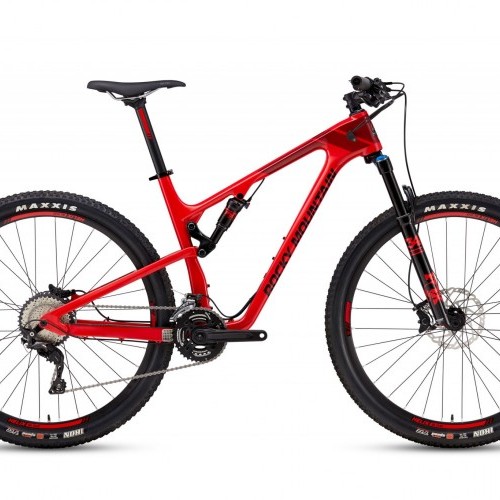 Rocky Mountain 2017 Element
Wed 29th Jun, 2016 @ 6:30 pm
The new 2017 Rocky Mountain Element is an XC weapon with the confidence of a trail bike. This is the result of over two decades at the front of the pack. The new Element features more efficient suspension performance, refined marathon geometry, Ride-9™ adjustability, and room for two bottles inside the front triangle. The smallest details were examined in search of point-n-shoot rigidity and unrivalled speed.
In Your Element
Intended Use: XC
Front Travel: 120mm
Rear Travel: 100mm
Wheel Size: 29"
"This new Element is a full-on XC marathon weapon, but with the confidence of a trail bike" said product director Alex Cogger. "People used to show up to BC Bike Race expecting to grind fire roads all day, only to walk the descents and snap their made-for-the-scale bikes in half. XC racing has evolved, and bikes that can't handle the real world have no business on the course."
Details
Full Smoothwall™ carbon frame weighs 2250g (size Medium, including shock and hardware. Two-tone paint on T.O. frame adds 30g)
Ride-9™ adjustability chip moved into the link, saving weight and bulk
All sizes fit two water bottles inside the front triangle
Future-proofed to run Di2, Fox Live, and a dropper post concurrently
Frame available with special edition Team Only paint job
Cartridge bearing pivots with simplified hardware
Single-sided chainstay pivots for a narrower rear triangle—eliminates heel rub, even with Boost spacing
Fits standard, widely available 6.5×1.5 shocks
2x compatible
Clearance for 29×2.35 tires
Full-length internal shift, dropper post, and lockout routing, plus internal brake routing in the front triangle
Oversized headtube and downtube ports for ease of cable routing
New derailleur hanger design reduces hardware complexity
Lightweight bolt-on axle saves 35g compared to a traditional Boost axle
PressFit BB92 bottom bracket, ZS44 | ZS56 headset
Post-mount 160mm rear brake
Max 1x chainring size is 38t with SRAM, 36t with Race Face
Max 2x chainring size is a full size 28t/40t
Sizing: S/M/L/XL/XXL
Suspension
We tuned our four-bar Smoothlink™ suspension to increase the anti-squat values and maximize pedaling performance without sacrificing the traditional Rocky Mountain ride feel. It's supple off the top and features good progression to avoid bottoming. We focused on mid-stroke support to keep more travel available, and lowered the shock leverage ratio for better suspension performance and adjustments.
Party up front, business in the back. The new Element was designed around a longer 120mm fork because it's nice to have a bit more forgiveness four hours into a hammerfest. The result is a bike that pedals like a rocketship, but doesn't get hung up or turn skittish when things get technical.
Geometry
The new Element received a substantial geometry update, while retaining the confidence and handling that people loved about the previous generation. It's slacker to keep things stable when you're seeing stars four hours in, but uses a longer fork offset to keep steering dynamics precise.
We've shortened the rear centre, lengthened the reach slightly, and steepened the seat-tube angle—allowing for shorter stems and wider bars without sacrificing a powerful pedaling position. The bike hasn't been stretched into downhill sled territory, but we're offering an XXL size for those that need longer reach.
Ride-9™ Adjustability
With the increased demands of modern XC courses and stage races, our Ride-9™ adjustment system allows riders to fine-tune the Element's geometry and suspension. In adapting the system from our trail bikes, we moved it from the forward shock mount into the link—reducing weight and bulk. The headtube angle can be adjusted from 69° to 70° and the suspension rate can be tuned for an XC race feel or a more aggressive trail feel. For multi-day stage racing, marathon racing, and real world XC, this makes it easy to dial in the perfect balance of snappy, confident, and responsive.
Technologies
The Ride-9™ system allows riders to adjust geometry and suspension to specific riding styles and terrain. Nine configurations are possible thanks to two interlocking chip inserts.
Smoothwall™ carbon uses one of the world's most sophisticated carbon processes to build frames with industry leading stiffness-to-weight, ride quality, and durability. By using rigid internal molds, we are able to perfect the shape of the internal features and eliminate excess materials. We use different types of carbon in specific frame areas to maximize stiffness and impact resistance while minimizing overall weight.
Smoothlink™ suspension stays supple yet supportive through a wider range of gears than conventional single pivot or other four-bar suspension configurations. This patented system reduces both pedal-bob and bottom-outs, while allowing us to fine tune variables like braking and climbing traction across a wide range of intended uses.
Size Specific Tune™ ensures that riders of all sizes get the right balance of small-bump compliance, mid-stroke support, and end-stroke progressiveness. Our design team does custom shock tunes based on real world field testing, and adjusts each tune for every specific frame size, from S to XXL.
Featured in this Post
Comments