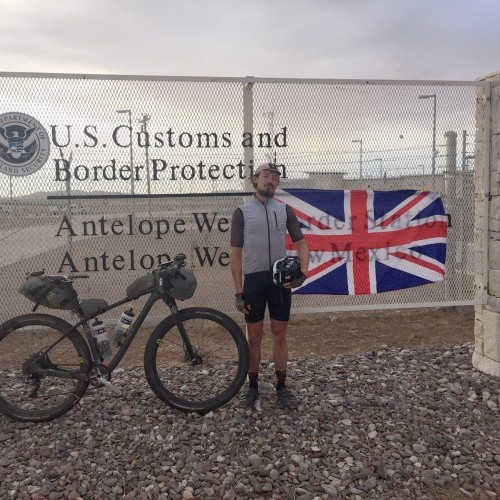 Mike Hall Smashes 4000km Tour Divide Record For Win Of Premier Endurance Event
Wed 29th Jun, 2016 @ 9:30 pm
Ever fancied riding 4000km as fast as you can? That's exactly what Mike Hall, of Yorkshire, England did as he finished his Tour Divide journey in the early hours of June 24th 2016 to beat the previous record by over half a day with a time of 13 days, 22 hours and 51 minutes – 12 hours and 46 minutes faster that the previous record set by Josh Kato in 2015 (14:11:37).
Since Mike's last Tour Divide in 2013, the event has been a case of "unfinished business", due to forest fires that forced him to detour from the official route that rendered his then potential record time as "unofficial". Mike's goal this year was to take the record back with authority and have it stand in the books.
The Tour Divide travels through Canadian provinces of Alberta and British Columbia, and the United States of Montana, Idaho, Wyoming, Colorado, and New Mexico. When complete, a thru-rider will climb nearly 200,000 feet of vertical (equivalent to summiting Mount Everest from sea-level 7 times). Completing the self-supported route is a feat unto itself, and winning the overall is an incredible athletic achievement. Route trackers showing Mike's average distance per day as 194.1 miles and total moving time as 10:14:36, with stops for rest and refueling making up the additional time.
Pivot Cycles, Mike's frame sponsor, were there to meet him at the finish line at the Mexican border at Antelope Wells where he finished in the early ours this morning after a mammoth 300 mile last leg non-stop from Pie Town. We caught up with Mike soon after he finished and he said spent the duration of the event relatively unaware of what was going on with other competitors in the race, as he chose to take no mobile phone and ignore the spot tracking on other riders, and focusing on his own riding.
In typical Mike Hall fashion, he lead the race from the front almost from the beginning. Speaking to Mike briefly after the finish, he said:
"I've not been connected [to the world], am feeling a bit strange not knowing what is going on. It's been good to have a clear run at the course. I have given it my best effort and am satisfied this is the best time I could have done".
Congratulations to Mike for his incredible achievement!
Mike's choice of bike for the epic journey was a Pivot Cycles LES hardtail MTB, equipped with Reynolds carbon wheels, Shimano XTR Di2 drivetrain and components, Apidura bike packing bags, and Lezyne accessories. Mike wore PEdAL ED clothing for the duration of the event.
Mike is supported by the following sponsors:
PEdAL ED clothing and support
PIVOT CYCLES supplied his carbon LES hardtail MTB frame #YourNextRide
REYNOLDS Cycling for wheels #RideReynolds
SHIMANO for Di2 Drive chain and components
APIDURA for bike packing bags
LEZYNE for lightweight accessories
TRANSCONTINENTAL the Race that Mike organizes, also contributed to Mike's support
Featured in this Post
Comments