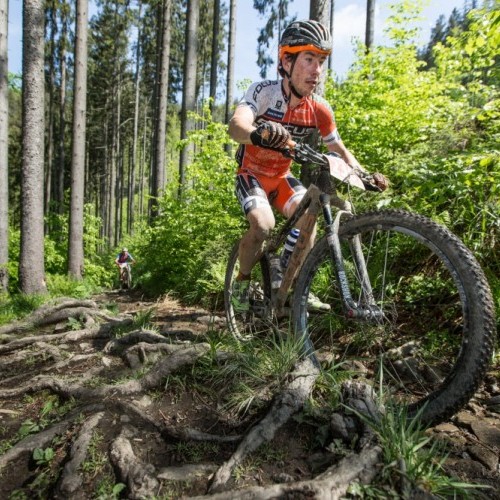 The Beskidy: 4 Days & 295Km On A Hardtail
Tue 14th Jun, 2016 @ 9:30 am
Beer instead of water. Four days of mixed terrain covering 295 kilometers. Riding it all on a hardtail. That's The Beskidy then!
I love to travel almost as much as racing so when I get a chance to combine the two all the better, my general rule of thumb is that the riding time has to be at least as much as the travelling time to get there in the first place so when I looking at the 1000mile drive from UK to Istebna in Poland I figured the 4 day stage race would definitely have me hammering that crank longer than the 14 hour road trip. So van packed, overnight ferry from UK to Holland and then another 800 miles of laughs and giggles all the way to a new venue for all 4 of us making the trip.
"I asked for water, they offered me beer"
I've never had a reason to go to Poland and didn't know what to expect, what we found though was a beautiful part of the world. The event is based in Istebna, part of the Silesian Beskids mountain range south Poland, bordering the Czech Republic and Slovakia, hills full of well-established walking trails, ski lifts and general outdoor goodness.
This is the 10th edition of the Beskidy, growing in popularity year on year and now a well-established slick event. From start to finish everything ran like clockwork from registration on the Wednesday to getting the finishers shirt on the Sunday. Some nice touches like the race book in the starters pack giving route map and details of each day as well as profile stickers for the bike showing elevation and feed stations. Racing is 4 days, but 2 formats, the Classic covering 295km and 10823m elevation, the mega (which sounds like it should be more) at 211km and 7552m. I opted for the classic but looked enviously each day at the mega split markers as my legs got progressively more empty.
Stage 1, 70km and +2550. Hundreds of clean bikes, fresh legs and buckets of pent up energy. Note to self, don't pull the pin, stay nice and easy, 4 long days ease into it. BANG! Go, pin pulled, I'm off like a rocket – only because everyone else seems to be, why don't I learn? I've done plenty races now to know not to smash it on the 1st part of the 1st day but inevitably I find myself getting sucked into a pace faster than I really should or want to be going. The first few km was on a minor road then onto dirt track and we faced the 1st 350m climb. Houses gone, start line pumping music gone, cheering crowds gone, suddenly the adrenalin has gone too and legs feel like they have already climbed mount Everest.
I opted for a hardtail for this race, I'd heard reports of how brutal it is on bike and body with the rocky descents but knowing that there was not a lot of "flat" sections I reckoned that the couple lbs lighter bike would help me up the hills and place me better for going down. In hindsight that was the right call for me, I'm not the best climber by a long way, I make places up on the descents and fast single track, anything to help nail a few thousand meters of steep climbs a day was key in my book. The stage was a cracker, dipping in and out of the Czech Republic trails and tracks with some fantastic wooded single track right to the finish. 70km may not sound a lot to some but they are not easy km and don't click off fast. The finish was a welcome sight.
Every day had pasta, rolls and drinks at the end along with the bike wash. The local school had a team of masseurs for a very reasonable price. Well worth it on stage races to try and squeeze the aches out and the life back into tired legs.
There seemed to be plenty of accommodation in the village, with the ski runs and lifts it obviously caters for winter tourism which doubles up nicely for summer hikers and MTB riding and racing. We stayed at the Kompleks Zagron, it was clean, comfy, had its own bike wash and didn't seem to mind lots of dirty bikers plodding about. Food and beer was good and again very well priced and as we found out they would wash our kit for no extra charge…nice.
Day 2 had the longest stage at 84km +2775m. Hard climbs but incredibly rewarding descents over rough rocky trails where picking the right tyre pressure was critical. After the 1st feed station an eight hundred meter climb straight up to the Rysianka mountain top had my legs screaming for a break. The 700 meter fast descent was magic but over all too soon only to face another mammoth climb. Luckily the last 5km was all downhill to the finish.
Thunderstorms overnight and full on sun for stage 3 made for a hot and humid day. Not my bag really, I'm no solar panel and as soon as the temperature reaches double figure my jersey zipper gets opened wide. Today was a suffer fest from start to finish. Getting dropped easy on the initial steep climb from the start I gradually settled in thinking about the 700m climb after feed station 1. On the fast downhill before the start of the climb I dropped my water bottle losing the contents, I knew there was no way I'd make it up the mountain in this heat with no water so stopped at a house with spectators outside.
I asked for water, they offered me beer, it was 10:30 and that's all they were holding, a cameraman close by interpreted and and off they went inside for a minute and came back with what I hoped was a bottle of water, I took a swig 5 minutes later and half expected a mouthful of the local polish lager, thankfully they had found the water tap. The assent was painful, a few false crests before the top had me thinking I was there just to find no actually I wasn't.
Apart from a few small spikes we had 16km of downhill to look forward to. The downhills are fast and rocky, a lot of riders were opting for lightweight tyres and paying the price with punctures. Tubeless or not, sidewall slits from a rock needs a time consuming tube putting in. I've ran heavier tyres for a while now putting up with the weight penalty to hopefully avoid a puncture, here I was running Fast track Grids on the back and controls on the front. I had no issues over the 4 days and I wasn't riding them gently.
Saying that I did break a spoke on the downhill, only the second time in years of racing that's happened, a small buckle developed immediately and I was worried about it lasting the distance so backed off a bit on the rest of the descents that day. Climb towards the end up to Trojaki, bit of a descent then a final climb to a very welcome finish line.
Much of the evening was spent on bike maintenance, brake issues and that bust spoke meant a lot of messing about rather than sitting and trying to recover a bit for the last day.
The weather had been very kind to us, no rain during the race at all, plenty in the late afternoon and evening but into the high 20's during the day. Last day, I normally have the attitude that "the last day will take care of itself", no matter how tired you feel the last day is the last day and you can always get some energy for that. However today I felt pretty empty on the start line. After day 1 I'd been gridded in the front chute with the top 50, I'd try and vindicate myself and push on but today was a struggle from the start. I decided to just get my head down, do my own thing and ride my own race. Today also had the most climbing at 2910, some real techy climbs and some so steep needed a bit of hike a bike.
The downs were wild though, through the Salmopol pass, a lot of trails used by hikers, not generally allowed for bikers but permission granted for this event, brakes off and let the bike fly. An accident here would have been nasty, thankfully I didn't see anyone have any major crashes, I had one big moment today where everything was a bit too much sideways, tail up, foot out. I must have done enough good deeds in the past month to warrant a bit of luck as it certainly wasn't skill that brought us down in one piece. The finishing kilometres track round the Wista Czarne reservoir, quick climb then forest trails to the finish to collect one of the hardest earned t shirts ever.
At the sharp end of the race the quality is high. This year Michal Kanera from the Czech Republic took the win in the men's with a 11:21 advantage over 2nd placed Bartosz Janowski from Poland. Christopher Maletes from Germany coming in a couple minutes after in 3rd overall. As for the women, Poland's own Michalina Ziolkowska dominated with a 2hour 37 minute lead over 2nd place Sandra Backmon from Sweden, Ania Swirkowicz from Poland coming in 3rd.
The whole event really is a cracker, I'm glad it's just 4 days as don't think I had a 5th day in me. I'm writing this 10 days later and only now starting to feel normal again. Sure there are brutal climbs stacked one after the other but the downhills reward in full. The large village of Istebna has plenty cheap, clean, comfy accommodation which means you can stay right in the heart of the action, and best of all the restaurant by the start/finish line does a 50cm pizza! That in itself will have me back for more.
Featured in this Post
Switzerland
312,183
Switzerland
611,315
Comments