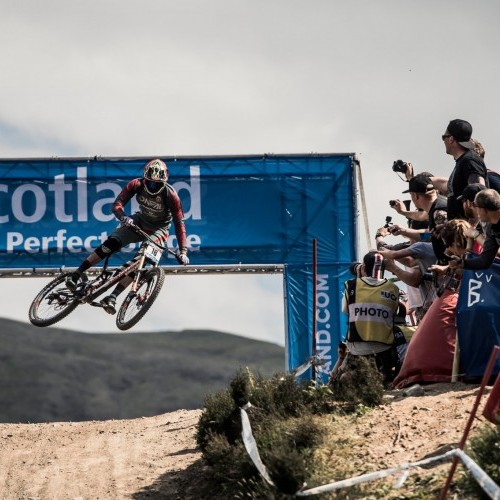 The Top 5 Gnarliest Runs In Downhill Mountain Bike History
Thu 28th Jul, 2016 @ 9:30 am
Downhill mountain biking is such an addictive, buzzing and often mental thing to do and with each year that goes by it gets more and more impossibly good. Just as you think you've seen it all, there's always one rider who pulls off an impossible run and makes you sit up and take notice; as though the planets have aligned and their chi and flow are at one and their bike is just an extension of their mad-awesomeness. Here we run through five of the gnarliest and most inspiring downhill runs in mountain bike history; each one uniquely brilliant. Sit back and prepare to be stoked in to an early grave.
5. Sam Hill /Â Schladming, Austria / 2009
Riding for the Specialized Monster Energy Team, Australian DH weapon Sam Hill took the UCI Downhill World Cup crown for the second time with this masterclass of fast and loose riding, beating Kiwi Sam Blenkinsop to the podium on the day and snuffing out the challenges of Greg Minnaar and Steve Peat for the title. Check out the foot out and near wipeout coming through the final bends. Sam left it all on the track to bring home the bacon.
4. Greg Minnaar /Â Pietermaritzbug, South Africa / 2013
It wouldn't be a valid top 5 of anything downhill mountain biking related if it didn't feature the world class talents of the sport's most successful DH racer, Mr Greg Minnaar. Here he is in 2013 pinning it on his home turf to try and take the UCI Downhill World Championship crown for a third time. Being a homegrown boy on this course, Minnaar clearly had the edge over closest rival Mick Hannah but seemed to be behind the Australian before pinning his way to glory in the last few turns. Just check out the wild celebrations at the end!
3. Josh Bryceland /Â Hafjell, Norway / 2014
So good you need to see it twice, Josh Bryceland's 2014 run at the UCI Downhill World Championships was going so, so well – the Rat was perfect and seemed to be nailed on to cruise it for the win right up until the home straight. Coming into the finish at warp speed Bryce overshot the final wooden bridge and broke his ankle, losing out on the number one spot by milliseconds. How we all felt for the cheeky scamp. Gutted.
2. Aaron Gwin / Leogang, Austria / 2015
Already a legend in his own right as one of the greatest downhill mountainbikers of all time, Aaron Gwin elevated himself to messianic status with this chainless win (yes, WIN!) of the Leogang leg of 2015's UCI Downhill World Cup competition. Anyone who's ever lost a chain whilst riding steep, technical trails will testify to how bloody difficult it is, but Gwin somehow manages to squeeze every ounce of speed and power out of the bike through pumping the trail and staying off the brakes. To get down the course faster than a bunch of guys with chains is just on another level. Mind. Blown.
1. Danny Hart / Champery, Switzerland / 2011
As insane DH runs go this is a contender for the best of them. At the age of just 19 Danny Hart pulled the opposition to shreds with this masterclass of riding downhill in the wettest of wet conditions. The Giant Factory Team rider had the entire mountain biking world on its feet, such was the awesomeness of his accomplishment here, and with over 3.5 million views for this copy of the run alone, it's clear that the rest of the world loved it too.
—
Have we missed anything? Don't agree on the rankings? If you can think of an impressive downhill run that we haven't featured here then drop it in the comments section below.
Featured in this Post
Comments