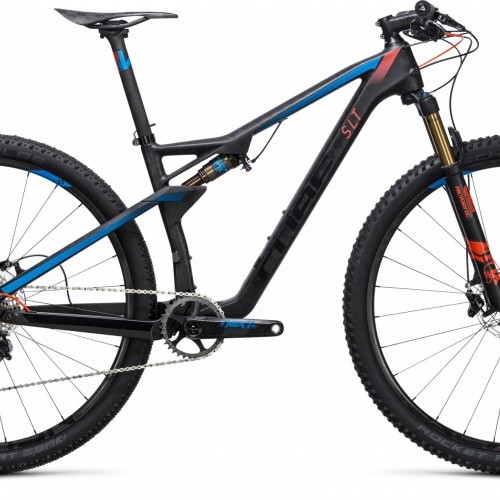 CUBE Bikes 2017
Wed 31st Aug, 2016 @ 9:30 pm
We all love a good look at some new bikes and it's that time of year again when manufacturers are showing off their shiny new ranges of MTB goodness for us all to oggle over for the next few months. Recently we headed out to Cube in Germany to get the low down on the new factory, look at the 2017 bikes and eat some sausage, whilst there we learnt a few things about Cube.
Firstly they have an awesome new factory which fully encompasses everything we've come to think about German efficiency. The new factory allows one builder to follow the assembly of one bike through the entire process from bare frame to full bike.
We also learnt that the Bosch motors used in the Cube E-bike range are certainly top of the range, and their power output, torque and efficiency are hard to match. Finally we learnt that Cube's bike testing lab is like a torture chamber for bikes. Frames and bikes are subjected to the highest levels of pain and suffering available, in order to meet and far exceed any testing standard available for bikes.
2017 sees the ever expanding range increase in size, whilst introducing new models and refining the classics we now associate with the brand.
AMS 100 C:68 SLT 29
How fast do you want to go? This is a serious piece of race winning equipment. Full carbon, and an attention to detail which see no exposed bolts, all internal cable routing and space for Di2. This is a now compromise cross country weapon of the highest grade. Finished with components from Newmen and more carbon than you can shake a stick at, including the seat!
Stereo 140 C:62 SL92
The stereo 140 29 is the currently the ride of choice for EWS Cube action team riders Nico Lau and Greg Callaghan. Big wheels roll over the holes, whilst 140mm front and rear give enough travel to deal with the rough whilst allowing to pump the life out of every downslope and smash every sprint.
Reaction Hybrid HPA SL 500
Cube have spent a lot of time re working their Hardtail frames for their E-bikes. This new improved frame creates a better integration between frame and battery which give the whole package a sleek look. Having tested the Bosch motors, the 500Wh power output and 75Nm torque is a force to be reckoned with.
Sting WLS 140 SL 27.5
The Sting range continues for 2017 and this model is the 140mm travel version. Sharing plenty of tech from the stereo range to create an all round trail smasher.
The Cube range is huge for 2017, there is plenty to choose from with everything from fat bikes to E-bikes, Hardtails to downhill bikes.
Featured in this Post
Comments