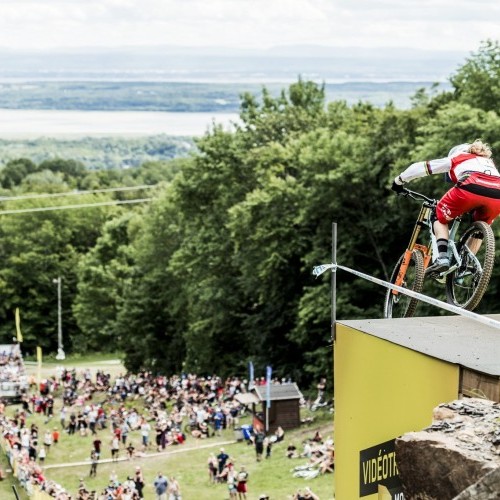 Mont Sainte Anne World Cup 2016 Full Recap
Mon 8th Aug, 2016 @ 12:30 pm
Win a GO3 Camera by Insta360 this issue in our FREE subscriber prize draw.
3 words to describe the course at MSA: rocky, fast and rocky! Great Britain's Rachel Atherton and Danny Hart win big at the UCI World Cup in Mont Sainte-Anne.
For over a quarter of a century, the Québécois hillside of Mont Sainte-Anne has stood tall as one of mountain bike racing's greatest challenges and 2016's installment was conquered by a pair of British riders in the shape of Rachel Atherton and Danny Hart.
"Such a fast day of racing with Rach taking the overall title with one race left to go. Tay got a pb with 29th and considering he's riding on a injury we're all stoked! Gee came through in 11th and couldn't quite push his qualy time to get on the podium."
In the elite women's race, Atherton entered the weekend on the crest of an unbeaten streak which stretched as far back as the beginning of the 2015 season. In qualifying, she took no prisoners and pulled a dominant 12 second lead over her compatriot Manon Carpenter. The only rider to have finished a session ahead of Rachel this season was Tahnee Seagrave but a crash put paid to her strong qualifying form and left her nursing an injured shoulder. Seagrave is made of tough stuff however and still managed to pilot her way on to the hot seat from further down the order.
She would be displaced by a rider who had sampled the very worst of what Mont Sainte-Anne has to offer, Australian Tracey Hannah. Hannah had had some big crashes over the weekend but was to be rewarded with a hard-earned second place.
But Rachel Atherton is a perfectionist and took to the track to secure a near-identical 11 second differential to the chasing pack. She admitted afterwards that she wanted to teach the track a lesson and in the process managed to further solidify her march on a perfect season.
Win a GO3 Camera by Insta360 this issue in our FREE subscriber prize draw.
"Don't miss this one; Tracey Hannah on the podium and some fast dusty racing from the Polygon UR riders"
In the men's race it was Kiwi George Brannigan who notched the first of the truly fast times and guaranteed himself an eventual seventh place in the process. Multiple Mont Sainte-Anne winner, South African Greg Minnaar, was fast and would finish sixth but was ultimately out-shone by a young rider widely tipped to be joining his Santa Cruz Syndicate team, America's Luca Shaw in fifth. Loïc Bruni, returning to racing after a badly broken collarbone sustained earlier in the year was the man they were all chasing. The Frenchman may have talked of easing himself back into things but rider after rider couldn't match his 4:00.792 time. Troy Brosnan, the Australian still in with a shot at the title, couldn't do it and would be forced to settle for fourth. Second in the overall hunt and the winner of the previous round, Britain's Danny Hart, set about Bruni's time with gusto. The splits kept turning green as Hart ticked off the huge drops, 70kph+ open sections and boulder fields before crossing the lane with a 3:59.754, the fastest of the weekend so far. On track, the points leader was down at the first; Aaron Gwin had work to do. Ultimately however, it was just a fraction too much and for the second race in a row, the Californian was thwarted by the man from Redcar in the north of England.
The title still hangs in the balance thanks to Hart's second half of the season charge as the UCI World Cup moves to its final round in Vallnord, Andorra on September 3-4.
Featured in this Post
Comments