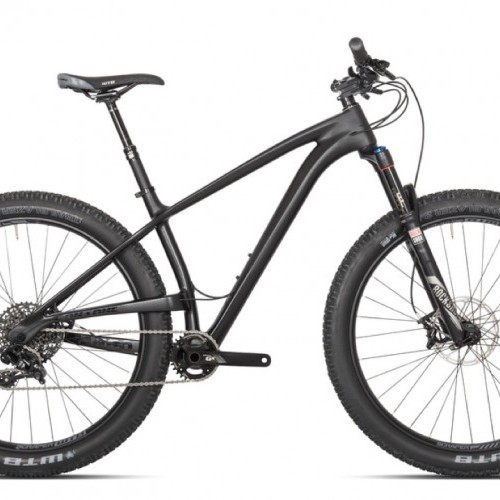 New On-One Rango
Tue 30th Aug, 2016 @ 6:30 pm
Yorkshire monkeys On-One have unleashed a new bike from their stable in the form of a 650+ animal capable of rolling all manner of wheel sizes and widths – meaning you get to choose what size rubber to ride, that can only be a good thing, right? The Rango is a carbon fibre wearing, convention defying hardtail for serious fun times…
Fat bikes serve up fun in swathes, but easy riding on big tyres has been around for a few years now and isn't without its drawbacks. The Rango aims to plug the gaps with its extra versatility.
"Designed for good times in the mud you can use 650+ wheels and tyres, fit it with fast rolling 29" wheels or even squeeze in a set of wider, more grippy 29+ wheels and tyres. "
With its multiple wheel options, the Rango has been designed for good times, in the mud it will take 650+ wheels and tyres, for some quick trail action it will take 29" wheels and it can even handle a pair of 29"+ wheels and tyres to really push the limits.
Did We Mention It Was Carbon?
Constructed from light weight and stiff Monocoque Carbon, the frame has an elevated chain stay on the drive side, this means it can handle bigger tyres and it allows for short chain stays. Obviously the wide BB92 bottom bracket shell, oversized tapered head tube and stealth dropper post are also great additions to the design.
The Build Is Good Too…!!!!!
The launch build starts from £1599.99 and comes loaded up with SRAM GX1, Rockshox Revelation RL 120mm 27.5" Forks, WTB Trail Blazer TCS 27.5 Folding tyres and WTB Scrapper I40 27.5" Rims rolling on SRAM 900 Boost Hubs (Thru Axle).
Featured in this Post
Comments