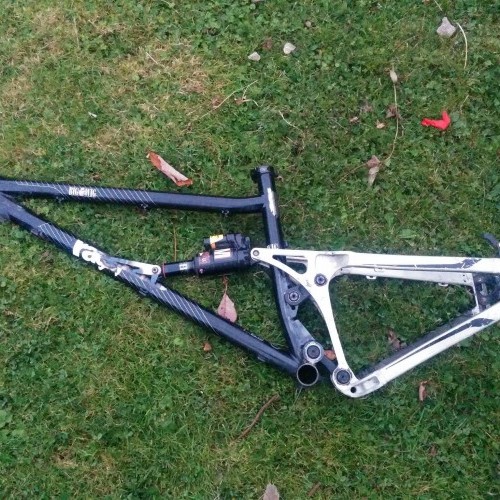 Homemade Bike: Frankenstein's 69er
Tue 18th Oct, 2016 @ 6:30 pm
Win a Pair of Faceplant Sunglasses this issue in our FREE subscriber prize draw.
It might not quite be Halloween yet but Dan Almberg from Sweden has gone all Frankenstein on three of his broken bikes to create this crazy-ass 69er full susser, using the front end of his busted Ragley Big Wig 29er, the rear off a creaking Banshee Spitfire 26er and parts from an old Canyon Strive.
We all know that three bikes are better than one, but what about when three bikes are put into one?
"I broke my Ragley Big Wig this summer while I was up in the Swedish mountains, but I welded it up and could keep on riding. Ragley gave me a new frame within a week so no point in having one broken. And then my Banshee Spitfire begun cracking in different places so i had 2 broken frames… And normally I work with Gibbscam and machining but the last year's [course] is more welding so I mostly just wanted to test my new welding skills on something.

"The first thing i realised was that I could not set the linkage points at the same place. So I had no real idea of what tune I will need fore the rear shock. But it turns out that it's okay, normally I like my bikes really firm but this feels a bit more like a Specialized so I would probably need a bit more pro pedal. But my friend at Racing Bike Sweden can fix that easily fore me as it's time for a service anyhow."
"I just cut some stuff from 3mm steel and machined up some parts to hold the bearings and so on…"
"This is my very simple jig. But the eyes are rather good so…

"Well after fixing the back it all lined up straight and was moving nicely."
Win a Pair of Faceplant Sunglasses this issue in our FREE subscriber prize draw.
"It was time to mount the shock to the front triangle and this was the hardest part – to figure out the head angle without a fork and wheels as the Banshee runs 26″ & Ragley a 29" but I got it spot on as the original Ragley [geometry] runs. And I have room to slacken it some as there is still space before the back triangle will touch the front so I can just move the front damper holder up a bit. But I really don't know if that is necessary. I will ride it first for a bit – it now only has 50km on it and no problems whatever.
"Well I took it home, put on my front from my Ragley and stripped my Canyon (that also was welded a few times in it's life…)

"I just had to build it up and try it out from my house – all bikes go there first.

"After that I went out and shot that film, max 2 takes on everyting. And it worked well, I'm over 90kg whith a backpack and everything, but I had been drinking for 7 days & eating LOTS of food at my vacation so I was really feeling kind of sick, so I could not the any fast cycling. Plus we just have deer hunting season starting so we can only be in the woods after nightfall and that's not so easy to film then, but today i went whith the cross country folks – 32 of them for a 30 km ride – and I managed to hang in there whith the top, well not in the end because there was some gravel roads and this bike is 16 kg and had Hans Dampf front & rear tyres and it weighs 3kg more then my friend's Specialized that had a light & battery on it when we checked.

"So well it was really fun to build and as I said it was mostly to have something to do on my lunch breaks and to see if I could weld. So the fact that everything works – chainlines and so on – and it's really rideable but mostly maybe just for fooling around on. But still I'm going to ride it some now as i don't have a wheel or a fork for my HT and all my parts from the Canyon are sitting on this thing. So now I'm just waiting for Owen my almost neighbour to get back from his holiday and print me some stickers because he is the man ho runs Slick Grafics."
You can check out some of Dan's other creations (this time with engines!) over at Duc Cutters and DWrenched.
Featured in this Post
United Kingdom
727,717
15,553
Comments