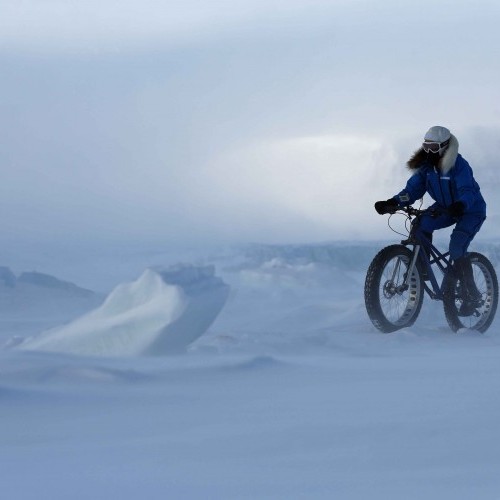 Your Very Own All Wheel Drive 5″ Fat Bike
Wed 2nd Nov, 2016 @ 9:30 am
Check out this 2×2! Found the ultimate gnarly terrain? If you've ever come up against the kind of ground or obstacle that just won't let you past then perhaps you need to rethink your ride! How about a bike with power to both wheels?
Christini AWD mountain bikes were first introduced back in 2001 with production AWD hardtail and full suspension models. The company partnered with a few small builders and some of the big guys too to make a unique, all purpose, trail bike that could go through just about anything.  The company grew and then moved into AWD motorcycle production which put the bikes on the back burner while AWD motos went into production.
Fast forward to 2013 and Kate Leeming entered the picture. Kate called me to see if it was possible to build her a custom All Wheel Drive Fat Bike to help her with an expedition across Antarctica via the South Pole.  We decided to jump right in and build her a custom bike using some of the parts we still had around from the bike days.  So we came up with a 4″ Fat version with a split frame design.  And sure enough…. the bike was a hit!
Christini AWD 4″ Fat Split Frame Design
The test of the first 4″ AWD Fat Bike was so successful that we decided to build Kate the ultimate bike to make it across Antarctica.  Thus the 5″ AWD Fat Bike came to life, taking some tricks from our full suspension bikes to get the wide rear tire to work with the drive shaft.  Add some creative engineering with top of the line components and you have a 'traction-packed' AWD Fat Bike that weighs in at an incredible 32lbs!
Christini AWD 5″ Fat – Kate's South Pole bike
Our goal with this campaign is not only to get some of the Fat Bike lovers on one of the coolest bikes around, but to get Kate across the Antarctic continent via the South Pole!  As you can imagine, that takes a pile of snowy money, so anything you can spare to help her will be awesome!
Risks and Challenges
The Christini AWD Fat Bikes are not the first bikes we've made. In fact, the first mountain bike we ever made was back in 1999. We collaborated with many other companies and have worked with and tested with some of the industry leaders like Geoff Ringle and Gary Fisher (who loves our bikes!). We've been building weird/cool stuff for over 15 years.
Our goal with this Kickstarter is to help Kate get succeed in one of the most ambitious biking expeditions of all time and making it across Antarctica via the South Pole!
With that said, we will complete each and every order that we receive. We promise to stick to the initial limited special edition delivery timeline and will roll out the remaining bikes in a first ordered, first out the door delivery schedule.
If you have any questions about our ability to deliver and customer service, just search the web for what other customers have to say. We pride ourselves in being honest and fair and never letting anyone down.
Thanks for your support!
Steve Christini
See more at: Christini Bicycles
Comments