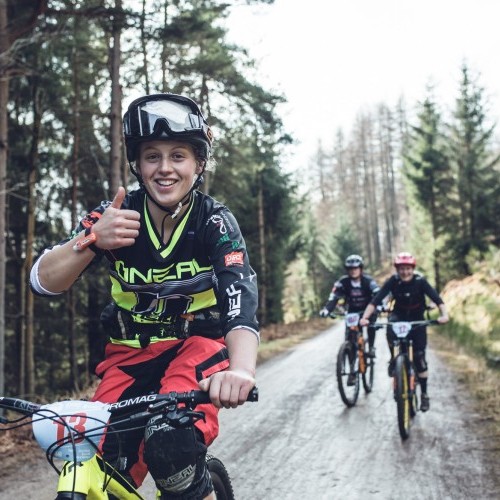 Win A Bike With Bex Baraona – Who's That?
Wed 21st Dec, 2016 @ 12:30 pm
Ranked number 7 in the 2016 Enduro World Series…where did she appear from? Read on to find out more and how you can help her achieve her goals in the sport!
So yeah, that's me down there in that picture- a happy head, on a bike, racing. I'm a pretty simple girl; I know what I like and if I'm having fun I'll keep pushing and get more involved in whatever it is that is making me happy. In about 2015 I realised that was racing bikes.
I love the UK enduro scene, there is a huge turn out to the races and the venues provide quality riding (usually muddy- great fun!). I thoroughly enjoyed battling it out to win the 2015 PMBA Enduro Series, and other national events…and I suppose that was it, enduro racing had me hooked. For me there was only one way to do this properly- time to hit the world enduro scene…
2016 saw me complete my first full Enduro World Series. I was really happy to fulfill my goal of finishing within the top 10 (7th overall), but really, the most exciting part of it, was heading into a completely new world, the international stage, the big factory teams, the worldwide venues, the chance to get faster and learn from the fastest racers in the world. It was a hell of a year, I'm pretty sad to see it end, but I couldn't (and wouldn't) have done anything different. Biggest year of learning (even after 4 years at university!).
During the 2016 EWS I was in my final year of Civil Engineering at Manchester University. I work pretty hard in whatever I do so studying really did absorbed me, I was pretty distracted from biking and fixed on getting my degree wrapped up with a first class grade. Just after EWS round 3, in Ireland, I sat my final exams and handed in my dissertation- I WAS FREE! This was the point where I knew I could fully involve myself and since, my life has revolved around the EWS. My first international podium, 2nd at the 2016 Megavalanche, gave me a taster of success at a higher level, and although I am not yet EWS podium material, it has made me really excited for my first EWS podium- and this is what I will be working towards over the next couple of years.
After my 2016 season results I hoped that I may have had the opportunity to step up a level and get some sponsorship / team support, but sadly there just wasn't an opening for a new rider like me at this time, so I decided to keep working hard to prove 2016 was not just "beginners luck !" and continue as a privateer.
2017 will see me at the full EWS, aiming for more. I would like to finish the series in the top 5 and the aim is to get more top 3 stage finishes. I surprised myself in 2016 with two 3rd place stage finishes, the feeling was incredible when the world champion, Cecile Ravanel, tapped me on the shoulder and said "you were third on that last stage"!!! Unreal! More of that please!
The season cost approximately £20,000, a flippin' lot eh?! I am working round the clock to generate the funds. Half of the funds will come from a raffle I am running (more info below), the other half will come from sponsors and my hard earned Deliveroo wages (some say I'm the fastest Deliveroo in Swansea!).
I've been really grateful to work with some great people and brands over 2016 and lucky enough to be continuing most of the products and support into 2017. My race set up will be similar to last year, on board the newly crowned "Mountain Bike of the Year", the Transition Carbon Patrol, kitted with Shimano, Sixth Element Carbon wheels and 9point8 dropper seat post, with O'Neal clothing and support from Female Riders UK Team.
Want to win a £4000 Transition Patrol !? (and help Bex get to the full EWS).
The Bex Baraona Privateer Raffle came about after some brain storming. I wanted to generate funds but also give back to the people donating. People buy a ticket into a raffle for a chance to win a £4000 bike plus 50% chance of winning a different prize if they are unlucky with the bike. The tickets are capped at 200 available and there are 100 prizes, including over £4000 worth of additional prizes! (Carbon wheelset, coaching with Tracy Moseley, 5x Airshots, O'Neal protection and clothing, UK bike park day passes, and other bike related prizes). In fact the prize count is always going up as more prizes are donated, this week saw Dan Wrye donate a professional photoshoot prize!
To get involved check out the Facebook event (please note, this isn't a physical event but just a space to share information about the raffle. The raffle will be drawn once all tickets are sold): https://www.facebook.com/events/1136912363024107/
I'm a grafter, currently grafting away with training, fundraising and trail building…if you like what you've read, follow me on Instagram (@bex_baraona) or Facebook (search "Bex Baraona).
See you in 2017!
Featured in this Post

1,595

United States
93,401
Comments