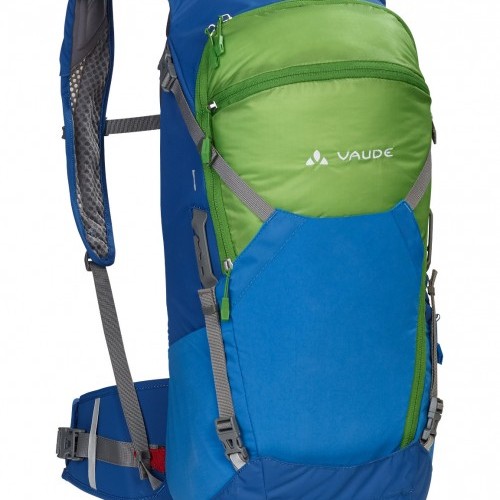 Vaude Showcases Its First Bike Backpack With Integrated Multi-Impact Protection
Sun 29th Jan, 2017 @ 12:30 pm
VAUDE is excited to present the new Moab Pro series at the Bike Place 2017. This is VAUDE's first range of bike backpacks with an integrated multi-impact protector and they also bear the VAUDE Green Shape label and are equipped with a PFC-free Eco Finish.
The Moab Pro Backpack is available in three different models. Both men's models offer a 22-litre carrying capacity and come in different torso lengths. The women's model can hold up to 18 litres. All have an ergonomically designed body-contact suspension system and come equipped with a lightweight, multi-impact central back protector from the southern German manufacturer Ortema, who are a first rate specialist in orthopaedic technology, medical fitness and sports protection.
VAUDE has partnered with extreme biker Axel Kreuter who says:
"The Moab Pro has my back protected – and the environment!"
Axel worked closely with the developers at VAUDE to create the perfect backpack to protect your backbone whilst also ensuring that careful attention is paid to reducing its environmental impact.
In conjunction with VAUDE, Ortema has developed a protector that is integrated into the backpack. The pack hugs closely to your back to protect your spine and has an adjustable hip-belt that lets you fine-tune the pack to fit your body size. The protector consists of several layers of breathable, viscoelastic foam for maximum protection in a crash. It is multi-impact and therefore returns to its initial shape after an impact and does not need to be replaced. The shoulder straps and the wide hip-belt of this super lightweight backpack are made of air permeable, flexible material. The backpack can be worn close to your body and remains secure on rough and uneven terrain.
There are pockets in the main and front compartments as well as side mesh pockets to enable you to have all your kit organised whilst out on tour. At the bottom of the backpack is a tool compartment with sections for a multi-tool, repair kit and replacement materials. A cable tie has been added as a small special accessory for emergency repairs, at the special request of Vertrider Axel Kreuter. If necessary, the tool compartment can be removed completely. Other extras include a helmet holder for different helmet sizes, reflective elements and a port for a hydration system.
Environmental protection in the bag
VAUDE is a pioneer in sustainability and has set itself the goal of producing increasingly more products in accordance with the stringent specifications of its own Green Shape label. The new protector backpacks also bear this VAUDE guarantee for environmentally friendly products. The primary material is bluesign® system certified. The bluesign® system sets and controls the standards for the environmentally friendly and resource-conserving production of textiles. To ensure eco-friendly water repellence for the backpack, VAUDE uses Eco Finish, a PFC-free treatment for which no harmful fluorocarbons are required. If continuous rain conditions are expected, the built-in rain cover can be quickly pulled over for increased water protection.
Featured in this Post
Comments