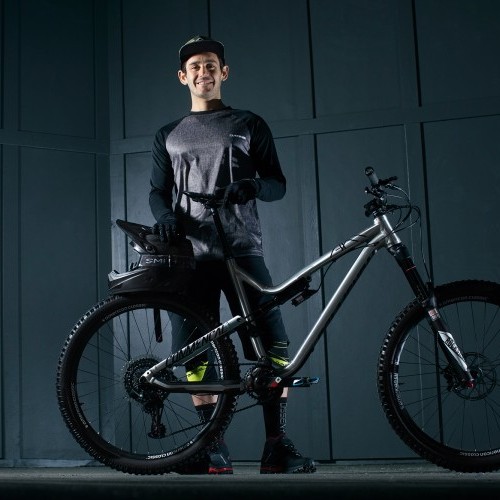 Yoann Barelli Joins Commencal – It's A Fact!
Sun 1st Jan, 2017 @ 6:30 pm
Win a GO3 Camera by Insta360 this issue in our FREE subscriber prize draw.
Perhaps it was obvious to everyone that Commencal and Yoann Barelli could go a long way together and now it's official!
We are proud to announce that Yoann will be racing in our colours for the next two years! He will become part of with the Commencal Vallnord Enduro Team, alongside Cécile Ravanel, Kevin Miquel and Cédric Ravanel.
The 2017 season program is simple. It will include all of the Enduro World Series and a selection of various, varied races.
Even though Yoann joins the team, it's worth mentioning that he will not wear exactly the same kit as the other members. DAKINE already partner the near-Canadian Frenchman.
Max Commencal:
"For us, the arrival of a new rider is never a decision that is taken lightly. For sure we look and hope for results, but beyond that, we want this new ambassador to have the spirit and image that is compatible with our MTB vision. And so what about Yoann? We have known each other for a long time and to be honest, I never thought I would have the opportunity to count him among us. So, imagine when this opportunity presented itself!

"Yoann has a joy for life, a pure happiness whether he's on or off the bike. It is a world all of its own and it is all disciplines at the same time! It's a plus that he has a unique character that is appreciated and adored.

"Today, this opportunity turns into reality and we couldn't be happier. We have so many projects to look forward to that our only concern is choosing the one with which we are going to start!?"
Cécile Ravanel:
"Yoyo! I've known him since he was 12/13 years old back when I was riding XC with his brother Nico and he always had the energy and the joy for living. I don't think we're going to get bored this season at the races… ;)"
Cedric Ravanel:
"I've known Yoann since his debut in DH and he always conveyed his good mood and enthusiasm for the discipline as he progressed, without getting a big head. Essential in order to be at this high level, you have to "stay yourself, be humble and work hard," and these are the traits that mean this guy can come and disrupt the EWS top 3 during 2017!"
Featured in this Post
Comments