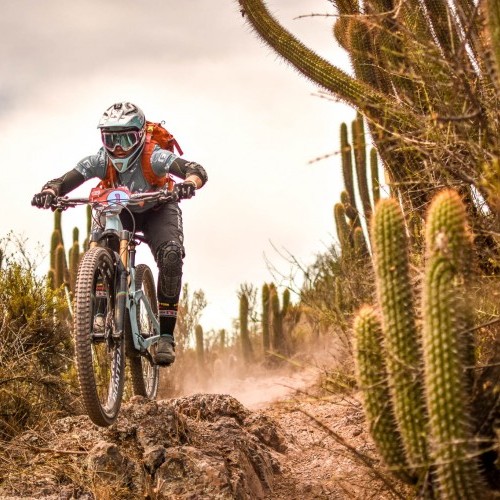 Santa Cruz Andes Pacífico 2017 // Día 4
Mon 13th Feb, 2017 @ 3:30 am
You won't see many enduro races better than this – the scenery, the speed and the skills! After the long afternoon that involved the trip to the new camp in La Ligua, the fourth day Andes Pacifico began a little later so that the riders could rest and recover their energies.
At 10:30 in the morning the vans departed with the riders on the way to the hill passing through the town where they could appreciate a little of the national history, adobe constructions, camperos herding animals and a little of the local lifestyle.
At the top of the hill, the coastal trough was a grateful companion as the intense heat had been exhausting the previous days. The race began with the first "stage surprise" that was added at the last minute, Antena, a short introductory track with very entertaining sections with some small heaps.
The second stage Valle Hermoso followed the hill with a terrain marked by the antigrip and a mixture between technical zones and other more fluid but with less slope than the previous day.
The third special The Mirror was given under the same conditions but took the riders from the top to the foot of the mountain. A very winding trail with jumps and berms that made it very entertaining.
Finally, the fifth and last special Petra was through a beautiful forest full of trees all along the track where the local people waited to support the riders.
The day was marked by the win of two Chileans Milciades Jaque 22:1538 who won the day followed by Pedro Ferreira 22:25:73 and on third place arrive 22:27:20. With this win Jaque shorten the advantage that Jerome Clementz had it.
Clementz still on the lead with 37 seconds ahead of Jaque, and on third place is Bailly- Maitre that is followed very close (6 seconds) from Pedro Ferreira.
On the women Tracy Mosley won again with an advantage of almost 20 seconds to Casey Brown that was followed by the Chilean Florencia Espiñeira that arrive a bit more than a minute behind them.
The Master Category continue full dominated by the Chilena Legend Felipe Vasquez that is followed by his Maxi Grappiolo from Argentina and Eduardo Stein from Peru.
Day 4 Results
Pro Men
1st: Milciades Jaque – 22:15.38
2nd: Pedro Fereira – 22:25.73
3rd: Jerome Clementz – 22:27.20
Pro Women
1st: Tracy Moseley – 25:57.66
2nd: Casey Brown – 26:17.32
3rd: Florencia Espiñeira – 27:14.33
Featured in this Post
Comments