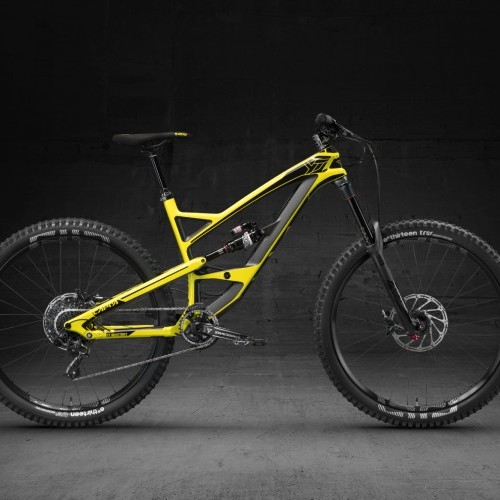 YT Test Fleet Dates – The Circus Keeps On Rollin'
Tue 21st Mar, 2017 @ 6:30 pm
How good do these bikes look? It's your chance to try before you buy with YT's Rolling Circus. YT is taking its fleet of test bikes on a big tour of the best bike parks and trail centers in the world. On board are YT's trail bike JEFFSY, the enduro bike CAPRA and the downhill bike TUES. With the support of YT's international partners there will be tour stops around the globe.
From March until October 2017, the Rolling Circus tours through Europe, USA, Canada, Asia, Central America and Oceania. YT fans get the opportunity to test ride their dream bike before deciding to buy online. Festivals, bike parks and trail centers offer the perfect setting and best test conditions. Highlights of the Rolling Circus Tour will be the Crankworx stops in New Zealand, Austria and Canada, the three-week tour through the UK and of course the European season opener at the BIKE Festival Riva del Garda.
The Rolling Circus Tour provides fans and potential customers with advice, service, tips, and of course the opportunity to test ride any bike to verify its performance. Depending on each stop, YT's work horses TUES, CAPRA and JEFFSY will be available in every size and spec. The service guys offer professional advice, while the team riders will be responsible for signing sessions, small talk and positive vibes at the booth. Of course, participation is free of charge and no prior registration is required. Just stop by and enjoy the Good Times.
The whole YT crew is looking forward to the new bike season and the Rolling Circus Tour 2017. More information can be found on https:/www.yt-industries.com and Facebook.
2017 Rolling Circus Tour Dates:
EUROPE
BIKE Festival Riva, IT: 29 April – 1 Mai, 2017 (JEFFSY/CAPRA)
Swinley Forest, UK: 5 – 7 May, 2017 (JEFFSY, CAPRA, TUES)
Forest of Dean, UK: 12 – 14 May, 2017 (JEFFSY, CAPRA, TUES)
Sherwood Pines, UK: 19 – 21 May, 2017 (JEFFSY, CAPRA, TUES)
Bike Opening Bike Republic Sölden, AT: 16 – 18 June, 2017 (JEFFSY, CAPRA, TUES)
Crankworx Innsbruck, AT: 21 – 25 June, 2017 (JEFFSY, CAPRA, TUES)
GlemmRide – Bike Festival Saalbach, AT: 6 – 9 July, 2017 (JEFFSY, CAPRA, TUES)
Trailcenter Rabenberg, DE: 4 – 6 August, 2017 (JEFFSY, CAPRA)
Bikepark Beerfelden, DE: 11 – 13 August, 2017 (JEFFSY, CAPRA, TUES)
YT Family Reunion, Osternohe, DE: 19 – 20 August, 2017 (JEFFSY, CAPRA, TUES)
USA
Outerbike Spring, Moab, UT: 31 March – 2 April, 2017 (JEFFSY, CAPRA)
Sea Otter Classic, Monterey, CA: 20 – 23 April, 2017 (DISPLAY ONLY)
YT Demo, Highland Mt. Resort, NH: 12 – 14 May, 2017 (JEFFSY, CAPRA, TUES)
Dirt Rag Dirt Fest, Rays town Lake, PA: 18 – 21 May, 2017 (JEFFSY, CAPRA)
Demo Daze, Angel Fire Resort, NM: 27 – 28 May, 2017 (CAPRA, TUES)
NEMBA Fest, Lyndon, VT: 16 – 18 June, 2017 (JEFFSY, CAPRA)
Snowmass Demo Days, Snowmass, CO: 23 – 25 June, 2017 (JEFFSY, CAPRA, TUES)
YT Demo, Mt. Hood Ski Bowl East, OR: 8 – 9 July, 2017 (CAPRA, TUES)
YT Demo, Bend, OR: 11 – 12 July, 2017 (JEFFSY, CAPRA)
Mountain Bike Oregon, Oakridge, OR: 14 – 16 July, 2017 (JEFFSY, CAPRA)
Kamikaze Games, Mammoth Mt., CA: 14 – 17 September, 2017 (JEFFSY, CAPRA, TUES)
Outlier Offroad Fest, Vail, CO: 29 September – 1 October, 2017 (JEFFSY, CAPRA, TUES)
Outerbike Fall, Moab, UT: 6 – 8 October, 2017 (JEFFSY, CAPRA)
YT Demo, Bailey Mountain, NC: 20 – 21 October, 2017 (JEFFSY, CAPRA, TUES)
Pisgah Mt Bike Festival, Brevard, NC: 28 – 29 October, 2017 (JEFFSY, CAPRA)
CANADA
Toronto Bicycle Show, Toronto, Ontario: 3 – 5 May, 2017 (Display only)
Wildside Enduro, Nakusp, BC: 29 – 30 April, 2017 (JEFFSY, CAPRA)
Wildside Enduro, Kamloops, BC: 6 – 7 May 2017 (JEFFSY, CAPRA)
MSS Bikes Park Test Day, St-Sauveur, QC: 10 – 11 June, 2017 (JEFFSY, CAPRA, TUES)
Plaid Goat Mountain Bike Fest, Canmore, AB: 23 – 25 June, 2017 (JEFFSY, CAPRA)
Crankworx Whistler: 11 – 20 August, 2017 (JEFFSY, CAPRA, TUES)
NEW ZEALAND & AUSTRALIA
Crankworx Rotorua: 25 March – 2 April, 2017 (Display only)
EMS Enduro, Mt Joyce, Brisbane, AUS : 30 July, 2017 (JEFFSY, CAPRA)
UCI World Championships, Cairns, AUS : 8 – 10 September, 2017 (Display only)
YT Ride day & BBQ, Whakarewarewa Forest, Rotorua, NZL : 30 September, 2017 (JEFFSY, CAPRA, TUES)
YT Ride day & BBQ, Nelson, NZL : 28 October, 2017 (JEFFSY, CAPRA)
YT Ride day & BBQ, You Yangs Regional Park, Melbourne, AUS : 12 November, 2017 (JEFFSY, CAPRA)
YT Ride day & BBQ, Christchurch Adventure Park, Christchurch, NZL : 25 November, 2017 (JEFFSY, CAPRA, TUES)
MEXICO
La Primavera: 22 – 23 April, 2017 (JEFFSY, CAPRA)
El Zapo: 20 – 21 May, 2017 (JEFFSY, CAPRA)
Lagunas de Servin: 10 – 11 June, 2017 (JEFFSY, CAPRA)
San Luis Potosi: 29 – 30 July, 2017 (JEFFSY, CAPRA)
Desierto de los Leones: 19 – 20 August, 2017 (JEFFSY, CAPRA)
La Venada, Guanajuato: 18 – 19 November, 2017 (JEFFSY, CAPRA)
THAILAND
Club 11 Mountain Bike Trails Center, Bangkok: 23 April, 2017 (JEFFSY, CAPRA)
Peppermint Bike Park, Bangkok: 14 May, 2017 (JEFFSY, CAPRA)
Club 11 Mountain Bike Trails Center, Bangkok: 16 July, 2017 (JEFFSY, CAPRA)
Peppermint Bike Park, Bangkok: 17 September, 2017 (JEFFSY, CAPRA)
Club 11 Mountain Bike Trails Center, Bangkok: 22 October, 2017 (JEFFSY, CAPRA)
CHINA
Yu Shan Jiang Su China: 7 May, 2017 (JEFFSY, CAPRA, TUES)
KOREA
Gochang MTB Park, Gochang City: 28 – 29 October, 2017 (JEFFSY, CAPRA, TUES)
Featured in this Post
Comments