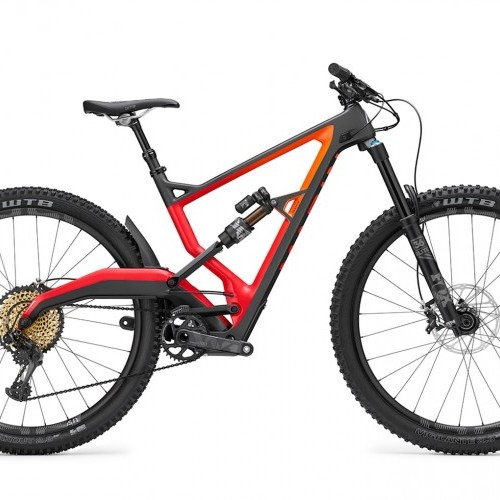 Marin Wolf Ridge – First Ride
Thu 4th May, 2017 @ 9:30 am
If you've been paying attention over the past few weeks you will have noticed a strange new breed of full-suspension mountain bike being revealed on the world, as Marin's new Wolf Ridge – with it's funky, opinion-splitting rear suspension platform – was let off its leash and sent out into the woods to feast. Ewen Turner set off to track it down.
The Wolf Ridge
Now those of you following the progression of Marin over the past few years will have seen a gradual progression in their bikes. This progression has been ramping up, and armed with a list of classic bike names and a bunch of wild ideas they have been upping their game bike by bike.
The Hawkhill and the Nail Trail have impressed with their mix of classic know-how, modern numbers and affordable price points. It was clear, however, that Marin was planning something bigger, and something was brewing. I had heard rumours, but they had kept it on lock down.
All this momentum had been leading somewhere, and just last week we finally saw the fruits of their labours as the Wolf Ridge was released on the world. A big travel (160mm) 29er and a funky new suspension system which set the internet ablaze, partly due to the recent release of a similar looking vessel.
Perhaps the release dates could have been better coordinated, but two bikes being released sharing the same suspension system is hardly rare these days. What is rare is a different message, not centred around the height of the bottom bracket, reach length and head angle (though these have to be right) but centred firmly on suspension.
Raised By Wolves
Enter Darrell Voss, an unassuming yet intense guy with ideas on suspension beyond your wildest imagination. A man with a clear vision, to improve the mountain bike experience by getting better suspension systems on bikes. A man whose ideas come across clear and coherent, with a wise, sage-like simplicity mixed with some catchy terms like 'Ground Tracing Devices' not suspension systems.
The story is really one of the right people in the right place at the right time. It's been 5 years in development since Darrell approached Matt Vanenkevort (Marin head honcho) with his React suspension system, and having worked together in the past successfully they were keen to make it happen. Combine this with Marin's Matt Cipes (the man behind the recent wave of new bikes) and the blueprint was there for a wild new bike. Look further into the team and you add Marins product manager Aaron Abrams and the UK's John Oldale and you really are getting somewhere. And in case you weren't convinced by all these guys, in cruises Joe Murray (he's kind of a big deal), to add his approval from a mountain bike legend.
Listening to Voss it's not hard to get on board, he speaks clearly and passionately about his love of developing bikes. This is a partnership, not a simple licensing, it is integrated into the bike fully. The aim is to make 'one bike that rules the ride' and as far as Marin is concerned Aaron Abrams says, 'this is the best mountain bike we have ever made'.
The Big Bad Wolf
So none of the team was too keen to drown us in techno-babble, and if you really want to know the absolute detail you can check out Darrell's website http://www.naild.it and get your geek on.
So what is this Naild React 2play suspension system? Well simply, there is a single swingarm, which pivots as one would expect, but attached to the pivot is a stanchion and slider, allowing the swing arm to move up and down. This is then all kept in place with 2 linkages which drive the shock.
The Shock is de-tuned to have as little damping as possible, making sure things are as active as possible. Voss states this stops bikes relying on the shock to cover up any issues in the suspension design. As far as he is concerned, damping restricts performance creates friction and as a result a loss of energy.
This 'Ground Tracing Device', rather than suspension system says Voss is about 'creating a more consistent pressure on the ground and tracking the ground'. No lockout shows how confident they are in the design, and although you can adjust damping on the shock, it's vastly reduced from a standard shock. The result is a bike should pedal better, trace the ground better, and be quieter (less chain slap).
The Aesthetic is new and different, and like many others my first look at photos had me wondering, but in the flesh, it's far better looking. The side profile is perhaps not it's best angle, and once on board, does it matter?
The fit has been painstakingly worked over with a tonne of biometric data to get a perfect set of numbers, but nothing here is too wild, 435mm chainstays, -37mm BB drop and a 462mm reach in large make it firmly modern but not too out-there.
Marin has never been shy of experimenting with suspension design such as the quad link, and here we see them again putting progression and desire to improve performance high on the agenda.
Extra details include Naild's own 12-3-9 axle with an innovative release catch and a nice keyed in ninety-degree twist to lock it in.
There are two models available, both at pretty high-end price points, the top end coming with full Fox and a carbon wheelset, whilst the lower spec is a RockShox build with alloy wheels. Both come with Eagle to give more gears to go further and faster.
Hungry Like The Wolf
So this is one bike to rule them all. It has loads of travel, yes, but the aim was to have less compromise in pedalling with the new system. Rather than list lots of fancy engineering terms, the message is clear 'go ride it!'.
So what does it do? Most importantly, it's easy to ride and wants to look after you whilst travelling as fast as you brain will allow. Shuttling up to the first trail of the day, we all underestimated the trails of Lake Garda. With so many Europeans looking like they've raided their kid's dressing up box, the festival doesn't scream hardcore trails.
Dropping in is probably the right term, as we suddenly start getting a serious kicking by Garda's finest and greasiest rocks. After a few minutes we stop and take stock, this bike is not a sum of engineering wizardry (well it probably is) but this is a rad bike. Fast, gnarly and risky, these trails are serious and I just hit them very hard aboard a totally unknown bike.
Perhaps the term ground tracing device is a bit too much, but the Wolf Ridge wanted to find traction at all costs, but strangely also was more than happy to leave the ground. A real feeling of deep supple travel was combined with a hop and pop, playful feel which together seemed unlikely.
The modern front centre length certainly helped keep things stable and the slack front end with the Lyrik munched Garda's rocks happily. I quickly had used all my suspension in some pretty big hits, yet the suspension never felt wallowing. I usually like to run fairly stiff suspension to keep things lively, but I got the best of both worlds here.
Pedalling; so this is where things got funky. Stand up and stomp, and suddenly the 160mm of travel vanishes, or at least feels that way. Not in a, where did my suspension go? but in a firming up of the back end. Put the power down and the bike rises up like a boat on the plane (thanks for the metaphor Darrell) firming up and giving you something to smash power against.
To add more strangeness to the mix, I pointed it at some square edges and just pedalled. Thinking this would end badly, the back end just sucked it up. Scratching my head I found a set of stairs and pointed the bike up them, my legs gave out before the bike. The Wolf Ridge's ability under pedalling forces is weird. It's magic, or kinematics, or something like that. Darrell would know, but maybe my brain would explode.
Climbing in a more traditional sense was a comfortable and easy going experience in contrast to the mind-bending sprinting ability of the Wolf Ridge. Although we spent little time on long climbs, this feels like a bike one could spend a serious amount of time on. It has a very firm pedalling platform, and let us remember the shocks are de-tuned hugely below what any other brand uses. There are no switches, so this is all wide open, and that's easy to forget.
So it's all perfect? Well if we delve into the spec of the bike we had some tyre issues, as the stock tyres were no match for the local rocks. This is more than just a whine, this bike travels at speed, and the tyre destruction hints at the ability and capability of this bike.
Also with a back end working so well, questions start to be raised about the performance of the forks, but without serious time on the bike, the fine detail will have to wait.
Overall I feel this is the sort of bike that will win people over as soon as they get it on the trail. As a new suspension system, there is little to compare to, and no history to create preconceptions. Yes, you can go deep into the tech and come out the other side either dazed and confused or serenely calm and comprehending, either way riding this bike is how to understand it best.
No amount of science can take away the fact that this bike is an awesome ride, and will from now on have me asking more from every suspension system I use. Sure this is a new machine, and this is only a first ride, but Marin's Wolf Ridge may well be one of those rare bikes that actually live up to the hype.
Thanks to Marin for having us over for a wicked weekend away!
All Photos – Ben Winder
Featured in this Post
Comments