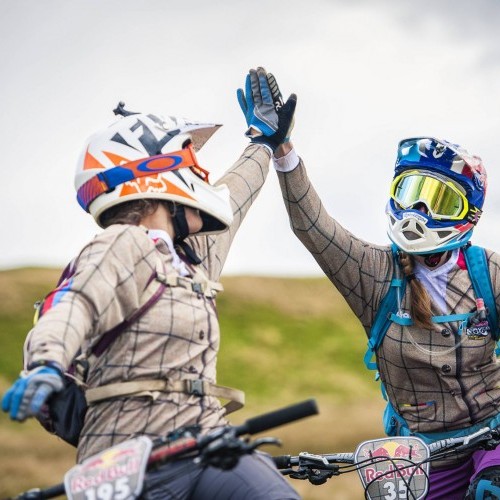 Red Bull Foxhunt Returns For 2017
Mon 5th Jun, 2017 @ 9:30 pm
Red Bull Foxhunt, the world's only all-female downhill MTB event, is back for 2017 and this year will be taking place from 7-8 October on a brand new course in Wales. Here's hoping Rachel Atherton's dislocated shoulder will be all healed up by then!
Traditional roles will once again be reversed, as the hunters become the hunted, and a mass start will see 200 female riders playing the part of the hounds as they try to outride the best female downhill racer in the world – Rachel Atherton.
A specially built new course, located at a location near Rachel's hometown in Machynlleth, is set to test the riders' technical ability as they look to stay ahead of Rachel over a challenging route. The event takes place over the full weekend, to include practice runs, seeding and the main event, against a festival backdrop of entertainment and refreshments for the female downhill MTB community to enjoy.
Speaking about the event, Rachel Atherton said, "I'm stoked to announce the return of Red Bull Foxhunt! The last few years have been so much fun and with a new venue this year it's going to be the best Foxhunt ever! I'm really looking forward to chasing down such a great crowd of women again."
With over 200 female riders set to take part in a new, more challenging downhill course for 2017, she added: "Definitely the most exciting thing for me is that I get to showcase the female Red Bull Foxhunt in my hometown, two of the things I love put together!
"I'm proud that the Red Bull Foxhunt is the biggest all female MTB event in the World, and prouder still of the women of all abilities who race! I can't wait for an exciting race and a great weekend hanging out with the women who make our sport what it is!"
Join the conversation @RedBullUK #RedBullFoxhunt
Entries for Red Bull Foxhunt will go live in June via redbull.co.uk/foxhunt
Featured in this Post
326,422
1,642,047
Comments