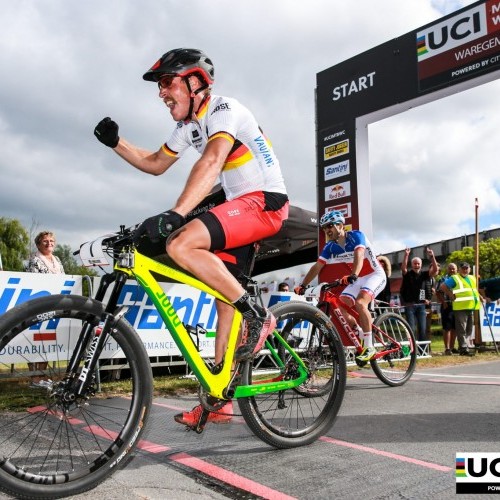 UCI Eliminator World Cup: Waregem, Belgium
Fri 30th Jun, 2017 @ 9:30 pm
Win a Hassle'Off Multi Tool this issue in our FREE subscriber prize draw.
One for all you racing snakes out there; round 3 of the UCI Mountain Bike Eliminator World Cup took place in Waregem, Belgium. The format that sees four riders competing elbow-to-elbow around a point-to-point circuit went back to Waregem as its first ever-hosting city of an urban XCE race.
There was a special atmosphere in Waregem ahead of the UCI MTB Eliminator World Cup as the crowds were extremely excited to see last year's winner, Jeroen van Eck's attempt to win another City Mountainbike race. Round 3 also welcomed a strong international field, representing 10 nations. Current leader of the UCI MTB Eliminator World Cup, Lorenzo Serres, and runner-up, Alberto Mingorance, followed by 5 points were both present in Waregem.
Women's Eliminator
Six women were lining up for the women's Eliminator. It is the first edition to be held for the 2017 World Cup series. Dutch champion, Lizzy Witlox took the lead with fellow Didi De Vries in second. Entering lap two, first and second battled side by side. As Lizzy Witlox (NED) began to dominate the event, Norway's Ingrid Bøe Jacobsen held off Didi De Vries for third. Germany's Lena Putz came in as fourth place.
Fastest time for Gegenheimer
The wind is coming up strong when entering the individual time trial. Germany's reigning champion Simon Gegenheimer sets fastest time on the tricky circuit around the Stadionvijvers.
He finished in 1'14" with an average of 24.13 km/h. Lorenzo Serres came in a 0.5 seconds later, ahead of Sweden's Johan Widén.
In the qualifying heats it quickly became a battle between round 1 winner, Lorenzo Serres, and German champion Simon Gegenheimer.
Entering the second lap, Gegenheimer was joined by Dominic Prukek (CZE). The Czech rider attacked coming out of the final corner and pulled away to qualify for the finals. Simon Rogier (FRA) led as they began the third heat of the quarter-finals but crashes out. Last year's winner, Jeroen van Eck and Lorenzo Serres both didn't make it to the big finals as they both got stuck in the sand pit.
Finals
The Belgians were unable to celebrate a podium spot for Belgium due to an international strong field. French Champion Titouan Perrin-Ganier battled for the top spot, with Simon Gegenheimer passing Alberto Mingorance in the sand pit to take his first World Cup win of 2017. The two continued to battle on changing positions throughout the race. Dominic Prukek (CZE) continued making progress and had passed Mingorance to take third.
Jeroen van Eck was fifth after he won the small finals ahead of fellow Dutchman Daniel Prijkel, who finished sixth. Lorenzo Serres recovered from a tough weekend to finish seventh. Czech rider Jakub Kavalir came in eight place.
Gegenheimer now moves up to third in the overall standings behind round 1 winner, Serres and Mingorance. Spain's Mingorance leads the UCI MTB Eliminator World Cup with 105 points, followed by Serres at 101 and Gegenheimer at 100 points.
The journey continues in Winterberg, Germany, on August 26 and 27.
Shorttrack (XCC)
David Horvath (GER) saw his chance at the Shorttrack, as he managed to grab the lead from the beginning. Dutchman Jeroen van Eck continued his good form and crossed the line as second, ahead of Spain's Alberto Mingorance.
Featured in this Post
Austria
47,790,335
234,245
1,642,047
Comments