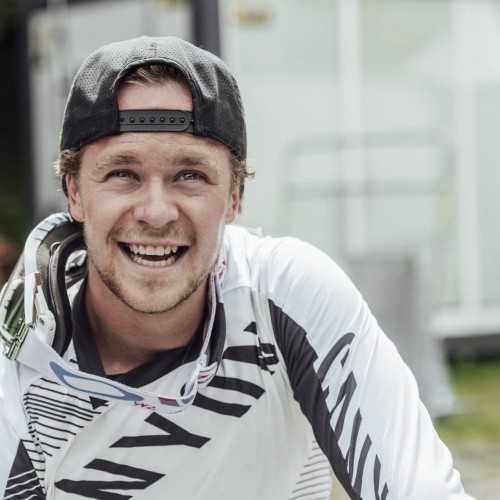 Brosnan And Nicole Win Vallnord Thrillers
Sun 2nd Jul, 2017 @ 12:30 am
Troy Brosnan and Myriam Nicole captured thrilling UCI World Cup downhill victories at an action-packed round four in Vallnord, Andorra.
France's Gaëtan Vigé, Spaniard Alex Marin and Canadian Mark Wallace impressed early in the men's event, only for Britain's Danny Hart to get the crowd on their feet by producing one of his truly on the limit runs.
"Canyon is a new team. A lot of work goes in during the off season to get us up to speed so to come here and win – I am just over the moon."

– Troy Brosnan
Aaron Gwin, the winner of the previous round in Austria, had never won in Vallnord and it was a streak which was set to continue as the American ended the day fifth.
Greg Minnaar, the second fastest in qualifying, melded his trademark smoothness with ruthless aggression to edge out Hart by just two tenths of a second.
Nevertheless Brosnan was not to be denied – an early lead disappearing midway before he pulled it out on the final stretch to win his second ever UCI World Cup race and move up to third overall with Gwin second and Minnaar first.
Brosnan said: "It's amazing. Honestly feels as good as the first one. It was so tough up there when it started to rain. I have qualified first a few times now, so it's about time I got it done. Awesome.
"Canyon is a new team. A lot of work goes in during the off season to get us up to speed so to come here and win – I am just over the moon."
Minnaar added: "I didn't do the best I could right to the line. I had a lapse of concentration and messed up on those last few turns to lose the race."
Before the women's race kicked off, the attention was around two British riders. Tahnée Seagrave had collected her maiden victory at the previous round in Leogang and was keen to back it up in the Pyrenees.
Meanwhile the reigning UCI World Cup champion, Rachel Atherton, was back from the shoulder injury which she had picked up in Fort William.
Once racing got underway, Atherton looked to be taking it relatively easy on the horrifically steep and technical track as she claimed the lead.
Young rival Seagrave, though, had the beating of her with the focus quickly shifted back up the track as Nicole turned the splits green – eventually pipping Seagrave's time by nearly three seconds.
Tracey Hannah was the last woman left at the top, however a crash at the midway point would see her challenge fizzle out back in ninth place.
France's Marine Cabirou scored her career best result to date in third, leaving Atherton in fourth.
Nicole enthused: "I still can't believe it. This is unreal. It wasn't the perfect run. I feel a bit sad Tracey crashed, but she is not injured and that is the main point.
"Stoked to take the win here in Andorra with all my family and sponsors."
Hannah, who retained the overall World Cup lead, explained: "I was feeling really good. I think I lost my front wheel. I wasn't really expecting it."
The next stop will be in Lenzerheide, Switzerland from July 8-9.
Featured in this Post
Comments