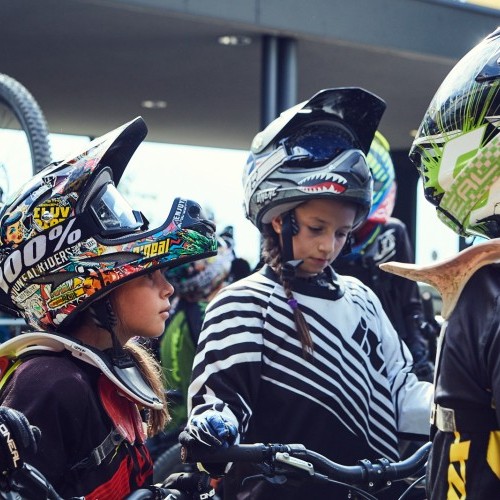 Rookie Camp 2017 @ MTB Festival Serfaus-Fiss-Ladis
Thu 31st Aug, 2017 @ 3:30 am
Get those kids on bikes! Once a year Bikepark Serfaus-Fiss-Ladis evolves into a social hub for bike rookies. Hundreds of kids with their parents travel to the Tyrolean resort to enjoy mountain biking on fun trails. During the MTB-Festival the young shredders don't only compete against each other, but also build great friendships and learn many aspects of mountain biking on and off two-wheels during the "Rookie Camp".
The experiences the kids make during the camp seem to be paying off: talents such as Felix Schuhmacher (GER), Lars Büngen (SUI), Ben Gwerder (SUI), Kip Stauffacher (SUI) and Leah Maunsell (IRL) all managed to reach the podium during the Pumptrack Session and the top-class international downhill races "Specialized Rookies Cup" and "iXS International Rookies Championships". The MTB-Festival Serfaus-Fiss-Ladis 2018 will again include the Rookie Camp and will be held from July 30 to August 5, 2018.
We spoke to 17-year-old Kona Bikes Woman's Ambassador Leah Maunsell, who is a regular participant, about her season, the importance of developing talent and her take on the "Rookie Camp" in Serfaus-Fiss-Ladis.
Hi Leah, how have things been since you returned from the MTB-Festival Serfaus-Fiss-Ladis?
Leah: It's been good. Although I will admit that I got bike park withdrawals fairly soon after coming home and had to take a trip to Bike Park Ireland (laughs)! Other than that, I've just been preparing for the Irish Enduro National Champs. I've spent some time trying to get my bike set-up dialed and just been out enjoying riding my bike really!
How has your enduro season been so far? Are you happy with the way it has gone?
Leah: Yeah, I'm happy! I came 2nd at the Irish round of the Enduro World Series (U21) and went on to repeat that result at the French round. I'm very happy with the results, but I know I have the speed and I will be back to battle it out for the top spot in Finale Ligure (ITA)! I was also crowned both Irish National Downhill and Irish Enduro Champion recently, which I am very pleased with.
What made you want to race enduro and not other mountain bike disciplines? Is riding uphill not tiring?
Leah: For me Enduro is what I like to do everyday. When I am on a spin with a few mates we chat on the uphills and then race down the downhills. When Enduro racing came about in Ireland I jumped at the opportunity. I enjoy the social aspect that surrounds it, especially on race days. All of us girls have so much fun on the transitions! Here in Ireland we don't have any chairlifts or big mountains to train on, so we must pedal up which givs us plenty of time to be chatting!
Even though you mainly concentrate on enduro you have been participating in the Rookie Camp in Serfaus-Fiss-Ladis for some years now. The camp traditionally ends with international downhill racing. Why has the camp been appealing to you in past years?
Leah: Well, when I can fit it in I race the odd downhill race in Ireland. So, when Kona Bikes gave my brother Jonathan and I the opportunity to travel to the camp as a coach and the Kona Bikes Woman's Ambassador respectively, I jumped at the opportunity to race against the best young girls in the world! After all, a bike race is a bike race and I love them all! It's a really professionally run event with the live stream and such a big gathering of the stars of the future. It's great to be a part of it!
There is a lot going on during the Rookie Camp. You hit the bike park trails, head down the Frommestrail and receive some insight from experienced riders like Alice Kühne, Si Paton and your brother Jonathan. What do the rookies learn in that week?
Leah: The rookies learn so much both on and off the bike. I think it's a great experience for them to race so young, learning everything the right way from the beginning such as the importance of track walks, warm up etc. For me I think that learning from people who are experienced and have been through the same thing before you is invaluable.
The camp has a 360° approach. Why do you think this is important for riders at a young age?
Leah: Yes, I like how the camp not only teaches the kids bike skills and how to approach racing but also that racing is not the be all and end all. The camp offers many off the bike activities during the week, which is great to show them the friendships that they can make through the sport and the huge social aspect to it.
Talking of the 360° approach, why were you riding balance bikes?
Leah: Haha! That's a funny one actually. We were at a BBQ with the camp and that evening's activity was a balance bike race. We marked out a technical course and then did a time trial on it. It was so funny to see everyone pushing so hard on such a tiny bike. It was certainly something different!
What was your highlight of the week there?
Leah: Seeing so many kids stoked on bikes. The future is bright!
You are 17 now and have already been very successful. Do you have kids walking up to you, asking you for advice? What do you tell them?
Leah: Yeah, sometimes I get younger kids come up to talk to me. It's quite flattering really. I just tell them to work hard at trying to be the best rider they can be and have loads of fun doing it!
You are still at the beginning of a promising career, but could you imagine yourself becoming a coach for kids or adults in the future?
Leah: Well, my main goal is to become a pro mountain biker and to be as successful as I possibly can. When I have achieved that I would love to give back to the sport just as Tracy Moseley is doing now. I think that there will come a point in time where I will be experienced enough and ready to give back and become a coach, but for now I'm just gong to enjoy riding my bike and continue to learn!
Will you and Jonathan be returning to Serfaus-Fiss-Ladis next year?
Leah: We have really enjoyed the last two years representing Kona Bikes at the camp and if we were given the opportunity to do so again next year we would!
Thanks so much for taking the time and good luck for the rest of the season!
For more information about Bikepark Serfaus-Fiss-Ladis visit our website:
http://www.bikepark-sfl.at/en or http://www.facebook.com/bikepark.serfaus.fiss.ladis
Find more information on the region Serfaus-Fiss-Ladis visit:
http://www.serfaus-fiss-ladis.at/en or http://www.facebook.com/serfausfissladis
Featured in this Post
Comments