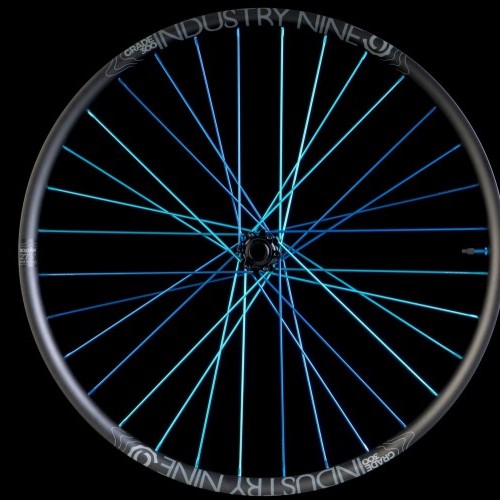 The New Grade300 Wheelset from Industry Nine
Mon 14th Aug, 2017 @ 9:30 pm
Win a Peaty's Complete Bicycle Cleaning Kit this issue in our FREE subscriber prize draw.
Get on board with Reece Wallace as he puts the new Industry Nine Grade300 DH wheelset though its paces in Whistler – this is one dry, fast, raw piece of riding – ooer!
The all new Grade300 downhill wheelset is ready for anything the mountain can dish out. Our engineers worked extensively with our team riders to figure out how to make the already great Grade even better. We think they nailed it.
We gave the Grade300 a complete face lift. We stretched the rim to a 30mm inner width while adding material to the bead wall for increased durability. All while not adding any extra weight. This new rim, combined with our System spoke and Torch hub chassis makes for one incredibly strong wheelset.
Weighing in at 1880g for 27.5″ and 2000g for 29″ this wheelset is stout enough for park laps but still light enough for race day.
Rounding out the new look are our new and improved rim graphics. A major departure from our graphics of old.
Tech Highlights:
– Improved strength and dent resistance – Tapered bead wall and down wall construction puts additional material in the impact zone and buttresses the bead wall to resist deformation under impacts
– Significantly improved strength to weight ratio – FEA optimized profile offers a much higher yield threshold at essentially the same weight as the original Grade
– Optimized Inner Rim Width – Slightly wider inner width for improved sidewall support under hard cornering – However, 30 mm IW retains compatibility with most common DH tires on the market
– Wider bead seat for improved tubeless performance and resistance to burping air
– Narrower bead channel for easier tubeless inflation
Grade300 wheelsets come built with Grade spokes. Which are thicker than our normal trail spokes for added stiffness and durability. All wheelsets are available in any or our 11 anodized colors and in any pattern you can think of using our AnoLab page.
Featured in this Post
1,950,529
United States
27,501
Comments