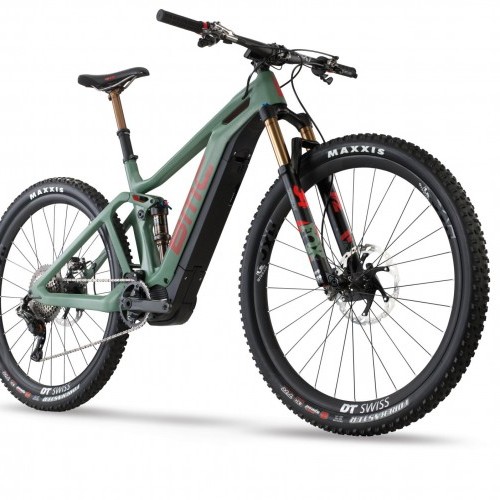 BMC Speedfox AMP
Fri 1st Sep, 2017 @ 3:30 am
BMC Switzerland reinforces its commitment in the e-mtb segment with an exciting new release: the Speedfox AMP.
The latest addition to the AMP family and the Trail category, Speedfox AMP has been created for a broad and diverse community of mountain bikers.
From seasoned mountain bikers looking to experience amplified trail riding to enthusiasts eager to match their buddies' fitness and have more fun: the Speedfox AMP is offered in a wide model selection to meet every Trail rider's taste.
We chose 29" wheels for this platform due to the speed and control levels they offer. We enhanced these natural qualities through our Big Wheel Concept philosophy – a comprehensive approach to geometry and component selection. The Speedfox AMP features 130mm of travel, carefully managed by a dedicated configuration of our APS suspension. A progressive spring curve satisfies the demands of aggressive riding situations and provides all the control needed in more technical trails.
Featuring cutting-edge integration and geometry, the Speedfox AMP is a true trail bike at heart – ready to meet and exceed the rigors of amplified trail riding.
Epic alpine adventures, endless after-work trail loops, multi-day tours with your partner, you name it, the Speedfox AMP can tackle it. Featuring core technologies developed by BMC for the AMP family and improving them with the addition of a Premium Carbon rear triangle, Speedfox AMP blurs the lines of what a modern Trail  e-mtb is capable of.
E-Specific Frame Technology
The Speedfox AMP boasts what BMC calls "Twin Hollow-core Technology." Developed at the BMC Impec Lab, this new carbon technology is BMC's solution to the challenge of creating tube shapes big enough to accommodate a battery, yet stiff enough to qualify as the front triangle of a trail e-mtb.
The Twin Hollow-core front triangle is complemented by a Premium Carbon  rear triangle to optimize torsional stiffness and weight while delivering a clean, seamless look.
Additional loads generated by the Speedfox AMP being an e-MTB, have been addressed with upsized bearings and links. A one-piece rear triangle ensures torsional stiffness targets are also met.
BWC
The Big Wheel Concept is aimed at optimizing geometry and cockpit fit to improve the natural qualities of 29" wheels. The Speedfox AMP features a slack head angle and a generous reach to improve stability, while short chainstays deliver a lively riding feel. We also maximized bottom bracket drop for a low and centered riding position, increasing riding confidence and control as a result.
APS Suspension
BMC engineers have tailored the Advanced Pivot System (APS) suspension and applied it to the Speedfox AMP. The re-calculation of APS' kinematics, pivot placement, and leverage ratios, combine with an e-specific shock tune to give the Speedfox AMP a true trail bike attitude.
Maximized Integration
When it came integrating customized technical solutions, no stone was left unturned by BMC. The Speedfox AMP's customized Drive Unit cover protects, yet at the same time smoothens, the frame surface. Chain stay and yoke protectors provide added frame protection and keep noise to a minimum when riding rocky trails. The battery gets its own cover that mirrors the frame shape and integrated speed sensors in the rear triangle make wheel changes quick and easy.
Featured in this Post
Comments