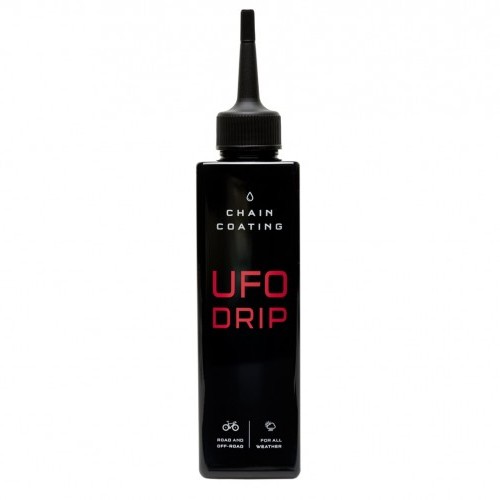 CeramicSpeed Introduces World's Fastest Chain Coating
Fri 1st Sep, 2017 @ 9:30 am
How serious are you about keeping your chain clean and lubed and increasing the lifespan of your drivetrain?
The UFO Drip Chain Coating is not only a new product, it is an entirely new category of product. The world's first bottled chain coating initiates a drivetrain efficiency revolution.
After more than 4,000 hours of lab and field testing, Friction Facts and CeramicSpeed now introduce the world's fastest bottled chain product. UFO Drip Chain Coating is a breakthrough product. It began as a project with very specific goals, which at its core, shares the same DNA that defines the rest of CeramicSpeed's exceptional product line: visionary ambition, research-based precision testing, and premium quality.
What is the UFO Drip Chain Coating?
The coating is a bottled product for chains that is applied in liquid form, and which hardens to a 100% dry chain coating. It generates less friction than any other chain lube on the market (being out-performed only by the factory-treated UFO Racing Chain). And as Friction Facts' research has so often concluded: every watt lost to friction is one less watt available to power the bike forwards.
Chief Technology Officer at CeramicSpeed, Jason Smith, the brain behind this revolutionary product, explains:
"Other lubricants may claim to be "the fastest", but data-driven testing – not to mention logic and semantics – suggests otherwise. There can only be one "fastest". And UFO Drip Chain Coating is it."
The Revolution
Jason Smith is the founder of Friction Facts, the independent friction lab that was acquired by CeramicSpeed in 2016. Smith had already invented the renowned UFO Racing Chain treatment – UFO stands for 'Ultra Fast Optimisation' – a factory treatment process that delivers the fastest bicycle chain in
the world. What makes the UFO Racing Chain the ultimate friction-beater, is an innovative factory-applied chain coating. However, CeramicSpeed had more radical ambitions – they wanted to liberate UFO-like speed from the bespoke factory process, somehow bottle it, and put it in the hands of the people.
"From the beginning, there was only one box to tick," says CeramicSpeed Executive Vice President Martin Banke. "And that was to create the world's fastest drip-applied chain lubricant. When CeramicSpeed do something, we do it 100%. UFO Drip Chain Coating is a revolutionary product – technically and performance-wise, it is unlike anything else on the market."
After months of development, Smith came up with a formula consisting of 10 components; a blend of waxes, trace oils, and friction modifiers. It was a liquid product that was easy to apply to a bike chain, which hardened into a completely dry coating. It tested very, very fast; out-performing by far the best available drip lubes in frictional loss benchmarking.
More quantitative and qualitative testing than any other product in the market.
"Personally, and in my capacity as the Chief Technology Officer of CeramicSpeed, I can proudly state that every claim we make about the performance of UFO Drip Chain Coating is 100% supported by the test data. If we haven't tested it, we are not going to make the claim," says Jason Smith, and continues, "I prefer to focus on the data. If the product works, I'm going to have masses of data that shows you it works. Friction Facts, now the dedicated drivetrain efficiency lab of CeramicSpeed, is the only facility with all friction- testing equipment under one roof. CeramicSpeed is the only manufacturer who have the capability to friction-test
so comprehensively, in support of a new product."
The UFO Drip Chain Coating data proves:
– The world's fastest bottled product for chains
– 20% lower friction than the second fastest bottled lubricant in initial pre-ride friction
– 83% lower than the second fastest bottled lubricant in post-ride friction
– 46% decreased drivetrain wear vs wet lubes
– Minimum of 200k between applications
Additional product and technical details can be found online at http://www.ceramicspeed.com
UFO Drip Chain Coating will be available as a 180ml bottle retailing at 70 EUR/75 USD.
UFO Drip Chain Coating will start shipping beginning of October.
Comments