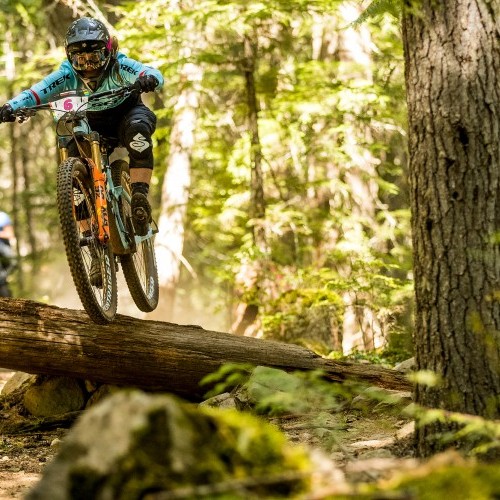 Red Bull Foxhunt Returns With a Twist – Katy Winton Joins Rachel Atherton
Fri 29th Sep, 2017 @ 3:30 am
Red Bull Foxhunt, the world's only all-female downhill MTB event, is back for 2017 and this year will be taking place from 7-8 October on a brand new course in Wales and with a new Fox, Katy Winton.
A bad crash at the UCI MTB World Championships in Cairns, Australia earlier this month has forced an injured Rachel Atherton to pass on the baton to her Trek Factory Racing Enduro teammate Katy Winton. Rachel will still be attending this year's event and will be on hand to give tips, advice and encouragement to the riders taking part.
Up and coming Scottish MTB rider Katy Winton has had a solid season, finishing all Enduro World Series races consistently within the top ten, including a season-best in Machico where she stormed to a 2nd place finish.
Rachel Atherton said about the event, "I crashed at the World Champs and broke my collarbone so I had to have an operation, which means I can't take part in this year's Red Bull Foxhunt. When I crashed I was completely devastated, the only thing I cared about is that I couldn't do Foxhunt with all you awesome shredders".
She went on to add, "The good news is my Trek Factory Racing Enduro teammate Katy Winton is going to take my place and be the fox at this year's event. She's had a cracking season and is a future champion for sure so I know it's going to be a great event. I'm still going to be there, I will be on track, giving you tips and hanging out with you in the event village after. I'm really gutted I can't be riding with you, but I will definitely be there."
Join the conversation @RedBullUK #RedBullFoxhunt
For more information on Red Bull Foxhunt head to redbull.com/foxhunt
Photo credit Photo Credit: Sven Martin
Featured in this Post
9,804
326,422
Comments