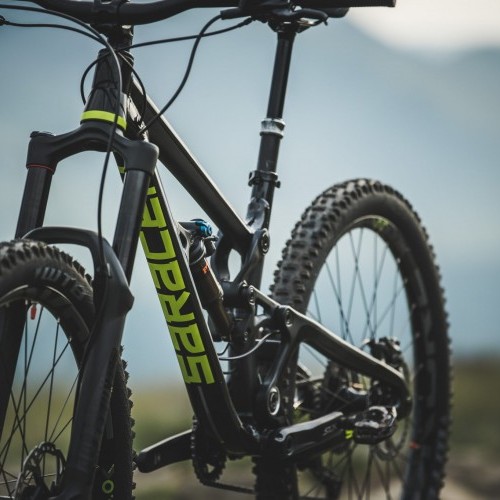 Saracen Announce 2018 Range Including New-Look Ariel & eBike
Mon 11th Sep, 2017 @ 9:30 am
Hold onto your undies, 'cos it's time to look at the brand spanking new line up from the rejuvenated and totally awesome-looking Saracen line up for the new season.
Renowned British bicycle manufacturer Saracen can today reveal its 2018 range, which has plenty of fan favourites included in the line-up as well as some reinvented models designed to push the boundaries of the sport.
There are many standout bikes for 2018 but the highlights in this year's range include the brand new top-of-the-range Carbon Ariel, expanded Kili Flyer line-up, a trail conquering Mountain E-Bike, the Zen E as well as more women's specific bikes, a range of Dirt Jump bikes and more!
The small team at Saracen has worked tirelessly over the last 12 months and in previous years to bring this range to life and hopefully this comes across in the below information that details some of the main points on each collection. More details are available for each and every bike. This document is intended to serve as an overview of the entire 2018 range, not an in-depth look at each bike – we'd be here for days!
Simon Wild, product manager at Saracen, said:
"We are immensely excited about our 2018 range of bikes, particularly the new Ariel LT. The Ariel platform has been evolving over the years and this new beast is something that we are really proud of. We have gone all-out on this one. Elsewhere, we can't wait for people to see the new E-Bike, entry-level Kili, range of women's bikes and the Hack in Black. We are just a small team, but love riding bikes and really hope people will love riding these."
Ariel
The all-new Ariel LT is definitely the model that will be turning the most heads. Taking inspiration from the Myst without losing its climbing abilities, it will take pretty much everything you can throw at it.
Using a 24T/40T/3K Toray UD Carbon blend on the front triangle and a Toray UD Carbon swingarm keeps weight low whilst not compromising on durability. As seen on the Myst, the custom headtube allows you to adjust the front centre +/-5mm in order to perfect your ride position.
Internal cable routing and a specific Di2 battery holder in the downtube keep the bike looking as fresh as possible whilst still being practical. Full Shimano 1 x 11 speed groupset with M8000 XT brakes taking care of stopping duties. DT Swiss M1900 wheelset wrapped in Maxxis Minion DHF II tyres and finished off with carbon Enve bars really help this big hitter stand out from the crowd.
The Ariel Elite uses the same geometry as the Ariel LT, just with an alloy frame and a slightly more affordable spec, to offer an Enduro-ready race bike from the off.
Price:
Ariel LT – RRP: £4,999.99
Ariel Elite – RRP: £3,299.99
Kili Flyer
Joining the hugely popular Kili Flyer Elite this year is the sub-£2k entry-level Kili Flyer that offers perfect trail manners at a cost that won't break the bank. With 130mm travel, it is perfect for the kind of riding most of us are taking on. Trail areas like Cannock Chase, AE Forrest, Coed y Brenin and the South Downs to name but a few. The soul of the Kili Flyer goes much deeper than just trail riding with its long toptube and slack headangle and is more than ready to take on a day at Cwmcarn or Bike Park Wales.
Of course at the higher end, the Kili Flyer Elite, with its carbon chassis is still taking care of business in a brilliant new colour way. A women's specific Kili Flyer Elite has also been added to the range which mirrors the unisex version in every way, with slight amendments to the touch points to cater for the female physique.
Prices:
Kili Flyer Elite (including womens) – RRP: £3,499.99
Kili Flyer – RRP: £1,849.99
Zen E
You may remember the Zen+ from 2017 and it has now been combined with the Shimano STEPS E8000 system to create an altogether different yet familiar beast. Whether cruising in Eco, pushing in Trail or hauling in Boost mode, it all seems effortless on the Zen E. 130mm Rockshox Recon RL fork keeps the front end stable at high speeds and 2.6in Maxxis Forekaster tyres help keep traction to the maximum. Shimano SLX 1 x 10-speed drivetrain keep things moving forward and our own brand bar and stem take care of the finishing touches. An absolute beast of an E-Bike.
Price:
Zen E – RRP: £3,399.99
Myst
The Myst Team and Myst Pro return for 2018 with a radical new look and updated spec.
The Myst Team is a pro-level factory build that is as fast as any race machine on the market today with many world cup victories to its name. A race bike pure and simple with no expense spared and features the best kit money can buy. Available in strictly limited numbers for the fastest riders on the planet.
The Myst Pro is built as a killer privateer race bike which offers a recipe that just works. A Fox Van RC rear shock together with a Boxxer RC fork are easy to set-up and get balanced. A 1×10 Shimano Zee drivetrain and powerful Zee brakes are solid performers that never miss a beat. It's finished with Kore Torsion bars, seatpost and rims, rolling on Maxxis High Roller II's with a Super Tacky compound.
Prices:
Myst Team – RRP: £5,699.99
Myst Pro – RRP: £3,699.99
Zenith
To run alongside the already proven alloy Zenith's, the Zenith Carbon brings a touch of class to the 29er category.
Fast, light, accurate and built to dissect trails. The 24/30T Mitsubishi UD carbon frame is a work of art but its beauty is not just skin deep. It features a 12 x 148mm Boost dropout system, IS42-IS52 tapered headtube and all cables are internally routed to keep it looking clean with routing for stealth dropper posts as standard. It's Shimano Di2 ready too with a neat battery port hidden in the downtube. It's a bike that blurs the boundary between XC race machine and aggressive trail bike.
The Zenith Carbon is backed up by two 29er models that were announced back in February, which continue into 2018.
Prices:
Zenith Carbon – RRP: £2,399.99
Zenith Trail – RRP: £1,399.99
Zenith – RRP: £949.99
Mantra
Running 120mm forks, our bikes are built to be light and strong and have a compliant frame with precise handling.
Designed for mountain bikers, by mountain bikers! For 2018 the custom butted alloy frame has evolved slightly with cleaner cable routing and shedding a few extra grams on the way. The geometry formula of longer toptubes, shorter stems and wider bars continue to make it handle brilliantly on all trails from climbing technical trails to fast descents.
All Mantra frames feature our own chip-slot dropout system for long-term upgradeability with options from 10mm QR all the way to 12x142mm axles. True off-road capability that is available at key price-points so there is one for all riders and budgets.
The Mantra Trail and Mantra also come as a female specific model, with slightly differing touch points and colourways although frame geometry and spec remains exactly the same, as does the price.
Prices:
Mantra Trail (including womens) – RRP: £899.99
Mantra Pro – RRP: £699.99
Mantra (including womens) – RRP: £599.99
Featured in this Post
Comments