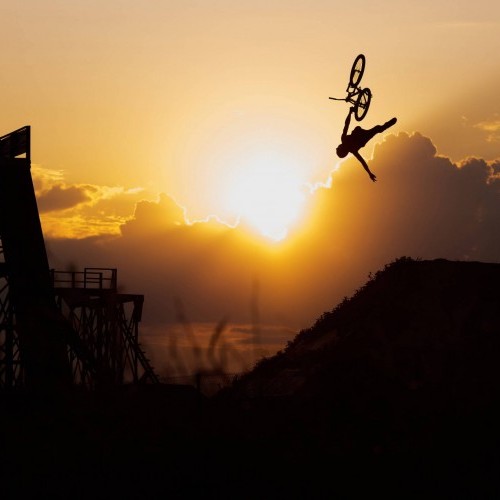 Szymon Godziek: Extension Man – World's First Backflip Superman One Hand Seatgrab
Sat 2nd Sep, 2017 @ 9:30 am
Szymon Godziek: Extension Man - World's First Backflip Superman One Hand Seatgrab
Slopestyle star lands world's first backflip superman one hand seatgrab in 'Extension Man'.
Polish rider Szymon Godziek is dazzling audiences once again with his unique style after nailing another world first trick.
On a custom built track he performed a backflip in the superman position while holding the seat with only one hand.
Godziek also showcased a spectacular backflip over the Tour de Pologne peloton on a road bike earlier in August and his new video displays yet more legendary action.
The freestyle rider said: "There were so many takes of my backflip tsunami at Red Bull District Ride, I thought it was worth developing further, and that's how the project idea was born.
"In the video I managed to score a personal best, meaning that all my superman's were more extended than ever before. As usual, I was inspired by freestyle motocross and took my performance to the next level.
"It's a very important project for me, because it shows all the effort I put into building the track and intense training."
The video named 'Extension Man' confirms he is in great shape ahead of the upcoming Red Bull District Ride with a set of extended moves also accompanying the new never seen before trick.
Along with the help of his crew, he transformed his backyard into a true paradise for flying mountain bike enthusiasts and the only venue of its kind in Poland.
He said of it: "My favourite line includes a drop, a huge straight jump, a 'whale tail' which is a step up and down located on a container, finished off with a dirt quarter pipe featuring a wooden kicker.
"Especially for the biggest tricks, we've build a super kicker allowing for nine-meter flights or a foam pit landing."
Red Bull District Ride returns for the first time since 2014 on September 2 with Godziek, who on that occasion three years ago was the first to ever land a tsunami backflip, once again set to push the boundaries of what is achievable on a bike.
Featured in this Post
129,479
Austria
47,790,335
Comments