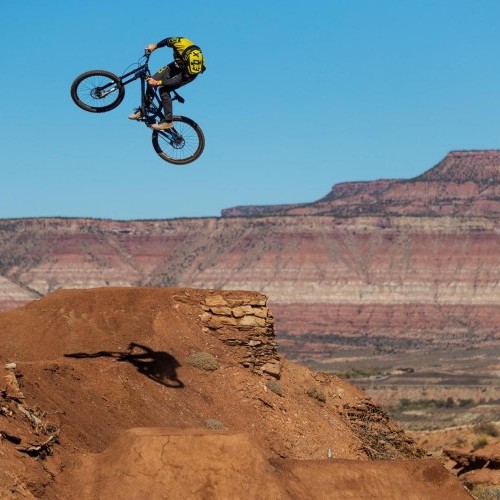 Crissy's Rampage Diary – Day 1
Wed 25th Oct, 2017 @ 12:30 pm
Commencal are already deep in the grip of Rampage and have been planning and practising their runs in the red dirt of Virgin, Utah, much to Commencal Crissy's amusement and bewilderment. It's gonna be big, will you be watching?
Hey Everyone!
Alec myself and JB Liautard are at Red Bull Rampage and it is the coolest /craziest thing I think any of us have ever seen!
I almost threw up today I was truly worried about PEF, Kyle & Zink. The lines they are choosing are nuts! Zink was shaking and they only ran the run from half way down. Tomorrow they will do the whole thing.
PEF went first today, such big balls, his wife was really calm!(???)
I felt like a mom or a wife I was so nervous and Alec couldn't even make words. All three of them crushed it though, they did it so well and in control. I can not put into words just how different seeing this is person is versus seeing it on TV. The cameras just cannot do it justice, the exposure and steepness in real life. They are all crazy!
My money is on a Strait, Zink or Semenuk taking the win, unless someone eats shit…
Cons:
It's seriously hot and dusty
The speed limit is 15mph so we cannot rally the raptor
I have a huge blister on my heel
PEF crashed (but Alec got it on video, so kind of cool)
Crissy MORAN/COMMENCAL USA
Featured in this Post
Comments