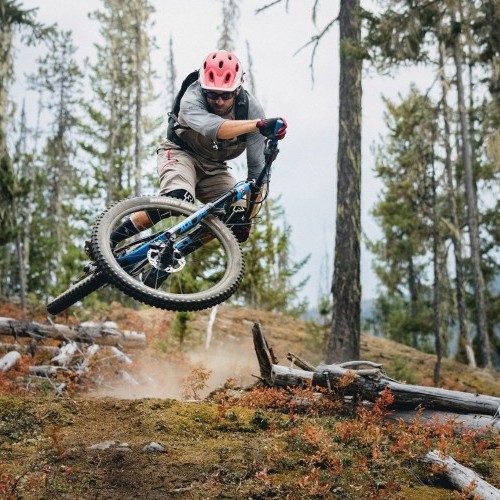 Rocky Mountain: Shift in Perspective
Tue 31st Oct, 2017 @ 6:30 pm
The freedom that comes from riding two wheels is a like no other. From the first time you rolled past the end of the driveway, to the most recent ride on your favourite singletrack trail. The evolution and context of every ride will change but your love for the ride never should. Professional athletes like Wade Simmons and Jesse Melamed are generational masters of our sport, and are driven to push their own limits using new technologies to help ride trails in a new light.
"My motivation in mountain biking has always been to find creative lines and link uber-tech sections with fluidity. Having up to this point ridden 2.3-2.5 tires for 20+ years, I know the limitations. Now with the addition of the + tire, I find my line choices evolving and that's awesome to me!" – Wade Simmons
Creativity has always kept things fresh for Simmons. On the trail, he makes things happen that simply shouldn't be possible, all while navigating extremely technical terrain with ease. He's always been this way. Looking back at his segment in "Shift," a breakout role for a much younger Godfather, it's always been about pushing the boundaries of what's possible.
"It's become apparent to me that the big advantage of running + tires is the ability to maintain momentum and speed over rough terrain. The tires eat rough for breakfast! It can be a bit more finicky dialing in the tire pressure, but once you find the right balance, it's game on." – Wade Simmons
Jesse is laser focused, and his race results against the World's fastest are proof. He knows when to go for it, and anyone who's ridden with Jesse will attest that he's all-in once his tires hit the trail. Commitment is in his character, and being able to unlock and tap into unconventional lines has set him apart at the EWS and back home in Whistler.
"Running plus tires is great for reminding me there is more than one way to see a trail. It opens my mind to what's possible and helps me visualize the different lines when practicing for an EWS race." – Jesse Melamed
"Riding the all-new Pipeline is like riding any new bike, it's fun and exciting! I like to jump around and play with the trail, and the Pipeline lets me get away with landing in even the roughest sections and calling it a "landing". Every time I get away with riding a stupid line, it motivates me to find another one. It's my favourite way to ride a bike, and a trail." – Jesse Melamed
The all-new Pipeline has 140mm of rear travel, 10mm more than the previous version. Being able to fine tune the geometry and rear suspension of the bike is made possible by the RIDE-9 Adjustment System embedded on the link. Jesse, who is known for charging hard and as fast as possible, has his Ride-9 set to Position 1, the slackest and most progressive setting. Wade, who loves a supple top end and a bit more linear feeling suspension, prefers his Pipeline in Position 3. Being able to fine tune the geometry and suspension
"Jesse shreds, I love riding with that guy! He puts a smile on my face because he reminds me of myself when I was younger; just bouncing around on his bike trying stupid things. He's who I would consider to be a "true" mountain biker, someone who enjoys all aspects of riding. When we ride together we constantly challenge each other, and session sketchy features and fool around… this is what mountain biking is all about!" – Wade Simmons
Presented by Rocky Mountain Bicycles
Featuring the all-new Pipeline
A Film by Max Berkowitz
Featuring Wade Simmons & Jesse Melamed
Edited by Max Berkowitz
Typography by Mike Taylor
Photography by Robin O'Neill
Featured in this Post
Comments