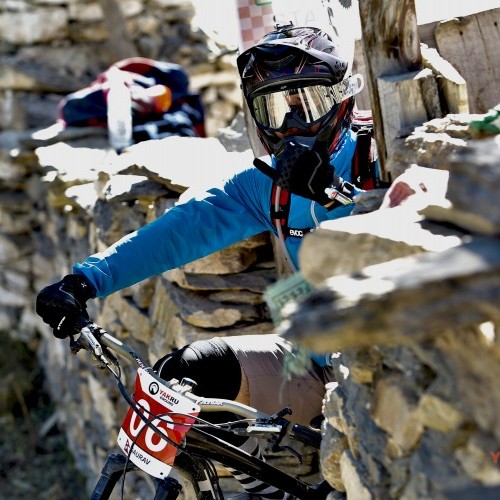 Yak Ru – The Highest Enduro of 2017
Tue 31st Oct, 2017 @ 9:30 am
Feast your eyes on these sweet, sweet shots from the Yak Ru Enduro which just took place in the Manang district of the Annapurna Ranges, Nepal. The 3-day, multi-stage enduro format competition allowed participants the chance to mingle and socialise at intervals on untimed up hills and flat sections of the route, before racing against the clock on the descents.
The event features seven race stages on Himalayan alpine & forest trails around the town of Manang and the greater Manang District of the Annapurna Conservation Area. These include a variety of steep, technically-demanding, and physically-challenging downhill trails all between 3300m and 4300m altitude, making it the highest enduro mountain bike race in the world held in 2017.
"We are glad this event has come to its conclusion as a successful showcase of the best mountain biking terrain to be had in Nepal," says Wilson Low, 33, Yak Ru Enduro event director. "The Yak Ru Enduro highlights the rising importance of the Manang area as the next 'dream destination', not only amongst Nepali off-road cyclists, but in the global mountain bike scene".
Running with the success of this year's Yak Ru Enduro, plans are already afoot to announce and organise the next edition of the event in 2018.
Please visit www.yakru.com for full details, race results, and associated media/images.
Featured in this Post
Comments