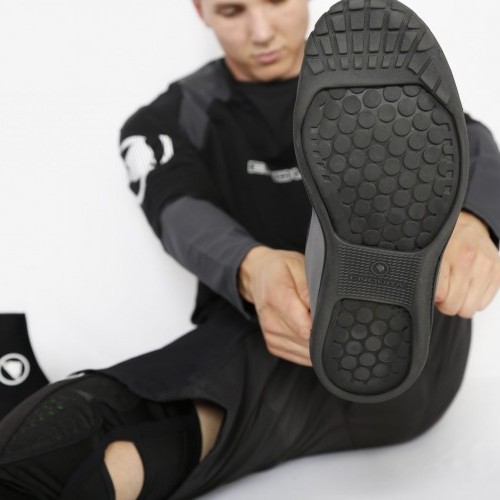 Step Change – Endura's New MT500 Plus Overshoe
Thu 5th Oct, 2017 @ 12:30 am
More confidence. Better technique. Mountain biking's flat pedal revolution is officially a thing. Riders on 'flats' have only lacked a protective overshoe to keep their trainer-style riding kicks pristine. Until now. Endura's new MT500 Plus Overshoe is the missing link in a radical shift back to flat pedals, as trail riders follow the lead of DH specialists and use freedom from clipless pedals to dial in technique – and to provide an 'eject' button if things get too gnarly.
"Some people struggle if they're clipped in, and find it hard to approach big jumps. It's a subconscious thing."
Muddy trails have ruined the day of many a flat pedal rider. Nothing kills box-fresh riding kicks faster than a muddy drop. The Endura MT500 Plus overshoe is tailor made for the job; the result of feedback from Endura's in-house trail warriors and ambassadors like UK freeride legend Chris Smith.
"Ninety per cent of my riding is on flat pedals," Chris explains. "For freeriding, I'm on flat pedals all the time. They give me much greater freedom on the bike. I'm a lot more committed in corners, and able to stick out a foot, if I need to. I'll take on a more risky line, if I'm on flats, because they give me an escape route. "Some people struggle if they're clipped in, and find it hard to approach big jumps. It's a subconscious thing. There's no difference in technique [with riding flat pedals], but I like to be able to bail out, if things go wrong."
Chris also likes to keep his shoes as pristine as his bike. When the weather's fine, the same shoes are good for town or trail, he says, but when the seasons change and trails get muddy, your footwear is the first to know. "It's fine in the summer, but
in the winter, when you've got a spanking pair of shoes covered in mud from top to bottom, it can be very annoying," Chris explains. "And once your shoes are wet, they weigh so much. They can be like sponges."
Brand Manager Ian Young says the MT500 Plus Overshoe was born from trail talk among Endura's fat-tyred fraternity. The result is an overshoe purpose built for trainer-style riding shoes, with an open sole made from hardwearing rubber for flat or clipless pedals, and a super tough upper, made from nylon-faced neoprene rubber, with highly durable overlays.
"We like to start with a clean sheet of paper, but with the upper, we found ourselves coming back to what we'd used for the standard MT500 overshoe," Ian explains. "We investigated various materials, even including some of the heavier fabrics we use for rain jackets, but came back to neoprene, which offers the best combination of stretch, toughness and protection."
The custom moulded rubber sole offered an opportunity to try something radical, and Endura carved through five prototypes while dialing in the sweet spot between structural rigidity and an 'open' area large enough to maximize contact between shoe and pedal.
Additionally, the aggressive tread used on the rubber toe section provides extra grip, while the Velcro® closure with fit adjustment makes the MT500 Plus Overshoe easy to pull on and take off, even with clammy or muddy fingers. Thanks to the wide fit, the MT500 Plus Overshoe is suitable for a large variety of MTB shoes, whether designed for use with flat pedals or clipless. The MT500 Plus Overshoe comes in the MT500 collection's signature black with yellow detailing, and is available in sizes S-M, M-L, and L-XL.
Featured in this Post
Comments