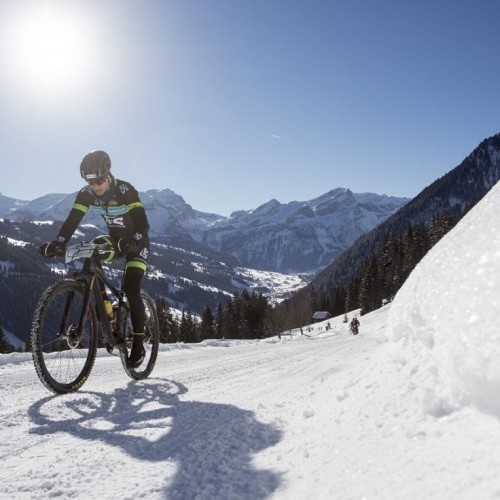 Snow Bike Festival 2018 Returns As "UCI Class 1" Race
Wed 29th Nov, 2017 @ 9:30 am
Win a GO3 Camera by Insta360 this issue in our FREE subscriber prize draw.
So you like cold, suffering and adrenaline huh? The Snow Bike Festival is a 4-day mountain bike stage race that takes place in the heart of the Swiss alps. The event is the very first UCI (Union Cycliste Internationale) race on snow!
Over the 4 days, riders will have to tackle a short time-trial prologue and 3 stages. The 3 main stages vary in length and difficulty. Each stage is usually between 30-35km in length, with 750-1000m of climbing. There is a category for professional riders and one for amateur riders, so both UCI and non-UCI riders are welcome. Each riders overall time (time taken to complete the prologue and all 3 stages) will determine their final ranking.
The stage race will be held under Union Cycliste Internationale (UCI) MTB rules and is open to both amateurs and professionals. Riders are free to choose what kind of bike they want to compete.
The 4-day stage race will feature a prologue on Thursday (Jan. 18th) and then three main stages (from Friday to Sunday, Jan. 19th to 21st). The prologue will be a short time trial course. The other stages will each be between 25km and 35km in length with 600m to 1000m of climbing. Riding times should range from 3 to 5 hours per stage. The scenery on these stages is stunning. Riders will be met by incredible views as they ride amongst one of the most impressive mountain ranges in the world.
For more information about the Snow Bike Festival 2018 – Gstaad (SUI), please visit: Snow Bike Festival 2018 – Gstaad (SUI)
Featured in this Post
Comments