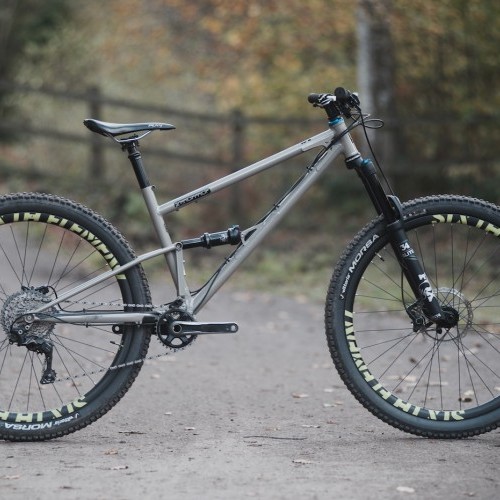 The Starling Cycles Workshop is Ready to Build – Get on the List
Sat 4th Nov, 2017 @ 3:30 pm
The gas is full, Reynolds are on standby and the kettle is on. The Starling Cycles workshop is ready to create its next small batch of beautiful, fast, no nonsense steel frames.
To keep quality high, Joe builds his bikes in small batches and only opens his order book once or twice a year.
The good news is that the next batch will be crafted from the start of the new year with bikes reaching riders by the Summer. There will be Swoop and Murmur frames available, and for the first time, the single speed Beady Little Eye will go into production. All frames will, of course, be available with custom geometry and paint options.
Because demand is higher than the the Workshop can meet, Starling are holding a lottery to give riders a fair chance of getting an order. Riders can opt in by purchasing a limited edition Starling Cycles stem cap.
Ten pounds from each stem cap will go to the Brighter Futures Zambia charity. A draw will then be held to choose which riders are able to go ahead and order their own one-off, hand built and custom Starling frame.
Starling Cycles, AKA Joe McEwan, builds steel mountain bike frames by hand in Bristol. His bikes are designed to be simple to setup and easy to ride with the philosophy that the best bikes are quiet, simple and straightforward.
All frames are made from British drawn, top quality Reynolds steel giving them a one-of-a-kind feel on the trail. Joe's workmanship and the unique 'feel' of steel creates bikes that are supple, comfortable and very fast through rough, technical trails. They're perfect for a lap of your local or for a big week in the proper mountains.
You can find out more over at the Starling Cycles website here:
http://www.starlingcycles.com/win-a-place-on-the-list/
Featured in this Post
Comments