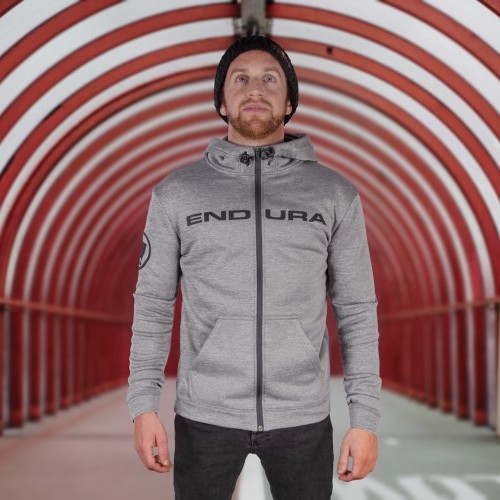 Endura's One Clan Collection, Inspired by Danny MacAskill
Sat 2nd Dec, 2017 @ 9:30 am
Danny MacAskill is refreshingly down-to-earth, whether chatting in a café, or on his visits to our headquarters, near Edinburgh. He's always a welcome guest in Livingston, even if he insists that the pleasure is his. "The fact that I can go and hang out at Endura's headquarters is really cool for me as well, you know," he says. "I like to operate as friends. That's the way I think it should be."
Agreed.
Endura's relationship with Danny is the inspiration for our new One Clan collection, which includes sweatshirts, raglan sleeve jerseys, t-shirts, belts, beanies, and a fresh grey mélange hoodie. The One Clan collection includes items for men, women and kids, and is inspired by Danny's personal style: cool, casual and ready to ride.
When Danny rides o -road in demanding locations as diverse as Mount Kilimanjaro and The Cuillins, he relies on the technical mastery of our MT500 collection. Now, Danny and the millions of riders inspired by lms like Imaginate, The Ridge and Wee Day Out, have something to wear for less demanding assignments.
We've used soft cottons, merino wool, as well as hardwearing performance yarns to create comfortable, contemporary garments, nished in a palette of soft greys, rich reds and deep blues, for occasions when blending in matters more than standing out.
"It's pretty cool that I get to ride for Endura," Danny adds. "It's kind of something that I wish we'd spoken about earlier." Agreed. Again.
The One Clan collection, however, is worth the wait. If our agship MT500 mountain bike collection is #DesignedForDanny, the new One Clan collection is inspired by him.
When his riding demands leading edge technical features, Danny chooses items like our multi-award winning MT500 Jacket II. When he is cutting about in Glasgow and elsewhere, the items in our new One Clan collection are his go-to garments.
To learn more about our new One Clan collection, and to discover each of the garments, visit endurasport.com. To learn more about Danny, and his relationship with Endura, visit stories.endurasport.com.
The Endura One Clan collection will be available in the US from 27th November and in the UK from 29th November.
Featured in this Post
1,478,016
77,505
Comments