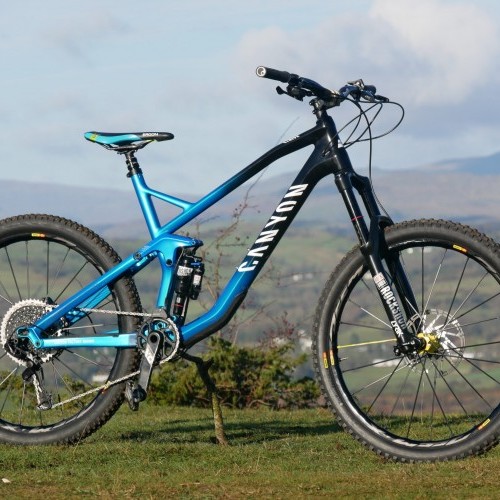 Five of the Best Enduro Bikes of 2017
Tue 26th Dec, 2017 @ 6:30 pm
The word 'Enduro' has come to encompass a wide range of bikes over recent years. While the sport of Enduro racing demands bikes that can be ridden just as hard uphill as down, the spectrum of bikes in the category has grown to embody a range of long and medium travel bikes featuring a variety of geometries and impressive technologies each suiting specialist disciplines.
Whether taking them out for some serious racing or just hooning over the rough stuff with your mates, this category of bikes arguably contains some of the most fun and interesting mountain bikes on the planet right now. Take a look at our tests, check out the list and see if you agree with this premiere league of big mountain shredders.
Giant Bicycles Reign 1 2018
A true Enduro machine. Downhill capable with a suspension system that will make you question why anyone settles for a single pivot. If you have the fitness, it could easily be a one bike for everything, but it does require appropriately terrifying trails and speeds to really let it shine. There are few bikes that can be ridden so hard, with such confidence straight out of the box and this is one. If Giant steepens the seat angle a bit for next year, it would be close to perfect.
Nukeproof Mega 290 Pro 2017
The Mega 290 is still one of the best long travel big-wheeled machines you can buy, and when you're buying it, you might not need to break the bank compared to some of the competition. This is a bike that eats trails for breakfast, lunch and dinner, so you need to find speeds and terrain suitable to keep it fed. A diet of buff smooth trail centres will not suffice. The lack of boost and the long back end could well entice and repel riders in equal measure, but you'll be hard-pressed to find much wrong with any of the Mega range if you like your riding fast, furious and gravity assisted.
Canyon Bicycles Strive CF 9.0 Team 2018
Bikes like the Strive CF 9.0 Team are a pleasure to ride and instantly make the rider feel more accomplished, whatever their experience. Push the Strive harder and faster, and you're rewarded with a balanced, assured ride full of feedback, bottomless travel and fun.
Pivot Cycles Firebird 2017
The Firebird is truly an exquisite bike, capable of the hardest terrain available and still able to take you back up the hill for more. Far more fun and capable on smooth trails than I had envisaged, it's certainly able to do far more than just descend but lacks the true genre-spanning capabilities of the Switchblade. The question that springs to mind is, are you fast enough for this machine? If you're not already, you soon will be once you've spent some time on the Firebird.
DMR Bikes Sled 2017
The Sled has arrived and shown that modern suspension and a solid pedigree is a fine combination for making dangerously exciting bikes. Exceptionally stable, calm and capable, this may be more bike than many of us need. However, when it climbs and sprints so well, it shows itself as a great all rounder with a desire to go dangerously fast. True to form this is a wild bike and a worthy successor to those bikes that have come before.
Featured in this Post
Comments