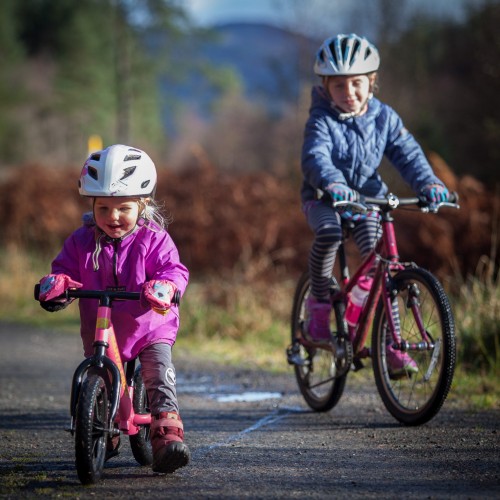 The Dukes Weekender – A New Cycling Festival
Thu 7th Dec, 2017 @ 9:30 am
Is gravel biking the next big thing? September 2018 will see the inaugural 'Dukes Weekender' come to the village of Aberfoyle and the surrounding Loch Lomond and Trossachs National Park. The weekend event will feature several challenging yet social cycling events along with supporting family based activities.
The headline event will be the new 'Dukes Gravel Enduro' which will see gravel riding, the latest trend in cycling, come to the beautiful backdrop of Aberfoyle and the surrounding Lochs and Glens. This social orientated event will see competitors take a stunning 60km ride along Loch shorelines and the mountains of the Trossachs. Whilst enroute riders will compete on several timed stages, racing against the clock on Scotland's finest gravel and cycle trail riding.
The Dukes Weekender will also include a Hill Climb event on one of the country's most iconic mountain passes; the Dukes Pass. This event, which will also double as the prologue for the Dukes Gravel Enduro, follows the winding scenic climb and will be hosted on the evening of Saturday 8th September will undoubtedly prove to be an amazing spectacle for both riders and spectators.
The event is the brainchild of local riders Rob Friel (2016 Mountain Bike Scottish Champion), Stu Thomson (founder of video agency 'Cut Media' and the filmmaker behind the well known Danny Macaskill films such as 'The Ridge') and Fort William based Frazer Coupland (No Fuss Events) and is born through a desire to show off the incredible cycling that the area has to offer.
Friel, who recently set a national record in the Scottish team pursuit track championships, said "the cycling routes that Aberfoyle and the surrounding area has to offer is what brought me to live in this village. The Dukes Weekender is simply our desire to show the World what an incredible location this is to enjoy on your bike! Gravel riding as a discipline is about to explode and for me there is absolutely no doubt that this is the best venue in the country for this style of riding."
The team have also announced a range of supporting events over the weekend such as a family focussed kids enduro, a Film Night and talks from some stars of the cycling world.
Thomson, also a local resident said: "I'm so excited by the potential of the Dukes Weekender, the route is phenomenal, steeped in Scottish history and incredibly beautiful. We're incredibly excited to bring an event that is accessible to riders of all ages and abilities to the Loch Lomond and Trossachs National Park."
More details about the event will be released in the coming weeks and months. For more information and be the first to know when entries go live please visit http://www.dukesweekender.com
Featured in this Post
Comments