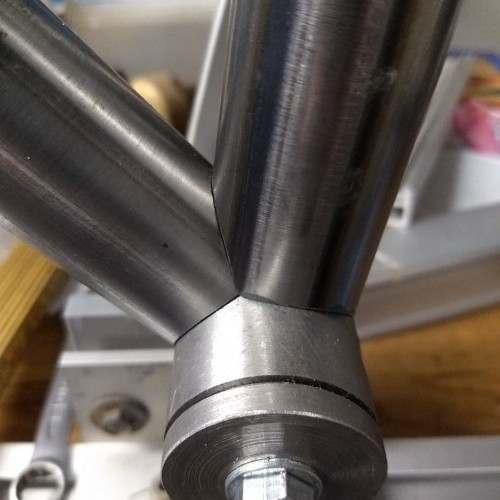 Readers' Rides: Dan Almberg's Homemade Slack Shredder
Sun 7th Jan, 2018 @ 3:30 pm
Swedish rider Dan Almberg is a bit of a handy man to know when it comes to building and customising bikes. He's been known to take old busted up frames and give them a new lease of life before, and now he's gone one step further and built his own frame to create a custom cut and shut that looks totally sick and rides well too! Here's Dan with the details and don't miss the amazing photos below:
I'm an old tool maker and have worked with Gibbscam and PCD tools and so on. For some years now (well 4) I've been working more with sheet metal and welding tools, waterjets and stuff like that. Normally I have always had many good friends that could weld for me so I never had to before but they moved or got old and so on, plus the change in jobs made me learn.
I'm no master at it but most things I do hold up and I've been practicing TIG welding for over a year now.  I got an old Kemppi welder so I thought that it was time to try and make something! I had my old Banshee Spitfire rear frame lying around so a new front for that would be nice… And so it began!
I did once put on my Ragley front to it but that was only 2 pivot points to weld so this seemed like a good challenge. So first I had to build a jig, so my riding buddy that works with aluminum doors and windows got me some material – it's not so stable but you can tack it up for strength. So after machining up some cones and stuff it was ready.
Well great, so what material to use? I've never done this so I didn't want to spend lots of money on expensive tubing so I talked to my friend at Cojones Race & Custom who can get gold and bronze (this is great in drag racing bikes here in Sweden and they have built some frames), so they pointed me out to a fella in racing that sold 4130 tubing by the meter, though not reduced!
He also told me to check out his company who have docol tubes that are approved for top fuel racing and are silly cheap. Plus they don't crack as easy at the welds. So tubing was 80 euros and headset and bb I got from Marino bikes when I ordered my hardtail frame from him. He also helped me out with lots of tips. So thanks a lot!
Well I got my tubing the Tuesday before Christmas and started out working in the garage after work. There where many new things for me to learn such as mitering the tubes. Normally I can just print out templates easy but my printer at home was dead so I tried it by freehand and, well, it worked!
I knew what I wanted as I really liked the hardtail I've got but that is a 29er and this will be a 26" bike, so after some pointers from Burf at BTR and the boys at Sick Bicycles I went for the same head angle as on my hardtail – though the hardtail dives up front and the full suspension remains at 64 degrees – then I just made the reach 20 millimeters longer than the hardtail, otherwise the bb and so on are the same as the Banshee was.
Well I thought this would take some time to finish but six and a half days later it was ready (well not with paint) and all but ready for a shakedown run.
I'm just so glad to have tried this as it's always more fun to learn stuff doing something for real! And it's just amazing how much help you get from all over like on Facebook groups like Steel is Real, Framebuilders and so on. It wouldn't go so fast and be so easy without all the help, so thanks!
Well the build came out good I think; all the geo was as I intended it and I didn't mess up the welding too much. It's not perfect but I think it will hold up. Now, it does weigh almost 16 kilos so, yeah, it is heavy, but I will put a dropper on it and take it to the woods.
It's lighter than it was with the 29er front and that I rode for like 600 kilometers. But I knew it wouldn't be so light as I have strait tubing, no butting anywhere.
So far I've only tested it at our local pushbike hill in frosty conditions and the frame didn't make any cracking sounds and performed really nice.
Okay I do have a Freeride bike with Öhlins and 180mm travel that goes a bit better, but this wasn't far behind on the same kind of descents, I reckon it will do just fine in the woods too.
Thanks for quick for support & parts, Per at Racing Bike Sweden! Also Yep Components.
Cheers Dan from Sweden
Featured in this Post
Comments