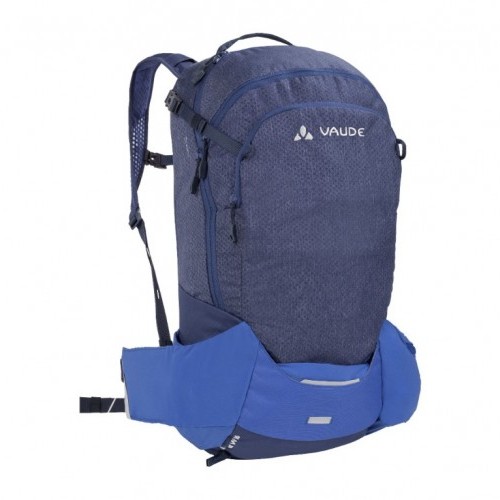 VAUDE Launches New Range of Ergonomic MTB Backpacks
Thu 18th Jan, 2018 @ 12:30 am
Next month, VAUDE is launching a brand new range of bike backpacks for enduro and trail centre riders in the UK. The Bracket backpack has an ergonomically constructed back panel, which offers enhanced pack stability and gives you excellent freedom of movement. A wide hip belt provides extra stability and also works as compression strap. All five models bear the VAUDE Green Shape Label, which ensures they are eco-friendly and functional products made from sustainable materials.
There are four models available in 10, 16, 22 and 28 litres and one women's model of 16 litres. The final and largest model, the Bracket Xalps 28, is designed for enduro riders and mountain bikers who undertake longer routes such as a multi-day transalpine tour. All five models feature the newly developed, slightly arched Ergonomic Movement Panel (EMP) back. This stabilizes the carrying load and increases the pack's overall stability. The lightweight construction allows for forward movement as well as rotational movement in the upper torso area, which is particularly useful for manoeuvring steep curves.
The EMP back panel combined with the Vent Active Bike full body-contact suspension system provides close fitting and firm pack stability. An airflow tunnel between the two back padding segments, as well as die-cut padding, provides optimal ventilation close to the body. The wings of the wide hip belt are attached to the front edges of the pack and are then wrapped around to close tightly in front with a Velcro closure. The hip belt is made from stretch material so it works as an additional compression strap keeping the point of gravity close and low to the rider's back. All Bracket packs feature well-organised, thoughtfully placed pockets and compartments, a removable tool compartment, helmet holder, integrated rain cover as well as reflective elements.
Backpacks in Green Shape
Behind the in-house Green Shape Label is a comprehensive catalogue of criteria that must be met if a product is to bear this label. In the backpack segment, this continues to be a major challenge for VAUDE as a large number of components and materials are used. All primary materials used in the Bracket backpacks are certified in accordance with the bluesign® system. This monitors the environmentally friendly and resource conserving manufacturing of the materials.
The polyester used consists of 50% recycled materials. These are garnered from recycled PET bottles. The PET bottles are collected, purified, ground and processed and then melted and spun into polyester yarn. For eco-friendly, water-shedding protection on the outside of the backpacks, VAUDE uses Eco Finish, a PFC-free waterproofing treatment that does not contain any harmful fluorocarbons. If the rain refuses to let up, then an integrated rain cover can be easily pulled over for more protection. Here as well, VAUDE has successfully found PFC-free alternatives.
As Europe´s most sustainable outdoor brand, VAUDE is committed to leadership in environmental and social responsibility and has a comprehensive sustainability strategy, which runs like a "green thread" through all segments of the company. Their goal is to create a balance between ecological, social and economic responsibility. To find out more about VAUDE's sustainability strategy, please visit: https://www.youtube.com/watch?v=3OPiN57x9H4.
Bracket 10 – £100.00 RRP
Bracket W 16 (women's model) – £110.00 RRP
Bracket 16 – £110.00 RRP
Bracket 22 – £120.00 RRP
Bracket Xalps 28 – £140.00 RRP
Featured in this Post
Comments